Cage 19 goes down this Saturday but the promotion is going full steam ahead and already announced the card for it's 20th show. Cage 20 dubbed "Northern Storm 2" will take place on 17th of November in the northern city of Oulu, Finland.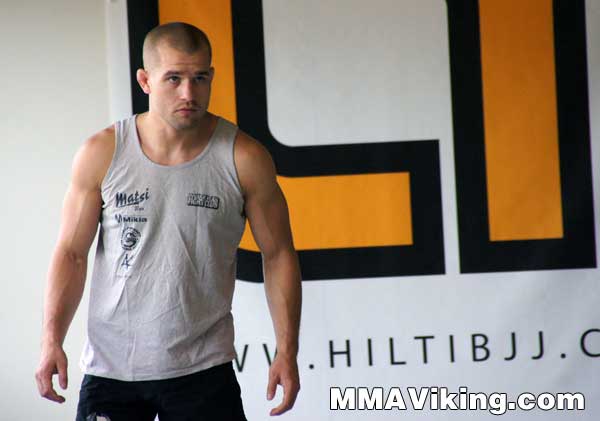 The event got a big headliner as Tom "Stoneface" Niinimäki makes a surprising apperance on Finnish soil. The top ranked featherweight was set to fight again at the Titan FC in the USA but the promotion got sold to RFC and that changed the plans for the Finn. In the main event of the night Niinimäki will defend the Cage featherweight belt against Scottish veteran Paul Reed.
The card is again stacked with extremely interesting up-n-comers. Lightweight monster Musa Amagov meets Bulgarian Georgi Stoyanov who has gathered a great record against lesser competition. Bantamweight Toni Tauru put on a real show at the Royal Arena 2 in Denmark and faces now Estonian challenger in Lauri Ulenurm. Demian Maia's top student Rafael Domingos impressed everyone with his grappling skills a year ago at Northern Storm 1. It will interesting to see how much the super talented Brazilian has improved in a year when he locks horns with the undefeated Estonian Henri Hiiemäe.
Cage 20 Trailer
Cage Featherweight Title Fight: Tom "Stoneface" Niinimäki (17-5) vs Paul Reed (20-10), Scotland
WW: Olli Jaakko Uitto (9-2) vs Tahar Hadbi (8-6), France
LW: Musa Amagov (4-0) vs Geogri Stoyanov (12-1), Bulgary
BW: Toni Tauru (4-1) vs Lauri Ülenurm (3-2), Estonia
FW: Rafael Domingos (1-0), Brazil vs Henri Hiiemäe (2-0), Estonia.
LW: Jani Ridasmaa (2-1) vs Ali Ameziane (1-2), Sweden
LW: Kari Päivinen (3-2) vs. Mikko Vaittinen (2-1)
MW: Jussi Halonen (2-1) vs. Matias Rantala (0-0)
FLW: Harri Määttä (0-0) vs. Dimitri Goette (3-0), Germany
MW: Vyacheslav Andreev (0-0) vs Jani Myllynen (2-1)
BW: Miika Kauppinen (2-1) vs Martin Fouda (1-3), Sweden
Women FLW: Eeva Siiskonen (1-0) vs Vuokko Kaitainen (0-0)
LW: Jani Salmi (1-1) vs TBA