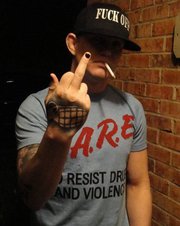 "… Junie hasn't replied to my e-mails or phone calls." – Babak Aghavali
In an interview with Superior Challenge CEO, Babak Aghavali gives background for Thursday's announcement that the Carlos Prada versus Junie Allen Browning fight was cancelled.
The well known TUF alumni has already been a feature at Superior Challenge 5 against Superior Challenge poster boy Reza Madadi, but it seems that it may be an end to the relationship. "To be honest I don't know the exact reason, but Junie hasn't replied to my e-mails or phone calls." says the man that was forced to make a decision regarding the man known as "The Lunatic".
"I really wanted to promote Junie because I really like him, he's a great guy. I actually gave him a 3 fight contract but I don't think that it is going to happen now." explains the CEO. It seems like Browning started looking for a way out of the fight when his original opponent Navid Yousefi was forced off the card due to injury.
"Junie told me that he was prepared for a kickboxer and not a wrestler! I told him that it's ok if he turns down the fight, but I need a definite answer. He told me that he would take the fight in –70 kg instead of –66 kg. Carlos team agreed but I never herd from Junie again." recalls Aghavali.
Due to the late notice of the cancellation, Carlos Prada will be left without an opponent and the match has been taken off the card.