Bruno Carvalho, better known as "BC", looks to get some much deserved attention on the MMA scene with his late-replacement opportunity on the upcoming Superior Challenge card.  In a first-time interview with MMA Viking, we also try to provide some background on the Brazilian fighter that now calls Sweden his home.
From the Coast of Brazil to the Coast of Sweden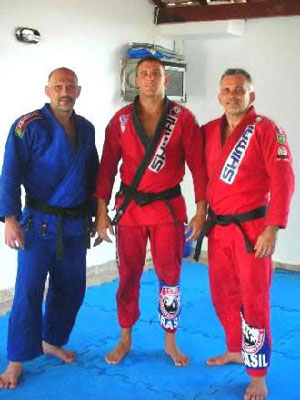 The 29 year old was born in Salvador, the largest-city on the northeast coast of Brazil.  He has trained martial arts his whole life… well, since the age of three.  Carvalho was taught BJJ and Judo from such high pedigree family members as his grandfather Francisco de Magalhães Pinto, uncle Edson Carvalho, and mother Cristiane Carvalho Pinto.  Today, Edson runs Team Carvalho academies in Paterson and Randolph New Jersey.
Bruno made his way to Sweden after accepting a teaching job in Bastad, and now lives in Gothenburg.  He has made strong ties with GBGMMA and Alistair Overeems's Golden Glory.
Due to some issues with World Free Fight Challenge (WFC), where he was reigning champion, 2010 was a slow year.  He only fought twice, with less than 7 minutes of ring time.  Today, the free agent hopes for a busy 2011 and looks to extend his current seven fight win streak.  He's now ready for all comers at 185lbs or 170lbs.
It looked like is could be another slow year for Carvalho, who hasn't fought since last October.  He already had one fight cancelled, but now with one Swede's misfortune with the sick Magnus "Jycken" Cedenblad, comes Carvalho's opportunity.  The GBGMMA fighter is now slotted to face TUF alumni Kyacey "Ice Cold" Uscola at 185 lbs.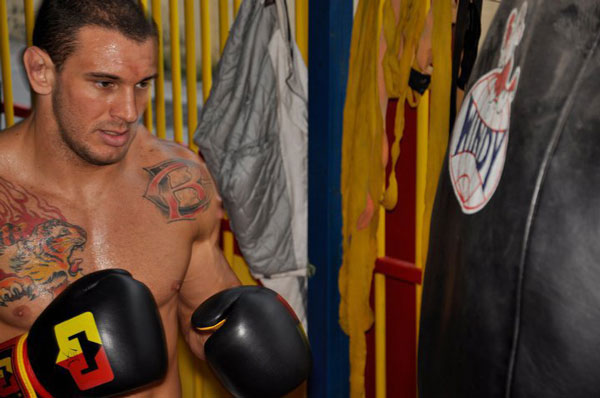 Let's learn more about the top ranked Swedish middleweight fighter (ranked #8 in Europe on GroundandPound.de), as he steps up for Superior Challenge 7.
Interview
MMA Viking : How do you feel stepping in on just 2 weeks notice to fight on a very visible Superior Challenge card?
I'm just happy with that! I was training in Thailand, along with Alistair Overeem, Jon Olav Einemo and others, came back home and started diet and training for a match that was lately canceled, so when they ask me to fight I was already in a good weight and ready to go!
MMA Viking : The media refers to your record as 12 wins, 4 losses, and 0 Draws, as Sherdog reflects this as your record. Could you set the record straight, and provide your record, and reasoning for the difference.
Well I think that's about it, I could only change the one fight in Russia where I beat the crap out of their champ! I lost a hard fight in Holland and a fight to Dragon, both were like a week before opponent change one the guy over weighted around 8kg n the other was a HW 115kg guy lol, but I only look at this as experience n learned from that!
MMA Viking : For someone that has not seen you fight before, what other fighter would you say is similar to your style and techniques?
Huuumm don't really know I can compare my style, Jon Fitch or GSP I would say, a well rounded fighter, I can do good in all aspects of the game!

(See highlight video of Bruno above)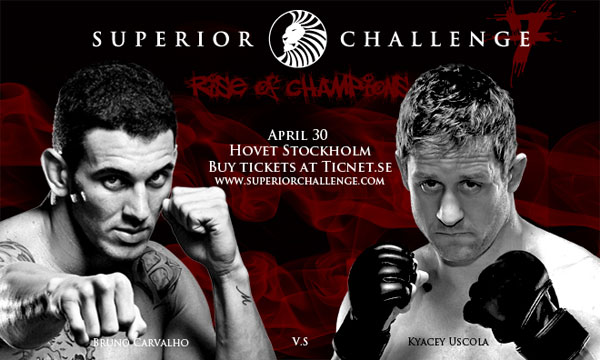 MMA Viking : How do you feel you match-up against Kyacey? Do you have a prediction?
It's a good match-up, he is more of a wrestler and likes to brawl, if he wants to take me down he is gonna be surprised with my wrestling skills and even if he can finish any take down he's gonna be in deep water, and striking wise I feel like I'm a lot more technical!
MMA Viking : Your training partner is Norwegian heavyweight John Olav Einemo, who will be taking on Shane Carwin. How do you see this fight playing out?
He is in great shape, and he'll win this fight doesn't matter what Carwin brings, the guy is great on the ground and training at Golden Glory, with Alistair, Karitonov, Zimermam and co. Help us be ready to any situation even a striking war!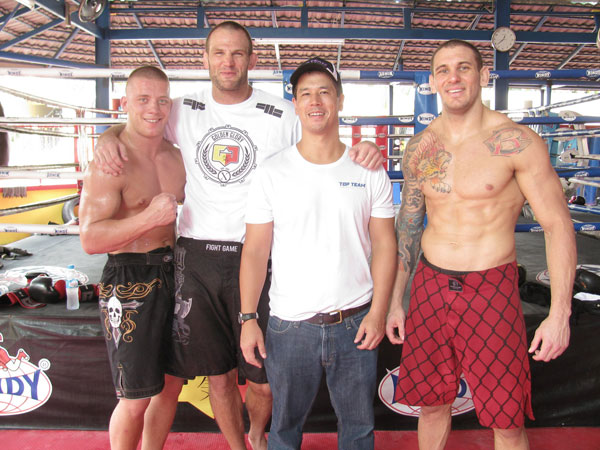 Lastly, I also wanna thank all that supports me and help me believe and live my career, my fans, my training partners from GBGMMA, my girlfriend, my sponsors Kenka, Fight Line, Xtfc, and Epic!
We wish BC luck at the upcoming Superior Challenge.  Support local MMA by buying a ticket for the Stockholm event.