Former UFC Reza Madadi reports "Thanks @manomanagement and all my fans. I'm back, back to the @ufc" on Instagram. The Allstars Training Center fighter was released from the UFC when accusations were put forth of a 'smash and grab incident', where "Mad Dog" has served jail time for. The 36 year old last downed UFC title contender Michael Johnson two years ago in the Octagon, but hasn't fought since. With Madadi's post and Facebook video, it seems the former UFC fighter is again a current UFC fighter.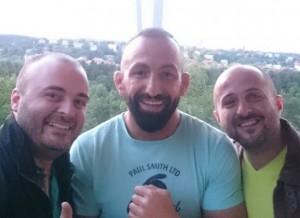 "I'm disappointed in myself. Guilty or not guilty. I still put myself in that position." said Madadi to mmaviking.com shortly after his release, as he aimed to get back in the Octagon. "The important thing is to never give up."
"2 years ago when everybody was saying that he's gone, he's never coming back and this and that. But now I'm back haters." – Madadi
It is now just over 3 years since UFC debut in Stockholm, where Madadi was victorious over Cuban Yoislandy Izquierdo. The lightweight also dropped a controversial decision to Cristiano Marcello in October 2012, brining his UFC record to 2 wins and 1 loss.
AMAZING NEWS. Guess who's back, back again to the UFC. Reza " Mad Dog " Madadi is the new sheriff in town.

Posted by Mano Management on Wednesday, June 10, 2015
The Iranian born fighter has a 13 win and 3 loss record overall, and had a 7 fight winning streak from 2009-2012. No information about timing for return or any matchup was provided.