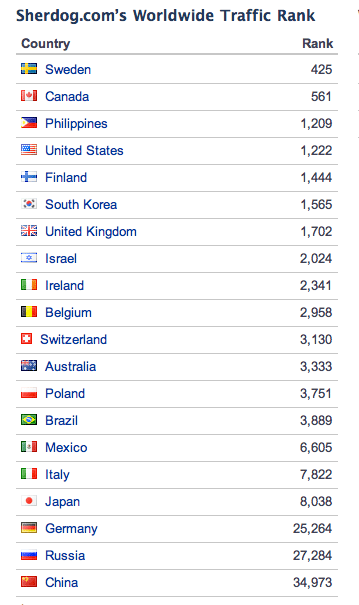 Using Alexa.com, a "Web Information Company" that lists top sites by country, Sweden ranks Sherdog.com as the highest traffic rank compared to all other sites among all countries, with Finland ranking 5th.  
UFC's U.K. president, Marshall Zelaznik, also recently commented in a press conference for UFC 120 that Scandinavia was the "third-biggest market (in Europe) in terms of Web traffic, TV ratings, revenues, those types of things."
Seeing Sherdog.com as the 425th ranked website by visitors in Sweden and traffic to UFC.com from the region recognized by the UFC is impressive, and further shows the passionate MMA fans throughout Scandinavia.
Betsafe in Norge, Sverige, Suomi and Danmark!