MMA Viking's 2013 Nordic MMA awards continue with the Prospect of the Year. The year saw many new young stars emerge from the Nordic scene but it was a hulking welterweight from Norway that shined a bit brighter than the rest.
Prospect of the Year:
Emil "Hulk" Weber Meek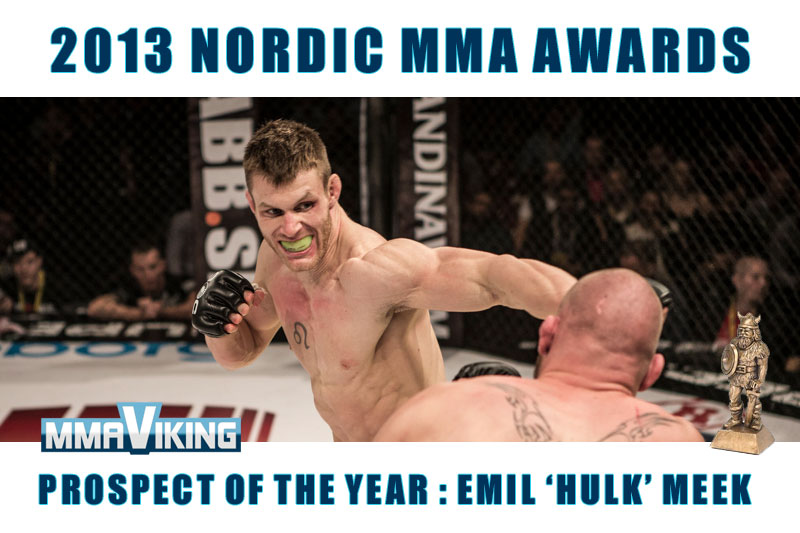 Norwegian powerhouse Emil Weber Meek (5-1) had literally a stunning year in 2013. He fought four times with all of the fights ending the same way: TKO. Three of the knock out wins came in the very first round.
Only Sweden's gutsy Per Franklin made it to the second round with Meek. While Meek's rapidly improving fighting skills are already on a solid level, it is his raw physical power and ultra aggressive fighting style that are causing the most problems for his opponents at this point. This whirlwind of violence packs mean power to his punches and has a size able gas tank (thanks to a 36 resting heart rate) that allows him to carelessly push the pace.
The MMA Trondheim fighter has already shown that he has ton of potential and the right work ethic to turn that potential into results. The Norwegian has now a great record of 5-1 with all the five wins coming via knock out. The lone loss on his record came due to a  broken arm.
Besides his home gym in Trondheim, Meek has also training camps at American Top Team in Florida and CSA gym in Denmark.
Prospect of the year in 2012 was Max Nunes and in 2011 was Andreas Stahl.