Katja Kankaanpää (10-1-1) stopped both of her opponents in 2014, including her last bout in dramatic fashion to claim the Invicta FC's belt and the title of Nordic Female Fighter of the Year 2014. Killer Bunny reclaims the top yearly MMAViking.com award that she won in 2011 and 2012, and Pannie Kianzad won in 2013.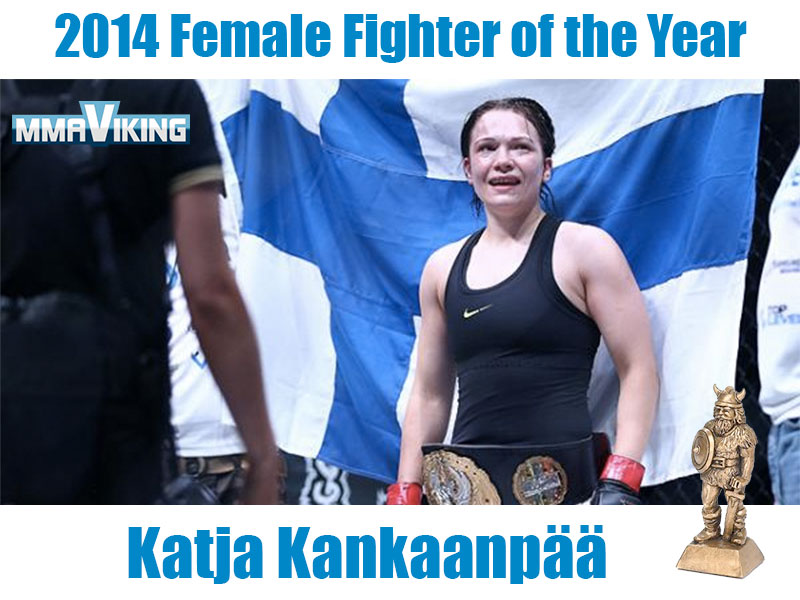 Kankaanpää started the year back in Finland, where she was looking to rebound from the first loss of her career at the hands of Joanne Calderwood at Invicta in December of 2013.  The Lappeenranta Fight Night X card lasted less than 6 minutes, as Alyona Rassohyna in South Karelia with submitted with an armbar at 49 seconds into the second round.
The MMA Seinajoki / Team Botnia Punishment fighter that turned pro in 2010, was now looking at the opportunity to claim Invicta FC's vacant strawweight title against Stephanie Eggink (4-2).  "Snowflake" was a solid opponent as she beat TUF's Heather Clark and held the XFC Strawweight Champion belt and was on a three fight winning streak heading into the bout with the Finn.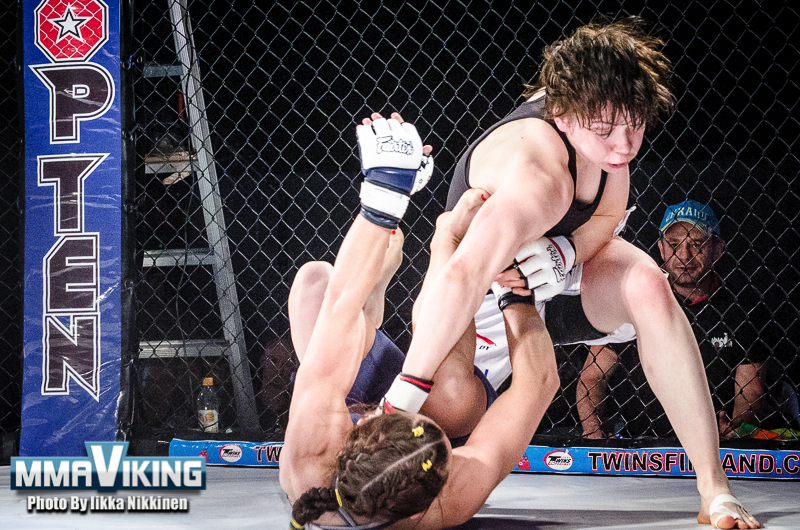 Kankaanpää's bout at Invicta FC 8: Waterson vs. Tamada in Kansas City, Missouri, ended up being a dangerous one for Killer Bunny who found herself at the end of the extended and lanky strikes of Eggink.  When the Finn could get inside and get the fight to the ground, Eggink used her long legs to quickly wrap up triangle choke, where a finish was close early… but Kankaanpää battled to the end of the round to survive.
The American had several good rounds, including a strong fourth round having many scorecards in her favor heading into the final round.  But it was the sisu of the Finn that pushed her forward into the fifth round and drove her to getting another much needed takedown.
A finish was needed in order to win.  This time, the urgency was there and Katja put on a tight D'arce choke.  Kankaanpää turned and tightened until the bout was over at 2:03.  The action packed fight gave the two Fight of the Night and the respected Invicta belt.
Not to be overlooked in 2014, was Pannie Kianzad who also had a perfect year.  The Sweden based fighter out of Rumble Sports won all three bouts, including one finish.  Banzai at only 23 years old also won the vacant Cage Warriors title, and will be a favorite to recapture the award for years to come.
For a complete list of 2014 awards so far and a history of the yearly winners. Photo above from Sherdog.com