MMAViking.com's Nordic MMA awards began in 2011.  While the emphasis of the awards go to happenings in local events happening in Denmark, Estonia, Finland, Iceland, Norway, and Sweden, we also highlight fighter accomplishments abroad in the bigger organizations like the UFC and Bellator.  A full history of the awards are below.
Fighter of the Decade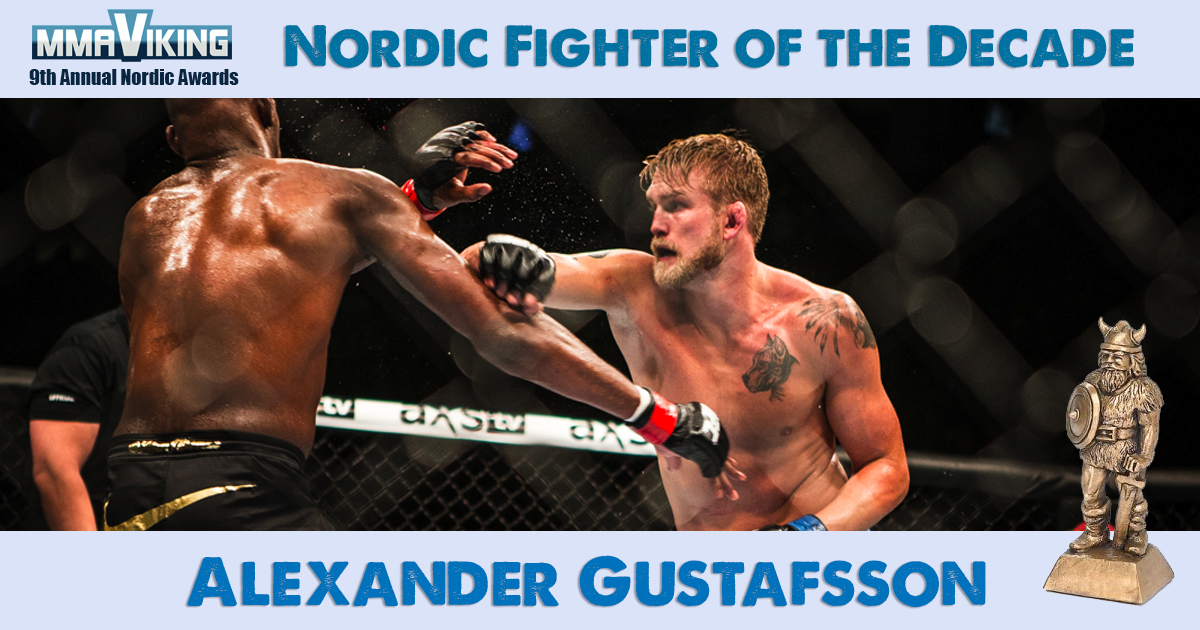 Read announcement by UFC commentator Alexander Gustafsson.
2019 Awards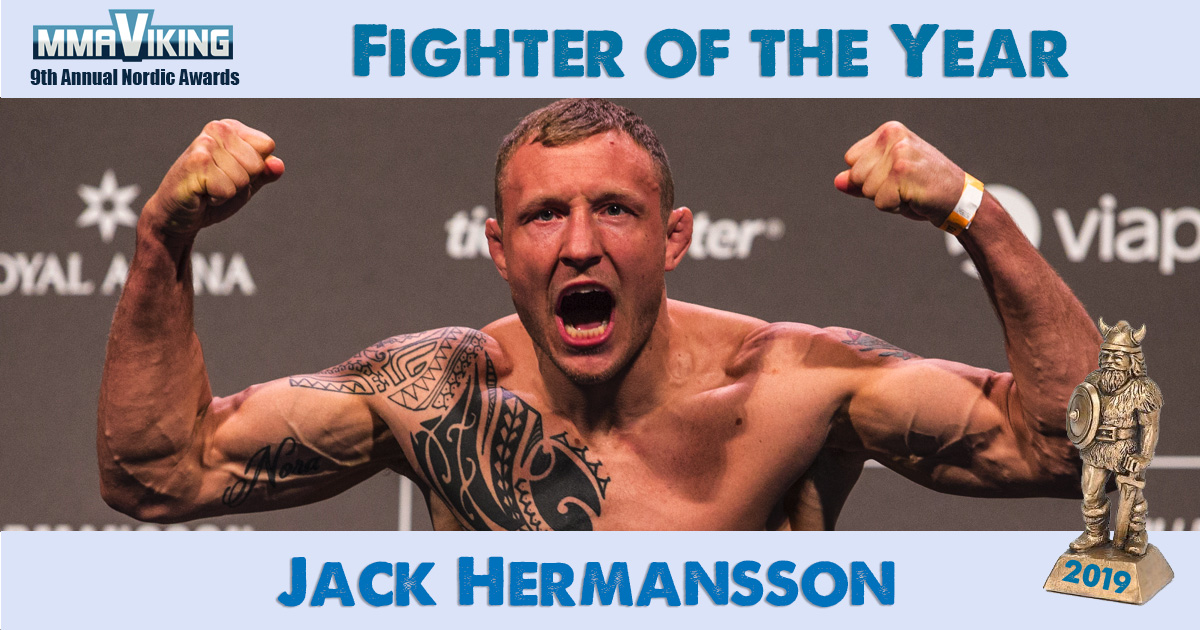 • Submission of the Year: Hermansson Submits Branch in 49 Seconds
• Comeback Fighter of the Year: Nicolas Dalby
• Fight of the Year: Adam Westlund Outpoints Robin Roos at Superior Challenge 20
• Breakthrough Fighter of the Year: Mark O. Madsen
• Prospect of the Year: Jesse Urholin
• Knock Out of the Year: Guram Kutateladze at Brave 29
• Event of the Year: Cage Warriors 103
• Amateur Female Fighter of the Year: Bianca Antman
• Amateur Male Fighter of the Year: Daniyal Shamkhalov
• Female Fighter of the Year: Lina Länsberg
• Fighter of the Year: Jack Hermansson
2018 Awards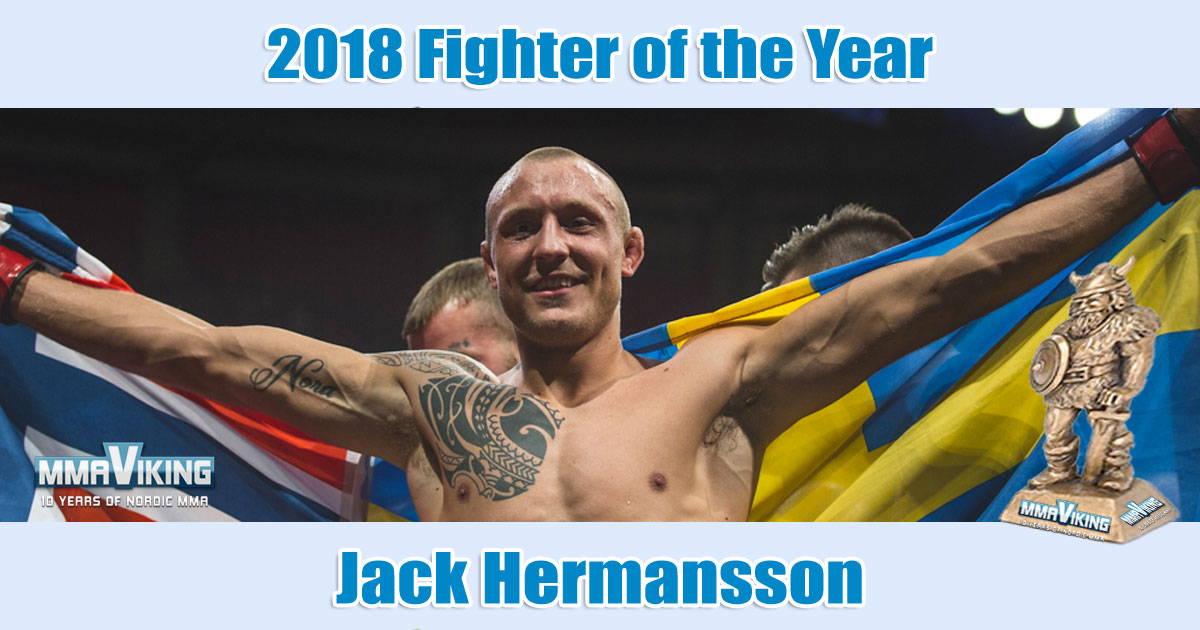 • Submission of the Year: Gunnar Nelson versus Alex Oliveira at UFC 231
• Comeback Fighter of the Year: Zebaztian Kadestam
• Comeback of the Year: Jack Hermansson versus Thales Leites at UFC on FOX 31 / Soren Bak versus Paddy Pimblett at Cage Warriors 96
• Gym of the Year: Pancrase Gym
• Fight of the Year: Simon Sköld versus Jerry Kvarnström at SC 17
• Breakthrough Fighter of the Year: Soren Bak
• Prospect of the Year: Khamzat Chimaev
• Knock Out of the Year: Mark Madsen KO's Dez Parker at Danish MMA Night
• Robbery of the Year: Minna Grusander at Invicta FC 30
• Event of the Year: Cage Warriors 93
• Amateur Female Fighter of the Year: Janika Antinmaa Antinmaa
• Amateur Male Fighter of the Year: Andreas Gustafsson Berg
• Female Fighter of the Year: Pannie Kianzad
• Fighter of the Year: Jack Hermansson
2017 Awards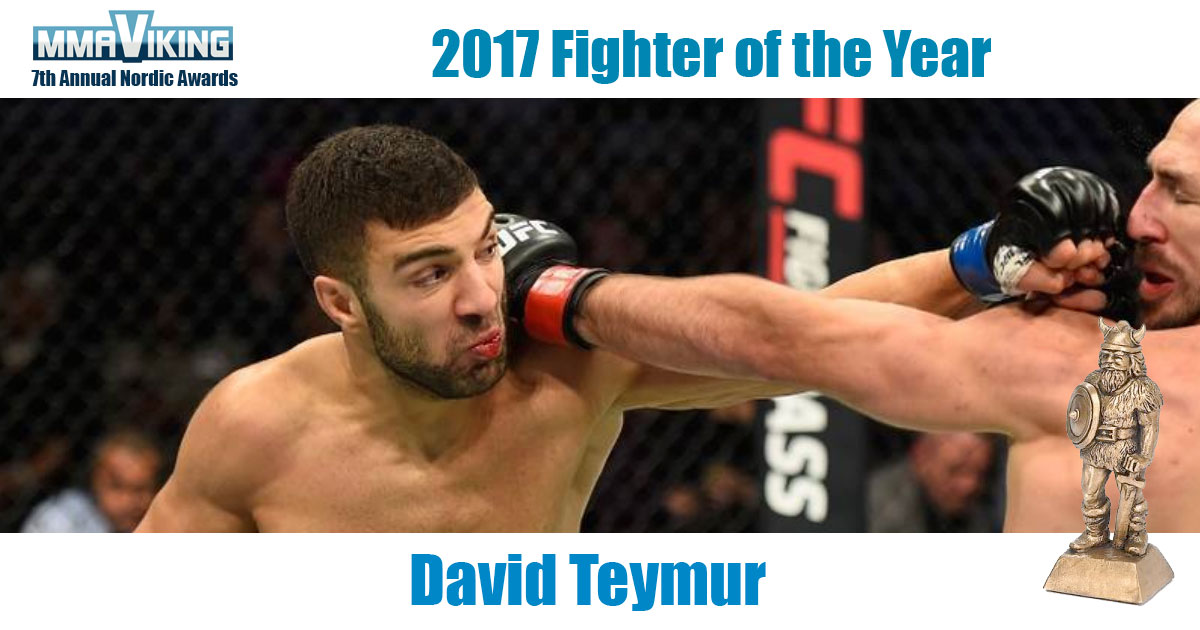 • Submission of the Year: Mads Burnell Submits Fernando Duarte at SOMMA 2
• Comeback Fighter of the Year: Frantz Slioa
• Gym of the Year: Allstars Training Center
• Fight of the Year: Juho Valamaa and Zebaztian Kadestam at Superior Challenge 15
• Breakthrough Fighter of the Year: Sunna Davidsdottir
• Prospect of the Year: Kenneth Bergh
• Event of the Year: Superior Challenge 15
• Knock Out of the Year: Alexander Gustafsson Versus Glover Texeira
• Amateur Female Fighter of the Year: Anna Astvik
• Amateur Male Fighter of the Year: Irman Smajic
• Female Fighter of the Year: Minna Grusander
• Fighter of the Year: David Teymur
Other Notables for 2017 :
• 10 Pictures to Capture 2017 Finnish Combat Sports
2016 Awards

• Submission of the Year: Kim Thinghaugen's Twister
• Comeback Fighter of the Year: Reza Madadi
• Gym of the Year: Frontline Academy
• Fight of the Year: Martin Fouda vs. Mohammad Babadivand at SFN 1
• Breakthrough Fighter of the Year: Oliver Enkamp
• Prospect of the Year: Amir Albazi
• Event of the Year: EuroFC 01
• Knock Out of the Year: Sadibou Sy
• Amateur Female Fighter of the Year: Cornelia Holm
• Amateur Male Fighter of the Year: Abdul Hussein
• Female Fighter of the Year: Sunna Rannveig Davidsdottir
• Fighter of the Year: Emil Weber Meek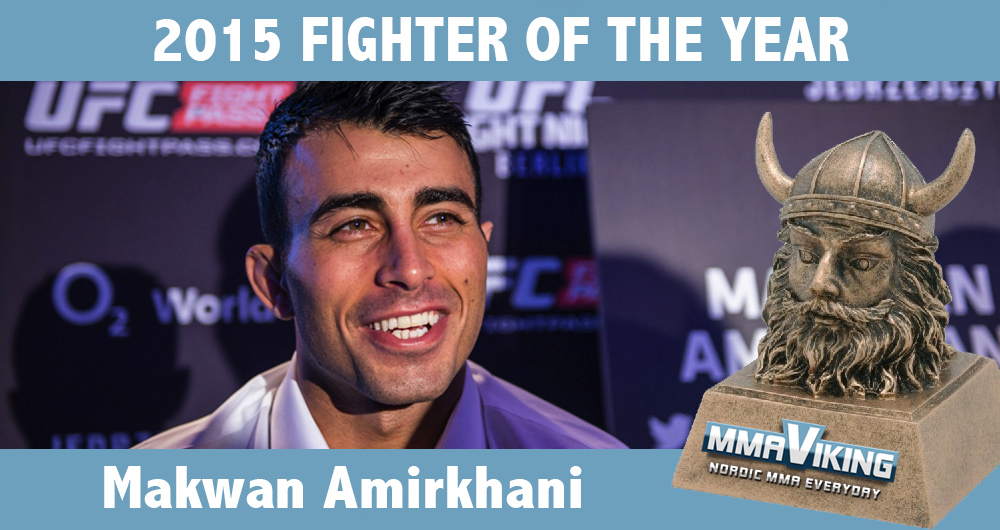 2015 Awards
• Submission of the Year: Gunnar Nelson
• Comeback of the Year: Nicolas Dalby
• Showman of the Year: Emil Meek
• Promotion of the Year: CAGE
• Gym of the Year: Rumble Sports
• Fights of the Year: Bak vs. Nurminen and Foss vs. Kadestam
• Breakthrough Fighter of the Year: Janne Elonen-Kulmala
• Prospect of the Year: Aleksi Mäntykivi
• Event of the Year: Battle of Botnia 2015
• Knock Out of the Year: Makwan Amirkhani
• Female Fighter of the Year: Anna Elmose
• Fighter of the Year: Makwan Amirkhani
Other Notables for 2015 :
• 5 Best Photos from Nikkinen
• Most popular posts
• Most popular videos
2014 Awards
• Submission of the Year: Niklas Backstrom
• Prospect of the Year: Mikael Nyyssönen
• Breakthrough Fighter of the Year: Jack Hermansson
• Event of the Year: Superior Challenge 11
• Knock Out of the Year: Nicolas Dalby at Cage Warriors 66
• Gym of the Year: Rumble Sports
• Fight of the Year: Johan Vänttinen vs Juho Valamaa at Helsinki Fight Night
• Female Fighter of the Year: Katja Kankaanpää
• Fighter of the Year: Magnus Cedenblad
Other Notables for 2014 :
• 5 Best Photos from Nikkinen
• 5 Best Photos from Schälander
• 5 Best Photos from Baek
• Most popular posts
• Most popular interviews
2013 Awards
• Submission of the Year: Toni Tauru's Gogoplata at EUMMA 7
• Prospect of the Year: Emil Weber Meek
• Breakthrough Fighter of the Year: Nico Musoke
• Event of the Year: Superior Challenge 9
• Showman of the Year: Jorgen Matsi
• Fight of the Year: Gustafsson Versus Jones at UFC 165
• Pictures of the Year: Jesper Baek's Top Picks
• Knock Out of the Year: Kuivanen KO's Gonzalez at Superior Challenge 9
• Gym of the Year: Allstars Training Center
• Female Fighter of the Year: Pannie Kianzad
• Fighter of the Year: Tom Niinimäki
Other Notables for 2013 :
• Most popular posts
• Most popular interviews
2012 Awards
• Prospect of the Year: Max Nunes
• Showman of the Year: Makwan Amirkhani
• Breakthrough Fighter of the Year: Gunnar Nelson
• Fight of the Year: Mikkel Parlo Versus Simon Carlsen at Royal Arena 2
• Knock Out of the Year: Andreas Spång KO Brian Rogers at Bellator 66
• Submission of the Year: Martin Kampmann Guillotine Over Thiago Alves at UFC on FX 2
• Female Fighter of the Year: Katja Kankaanpää
• Fighter of the Year: Alexander Gustafsson
2011 Awards
• Prospect of the Year: Andreas Stahl
• Fight of the Year: Janne Tulirinta vs Claes Beverlöv, Cage Challengers 2
• Event of the Year: Fight Festival 31
• Knock Out of the Year: Kristian Lexell vs Allan Love at Battle of Botnia 4
• Submission of the Year: Bruno Carvalho vs Kyacey Uscola at Superior Challenge 7
• Female Fighter of the Year: Katja Kankaanpää
• Fighter of the Year: Alexander Gustafsson
read more