Janne Elonen-Kulmala (13-4) took out three opponents in 2015, upping his prospect status and breaking through with a total of nine straight wins in the cage.  It is the fighter from Espoon Kehähait, known to many as simply 'Jamba', that wins our 2015 Nordic Breakthrough Fighter of the Year.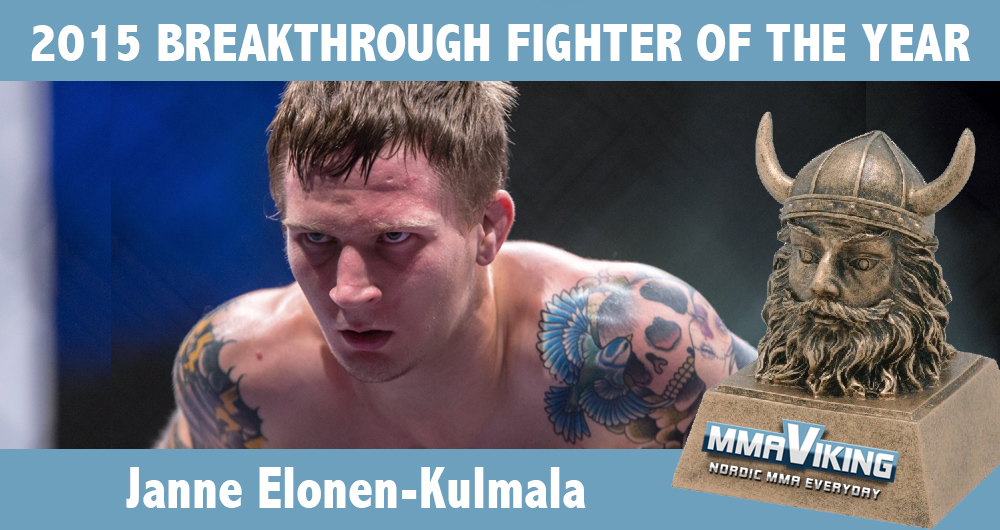 Former winners are as follows:
• 2014 Breakthrough Fighter of the Year: Jack Hermansson
• 2013 Breakthrough Fighter of the Year: Nico Musoke
• 2012 Breakthrough Fighter of the Year: Gunnar Nelson
"I think my attitude for training and life overall changed a bit. I realized that whatever happens in the fight, I still have to go to school (or work) next Monday." says 'Jamba' to MMAViking about the change in attitude that has lead to a huge turnaround in his career where he once lost four of five fights.
The 26 year old started the year as a late replacement against veteran James Pennington (10-3). It was Jamba's night as the grappler used a big left hand to stop the Englishman in round two Fight Night Finland (FNF) 9 in Turku, Finland. "It's the best guy I have ever fought… and I won." says the celebrating Finn to MMAViking.com, that had nothing to lose in the fight. It was the solid start of 2015, with three more to come.
Next, the Finn faced a combat sambo champion in Evgeny Manko at CAGE 31. The fighters exchanged a few punches in the opening round and Jamba took the fight to the mat. After an brief moment spent on the mat Jamba sunk in a Von Flu Choke (yes, he did) that completely surprised Manko forcing a tap. Jamba took his impressive fight win streak to eight.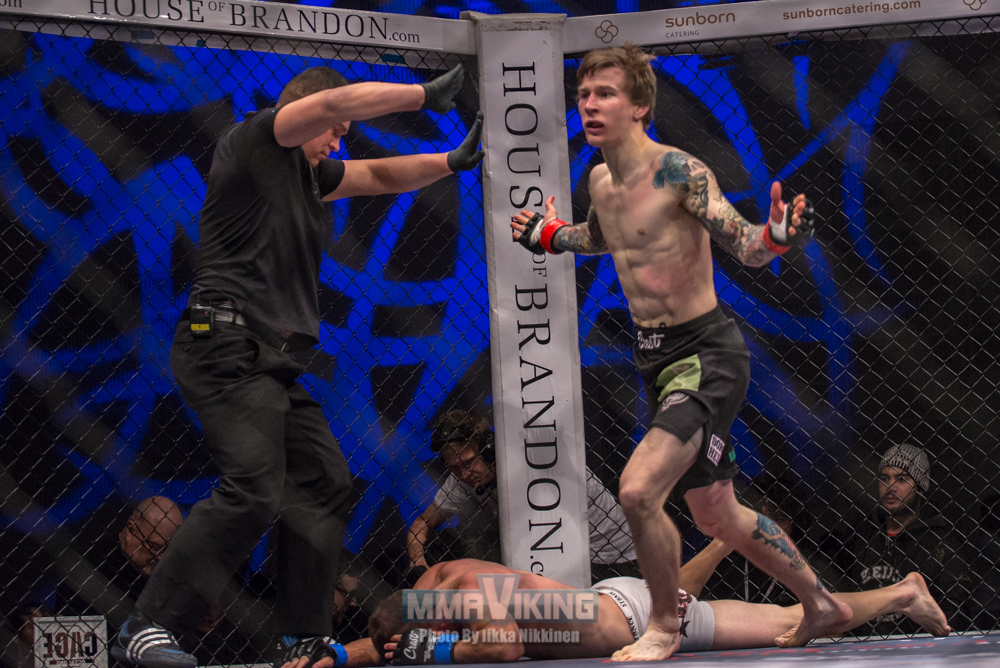 "I don´t take pressure about the winning streak. I know that anything can happen in every fight. The winning streak just tells that I have done some things right. I´m just enjoying the process =)"
Elonen-Kulmala was looking for his ninth victory in a row at Cage 33. He shared the co-main event spot with Orestes Betran from Brazil who has had a lengthy career, dating back to 2001. Jamba connected better on the feet, but found himself in a little bit of trouble after Betran countered Jamba's takedown with a guillotine choke. Jamba rebounded though and started his vicious ground and pound and the fight was called before the end of the first round. Three finishes for 2015 and a 9 fight winning streak as the award winner looks toward 2016.