Nordic MMA Pioneer Martin Kampmann (20-7) made it official today that his competitive days are behind him. "I've known for a while" said the 33 year to UFC.com today. "I just haven't really made it official. I'm not sure why."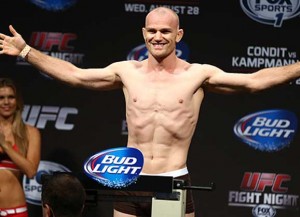 "I'm sure I'll still be involved in MMA," says the fighter that turned coach at Alpha Male in California, before his recent move back to Denmark. With the arrival of his third child, he will focus on family for the short term in his homeland.
"I had a lot of good fights," says the Dane. "Some of the good fights that the fans tell me they enjoyed the most are the fights where I've been in really bad trouble and came back. I was really hurt, knocked down, and I came back from the brink of defeat to win. But those are not the fights I preferred to have. I preferred to come in and have a good, dominant performance. But those other fights are the ones that the fans remember, when I was close to defeat and when I had to dig deep and come back and win."
"I'm glad to see some more Danes in the UFC, hopefully even more to come." commented Kampmann to MMAViking.com earlier in the year. The Hitman, who broke through in the UFC as a middleweight back in 2006, debuted at UFC Fight Night 6 with a first round submission.  
Prior to entering the Octagon Kampmann captured the middleweight belt back in 2005 versus Matt Ewin.
He earned 5 "of the night" awards in his career, with such memorable bouts against Diego Sanchez, Thiago Alves, Drew McFedries, and Carlos Condit. His last fight was at UFC Fight Night 27 in August of 2013 in a rematch against Carlos Condit, where he lost by TKO in round 4.