Swede Jack Hermansson (9 wins, 2 losses) out of Norway's Frontline Academy won all four of his bouts in 2014, resulting in a Cage Warriors world championship title defense before year's end. Following in the footsteps of Gunnar Nelson (2012) and Nico Musoke (2013), Hermansson becomes the 3rd winner of MMAViking.com's annual 'Breakthrough Fighter of the Year' award.
For some background, "The Joker" lost his only bout in 2012 and his only bout in 2013. Heading into 2014, the Swede now living in Oslo had dropped two straight bouts in his Bellator run before being assigned to the Cage Warriors 66 card in Denmark.
At the Cage Warriors debut in Scandinavia the middleweight kicked-off his impressive four fight winning streak of 2014 by stopping Enoc Solves Torres late in the third round. Less than a months later, the tough veteran from Romania Ion Pascu was put in front of Hermansson, who was able to notch another win by unanimous decision.
The Joker then got his title shot against veteran Norman Paraisy on the Cage Warriors 69 'Super Saturday' in London. This was the breakout performance that showed the Oslo based fighter was for real, as he stopped the Frenchman with a rear-naked choke in his first experience in championship rounds.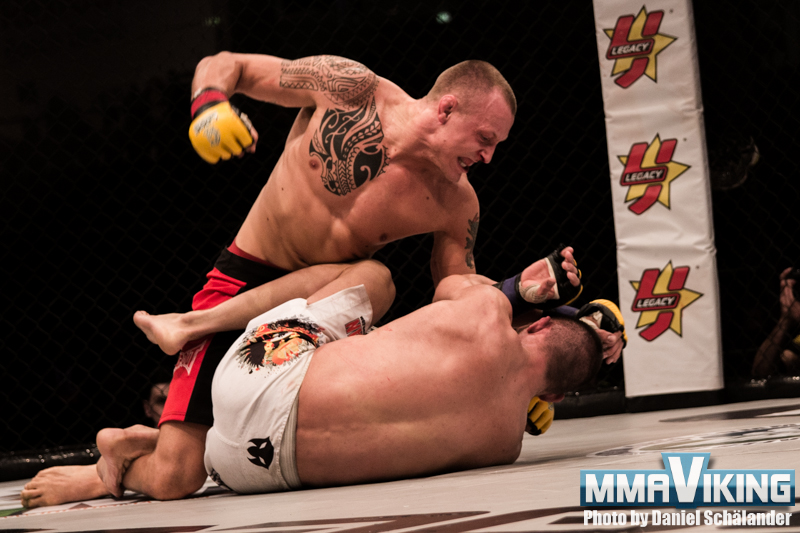 The 26-year-old Norwegian showed his technique and power with power bombs with his right hand while having a body triangle in his first title defense at the end of summer. The first round TKO victory over Deyan Topalski at the Cage Warriors 71 event drew more attention to the wrestler with devastating punching power that was able to easily defend his belt.  Check out the finish in the video of the stoppage below.
The win in August marked Hermansson's fourth straight victory of 2014, earning him the breakthrough fighter in the Nordics. Amazing year for the Swede, who went from a Bellator washout on a two fight losing streak, to a Cage Warriors middleweight champion on a four fight winning streak all in one year.
For a complete list of the MMAViking.com 2014 awards so far and a history of the yearly winners.