Jack Hermansson finished a heel hook submission against Kelvin Gastelum on UFC Fight Island in just 78 seconds in July to earn the 2020 Submission of the Year.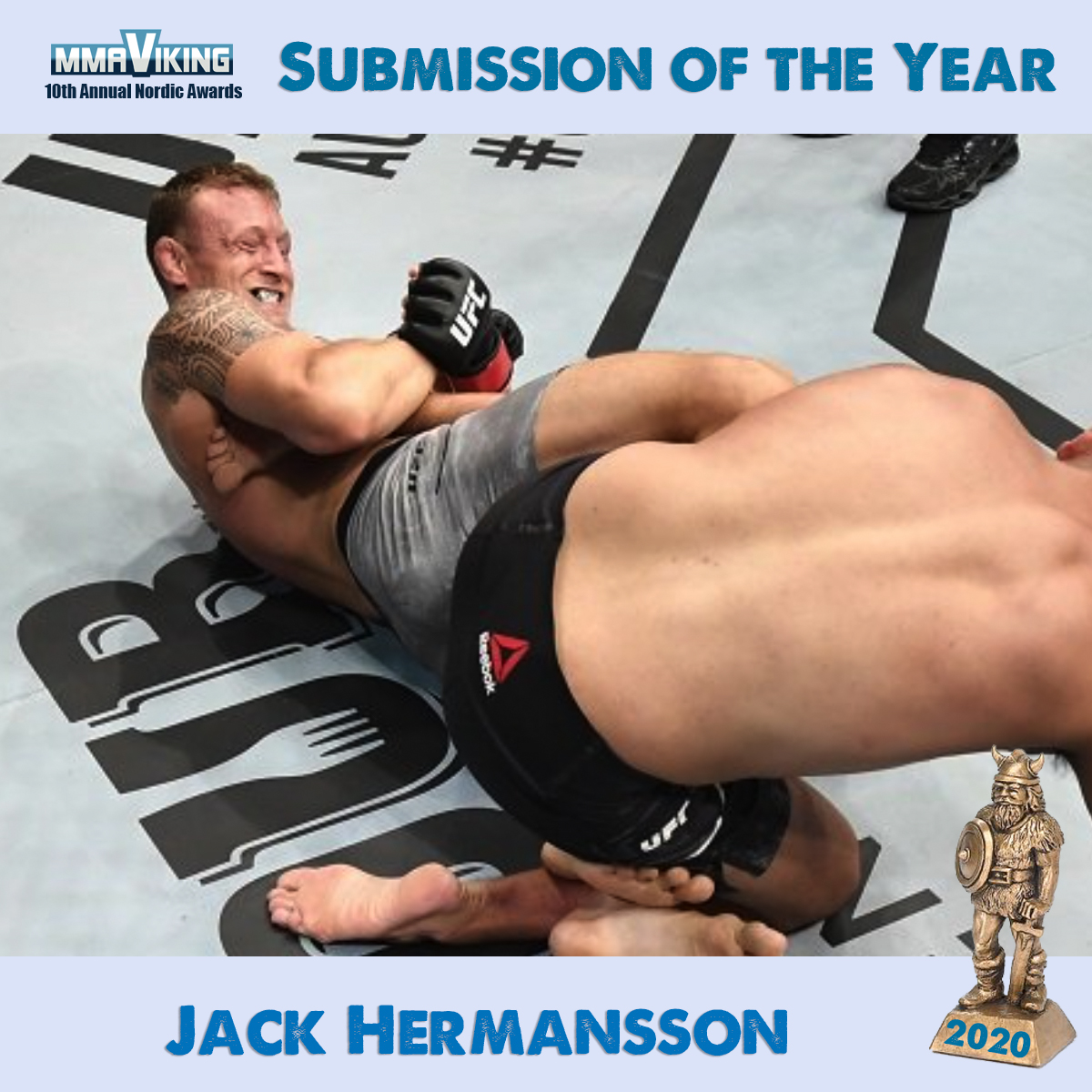 The Swedish middleweight was in a high profile co-headliner, which took place at Flash Forum at Yas Island in Abu Dhabi. The "Joker" was ranked #6 and the former title challenger was #7 in the crucial matchup. The Frontline Academy fighter was coming off of a Jared Cannonier, making the win more significant for the middleweight contender.
Jack went for a body lock to take the fight to the ground, but instead Gastelum threw the "Joker" backward with a lateral drop to land on top. A half guard for the American on top, but Hermansson was quick to make room using his legs to distance himself. The Oslo based fighter grabbed a leg, and while the former middleweight title contender stood up, Jack immediately locked on to the ankle and cranking a heelhook. Kelvin falls to the mat and Hermansson cranked the ankle forcing a tap to get the win and the award.
Other notable submissions include Louis Glismann rear-naked choke over Henri Lintula, Oliver Enkamp's Japanese Necktie over Emmanuel Dawa at Bellator 248, Moein Ahmadi's modified Omoplata over Elvin Hoxha at FCR 7, and Amir Malekpour comeback rear-naked choke over Ilaz Zabeli at FCR 6.
Previous Submission of the Year Winners :
• 2019 : Hermansson Submits Branch in 49 Seconds
• 2018 : Gunnar Nelson versus Alex Oliveira at UFC 231
• 2017 : Mads Burnell Submits Fernando Duarte at SOMMA 2
• 2016 : Kim Thinghaugen's Twister
• 2015 : Gunnar Nelson at UFC 189
• 2014 : Niklas Backstrom at UFC Fight Night 41
• 2013 : Toni Tauru's Gogoplata at EUMMA 7
• 2012 : Martin Kampmann Guillotine Over Thiago Alves at UFC on FX 2
• 2011 : Bruno Carvalho vs Kyacey Uscola at Superior Challenge 7
Check out a complete listing of all of the awards since the inaugural awards in 2011.