In a "An O Must Go" showdown at UFC Fight Night Dublin, there was a comeback for the ages when undefeated Dane Nicolas Dalby's (14-0-1) came off the stool for the 3rd round against an undefeated Darren Till (13-0-1) who had dominated the first two rounds to rally back with a 10-8 round to secure an unlikely majority draw.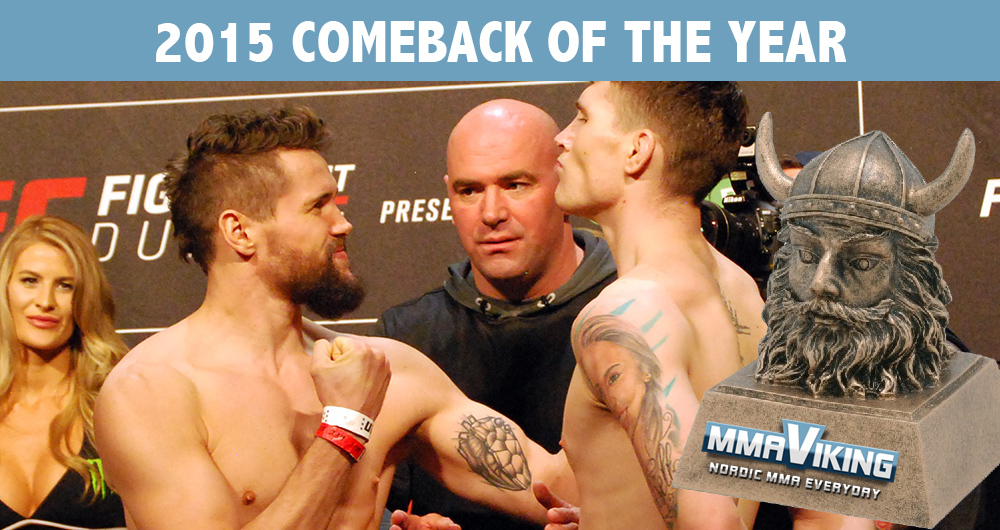 While there were other notable Nordic comebacks this year, including Emil Weber Meek battling back against Christophe Van Djck at Battle of Botnia 2015 and Ott Tonissaar stopping Mads Burnell at Octagon Athletes 2, it is Rumble Sports' Dalby that wins this year's MMAViking.com's Comeback of the Year with his amazing performance.
It looked like it was going to be one rough night for the Sharpshooter, where he was getting outpunched and kicked by Till for 10 minutes straight. "I fought in the first two rounds perfectly and Nicolas didn't know what to do with me." said Till who was in cruise control on his way to another dominant win.
OHHH! @DarrenTill2 drops Dalby to end the first round! #UFCDublin https://t.co/nRE9LUQN8a

— UFC (@ufc) October 24, 2015
"I was thinking about quitting" said Dalby to MMAViking.com about his mentality walking back to the corner after the second round. "Nothing was working."
Motivated by a speech from coach Tue Trnka, Dalby was able to come into the last round with a new game plan and attitude, and it all worked to perfection. "I had to change his life, in less than 60 seconds." remembers the head of Rumble Sports as he searched for a message that could get through to his mentally and physically beaten fighter. "I looked deep into his eyes and soul, I told him listen."
Dalby went out with "sparks coming out of his ass" and it was a head headkick to start the round and another headkick two minutes in that lead to a dominant 10-8 round and a near stoppage in two of the judges eyes leading to a miraculous come from behind majority draw.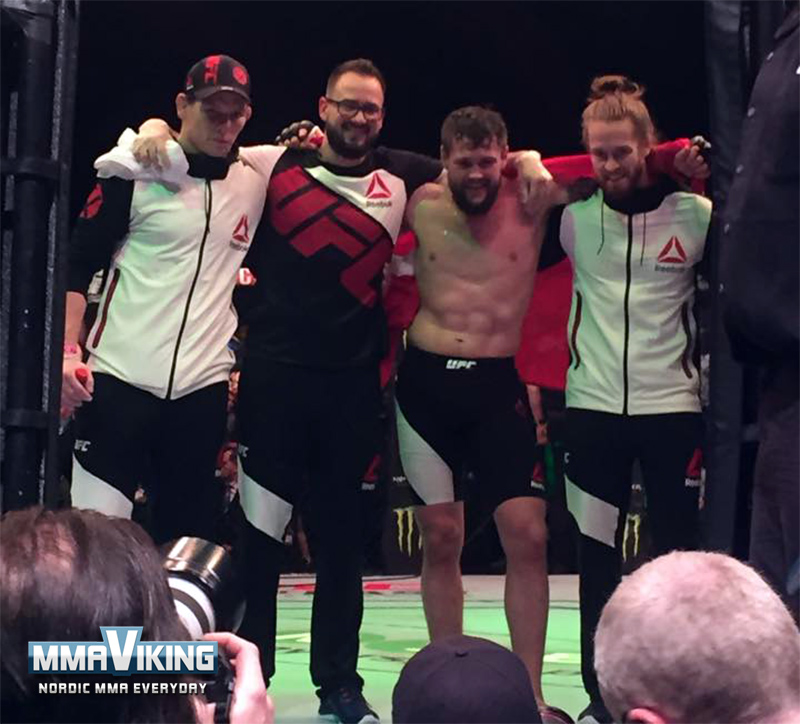 Dalby's performance was on one of the biggest stages in Europe, as he was on the main card of a packed house at UFC Fight Night 76 event at 3Arena in Dublin. The Dane did get "Fight of the Night" honors worth $50,000 to go along with his mmaViking.com award.
Dalby previously won the 2014 KO of the Year : Nicolas Dalby at Cage Warriors 66.