The final event for the year in Scandinavia will as usual take place in Malmö as Trophy hosts their annual 'Nyårssmällen' today. This year, they have a new venue booked at the Glasklart and a good mix of pro mma, amateur mma, and shootfighting.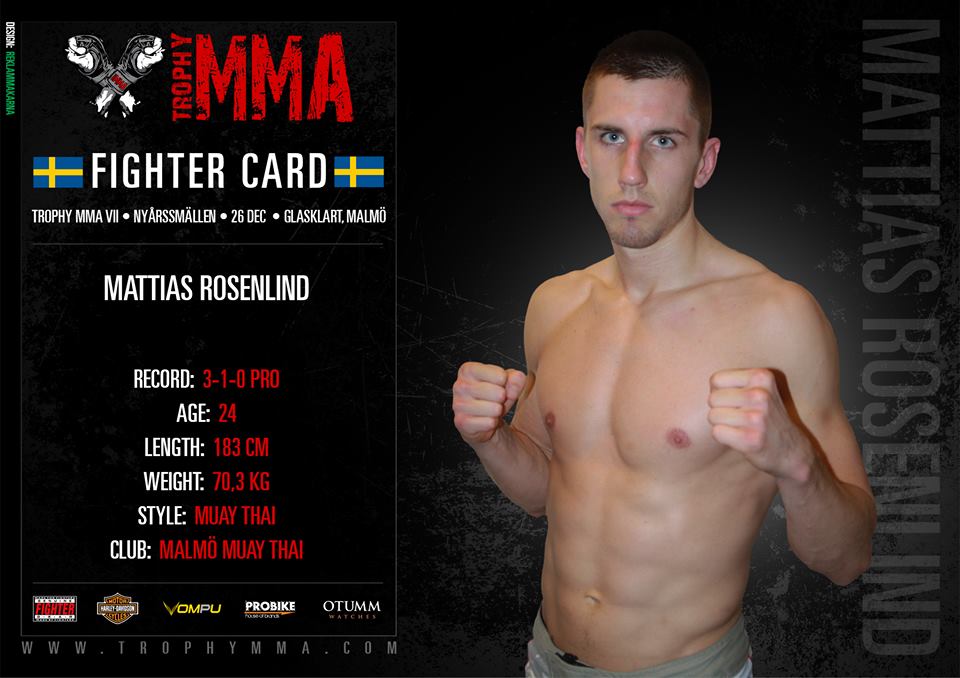 The main event this year will be the hometown favorite and light weight prospect Mattias Rosenlind (3-1) taking on the Norwegian Edvin Eldholm (2-2) from Team Heavy Rain.
The Malmö Muay Thai talent has since the debut loss against Robert Washington lined up 3 solid wins. They include Polish Wojciech Makowski, Rioo Ibrahim in a hot battle of Malmö, and the now more famous TUF participant David Teymur whom he beat by unanimous decision. Eldholm comes in with a 1-1 record this year with two solid fights at M4tC -17 and -18 in England where he fought against tough and experienced oppisition.
In another pro fight of the evening middle weight Epic FC's Linus Andersson (0-1) will square of with the Danish pro debutant Mikkel Kasper from Arte Suave Copenhagen. Andersson's pro debut took place at the Trophy IV where he lost by a rear naked choke against Alexander Bergman.
In the amateur division Daniel Bergström (3-1) from Apex Kalmar takes on Louis Glissman (2-0) representing Arte Suave Denmark in a middle weight bout.
Also in the amateur Mohamad Habal (0-1) Team AVAM squares of with Tobias Harila (3-1) Västerås Fight Club in the 70,3 kg and Ali Taleb (0-0) Swedish Athletics will make his amateur debut against Hoger Salih (0-2) from Fightzone Sthlm.
The shootfights are made up of:
77,1 kg Daniel Möller (1-0) Fox MMA vs. Ali Ibraheem (0-0) Swedish Athletics
70,3 kg Ahmed Hussein (0-3) Team AVAM vs. Alexander Lindvall (1-3) Kristanstad Kampsportscenter