2015 was an up and down year for Norwegian Emil Weber Meek (7-2-1-1), but no moment in or out of the cage was to be missed. The only Nordic fighter that can literally outdraw his opponent's fans in away fights in Sweden and Finland, it is the newly rebranded "Valhalla" that wins MMAViking.com's Nordic Showman of the Year for his campaign that ended with two impressive wins.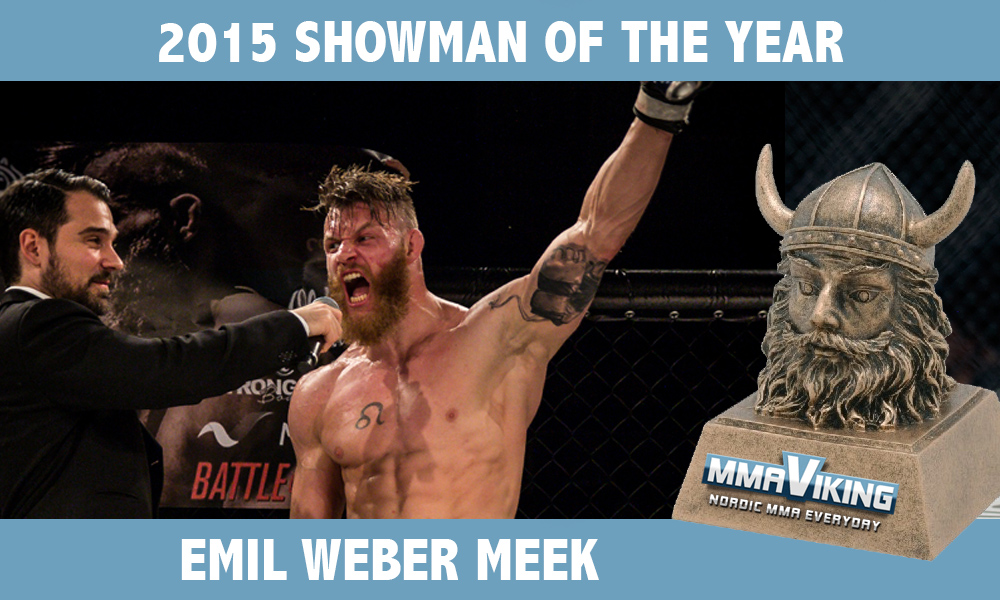 Previous winners of the award :
• 2013 Showman of the Year: Jorgen Matsi
• 2012 Showman of the Year: Makwan Amirkhani
While Meek was on the sidelines all of 2014 recovering from surgery, 2015 included four exciting battles in the cage.  The welterweight was on his way to a 3rd round TKO in his return fight in Poland in March over Piotr Danelsk, but a strange referee interference let the card go to the judges.  The fight was eventually overturned to a No Contest, but the power and heart of Hulk shined through till the end.
Following a loss to Albert Odzimkowski in July, it looked like lofty UFC dream of the MMA Trondheim fighter could be slipping away.  However, with renewed energy and a full Hulk Army in the house, Meek marched into Finland to stop Kai Puolakka in the third round.  It was one of the most emotional fighter and team celebrations you will ever see, as the importance of getting back on the winning track was not lost in the lights of Helsinki.  Perhaps it was a shoutout to MMAViking.com during the post-fight celebration that got him closer to this year's award, but the fight and post-fight speech was pure entertainment at Cage 32.
Meek hit full stride with his fight and showman game when he met Christophe Van Dijck (7-2) in Umeå last month at Battle of Botnia 2015. As the promotion announced the matchup of the two fighters that went by "The Hulk", Meek outmaneuvered his opponent's marketing strategy with a new nickname….. VALHALLA.
After one of the better comebacks in the Nordics where he avoided a submission early, Meek TKO's Dijck in the second round then ran out of the cage to his teammates that traveled to cheer him on and then celebrated in the cage with a battle axe.
Lastly, Meek disposed of three Santa Clauses in the cage truly proving that there is nobody in the cage or on social media that can touch the power of Valhalla.
Meek is no stranger to the MMAViking.com awards, who won Prospect of the Year in 2013.