My name is Daniel "Spiderpig" Schälander and I've produced over 400 videos for MMAViking since 2011 and attended over 30 MMA events in the Nordics and events all over the globe where our Nordic Vikings have fought. From Raju in Estonia to the UFC in Toronto when "The Mauler" clashed with the then indestructible champion Jon Jones. It is only in the most recent year however that I've developed a deeper interest for photography and in my opinion stepped my game up considerably. And as we are about to enter 2015 I've picked out some of my personal favorite photos of Nordic fighters or Nordic fights that took place during the gone year. So without further ado I give to you my top five photos of 2014.
#5 Gunnar Nelson at UFC Sweden 4 Open Workouts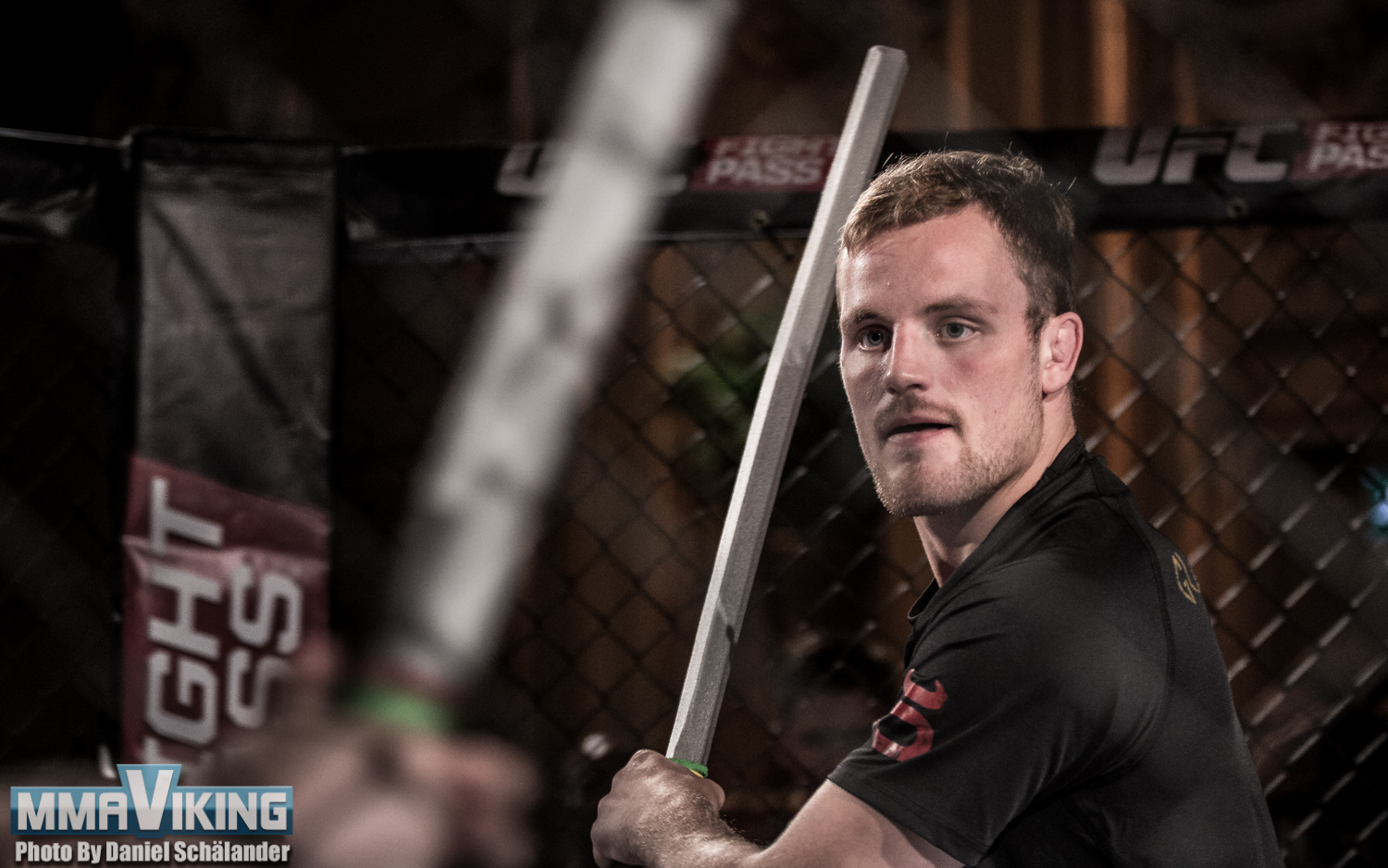 Gunnar Nelson is known for being one of the most characteristic and outgoing personalities in all of MMA ahead of fighters like Reza Madadi, Conor McGregor and Chael Sonnen. No? Okay maybe not. But the Icelandic sensation showed us a glimmer of playfulness at the Open Workout for the third Swedish UFC event held at the Grand Hotel in central Stockholm. When the grappling standout pulled something very unexpected out of his sleeve, two foam swords. Perhaps the playfulness comes from recently becoming a father as Nelson had a new born baby waiting for him at home.

It was one of the more memorable open workout sessions I've witnessed, especially coming from the usually very reserved Mjölnir fighter. In the picture we see a very focused Nelson eyeing down the other combatant and coach, John Kavanagh of SBG Ireland, Gunnars second home. Unfortunately Gunni wasn't able to prolong his winning streak in loosing a close decision to Rick "The Horror" Story, along with some other unfortunate results from the majority Scandinavians this photo is one of the golden nuggets I take away from the whole event.
#4 Latifi Celebrating in Dublin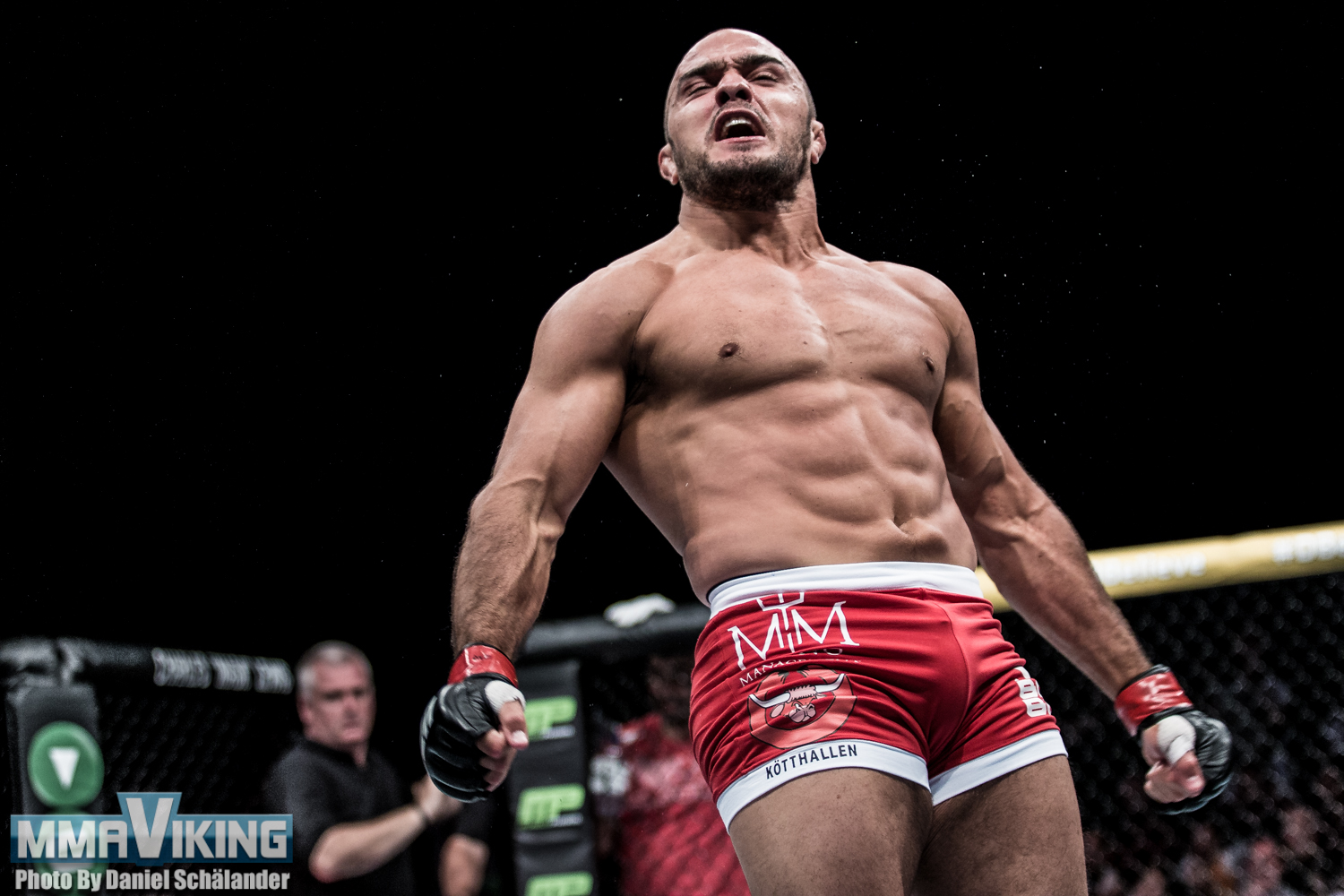 I had the honor of shooting the UFC event in Dublin where Scandinavians Tor Troéng, Gunnar Nelson and of course "The Sledgehammer" Ilir Latifi battled at the packed O2 in Dublin. There were many great pics from that evening but this one is the one that stands out the most. Malmö's Latifi celebrating in joy and relief after knocking Americas Chris Dempsey out cold with a right hand that shook the ground in Dublin. As Dempsey was coming in on short notice in a weight class above his usual he had a very tall mountain to climb in getting past the athletic Latifi. All week a look of despair could be sensed from the division 2 wrestler, perhaps he knew what was coming.
#3 Tauru submits Akhtar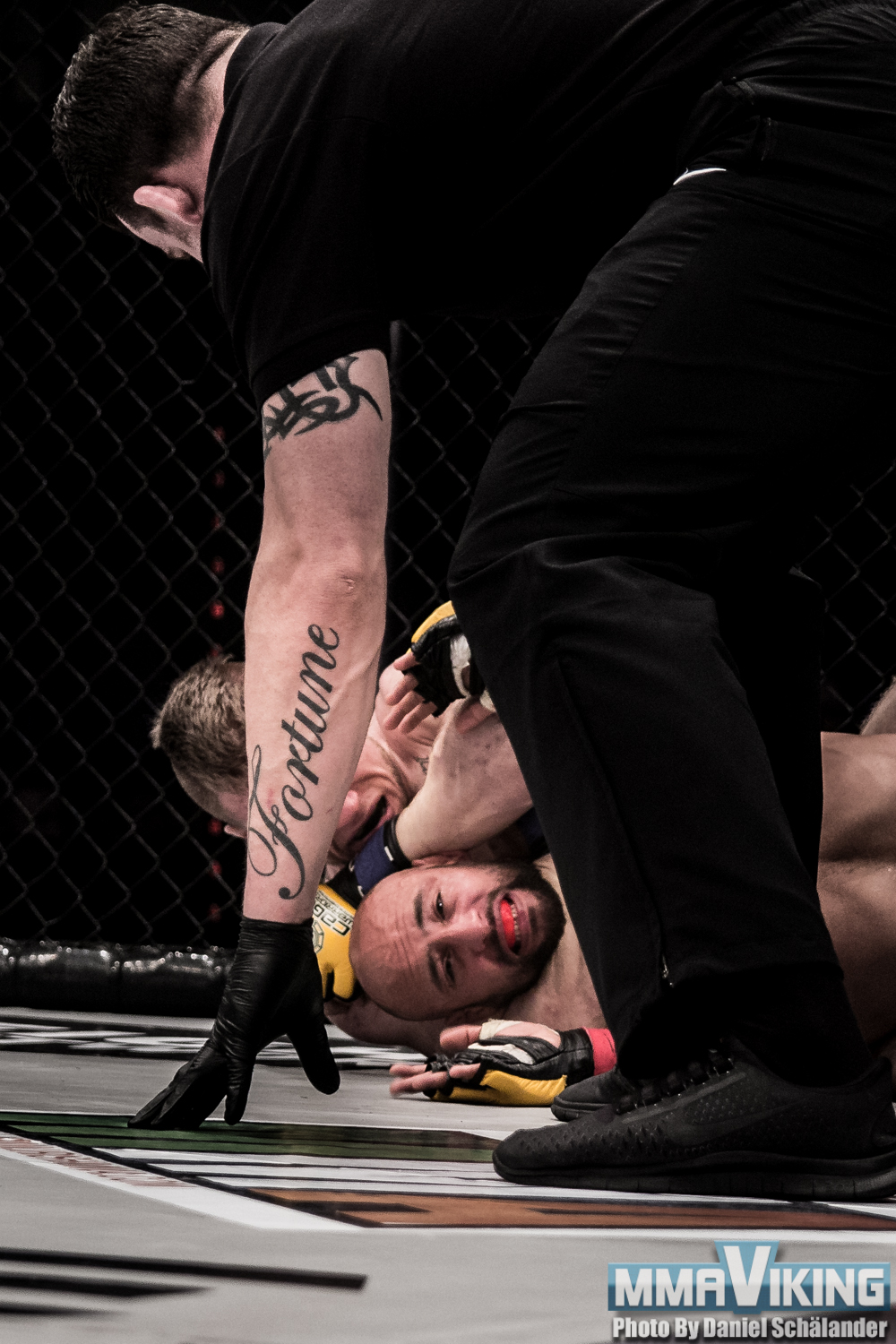 I've seen Martin Akhtar compete against competent grapplers on several occasions, very few of them have been able to finish the Muay Thai specialist. At Superior Challenge 8 Spains Leandro Gontijo got the back of Akthar early and quickly sunk in the rear naked choke. I was sitting less then a meter from the action and I could see Akhtars head turn purple as he refused to yield to the Spaniard. Gontijo burned his arms out and went for an armbar instead, it was as tight as the choke but Mr. Akthar is one tough son of a gun. Akthar got out of the armbar as well and managed to win via TKO by the end of the round. In his next fight Akthar was set to face prospect Emil Hartsner in a Malmö Derby at Heroes FC. Hartsner at the time had three straight submission wins, two via RNC and one via triangle choke. The fight looked the same in all three rounds, Hartnser in dominating positions with both rear nakeds and triangles fully sunk in but nothing would make the Bantamweight from Malmö Muay Thai tap. The fight ended in a unanimous decision win for Hartnser who later had a discussion with team mate and friend Martin Svensson on the durability of Akhtar. "He's like a cochroach, you can cut his head off and he will still keep on going" Svensson expressed in the looker room. Akthar was then matched with Finnish submission artist Toni Tauru at Cagewarrios in March at their first Scandinavian event held in Copenhagen. Tauru has a record of ten wins with seven of them coming via submission, six out of those are via rear naked choke. Tauru did not wait to initiate the takedown and established the back mount. He sunk in the choke and boy was it tight, but I knew that nothing is guaranteed when you get Martin in a choke hold. So it almost shocked me as I saw Akthar tapping the ground and submitting, the only time it has happened both before or since so far. Ed Arthur found himself in a similar spot when claiming the Superior BW Belt but he could not get the tap from the resilient Swede.

#2 An Amped up Joker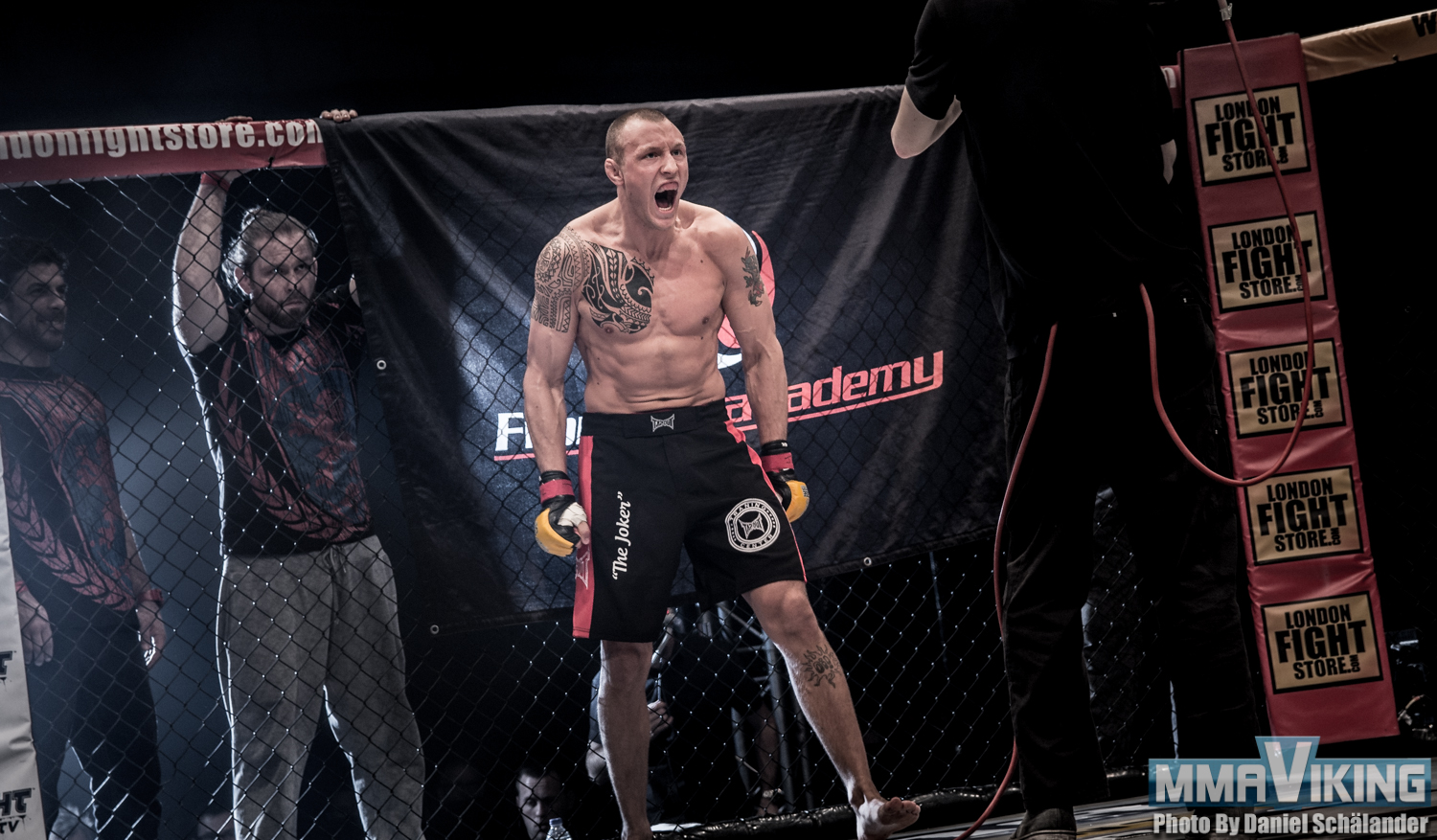 Another photo from CWFC 66 in Copenhagen. It was my first time seeing the Norweigan based Swede live. I did not anticipate the energy Jack Hermansson would enter the cage with. Walking down the ramp all the way to when the fighters touched gloves "The Joker" was screaming and pumping himself up. His energy levels wouldn't diminish until the fight was over and the Swedes hand was raised. I got many great shots from this performance but this one is my favorite from that fight. The Frontline Academy fighter later went on to win three more fights during 2014 and earned the MMAViking award 2014 Breakthrough Fighter of the Year.
#1 It's not easy being an MMA Fighter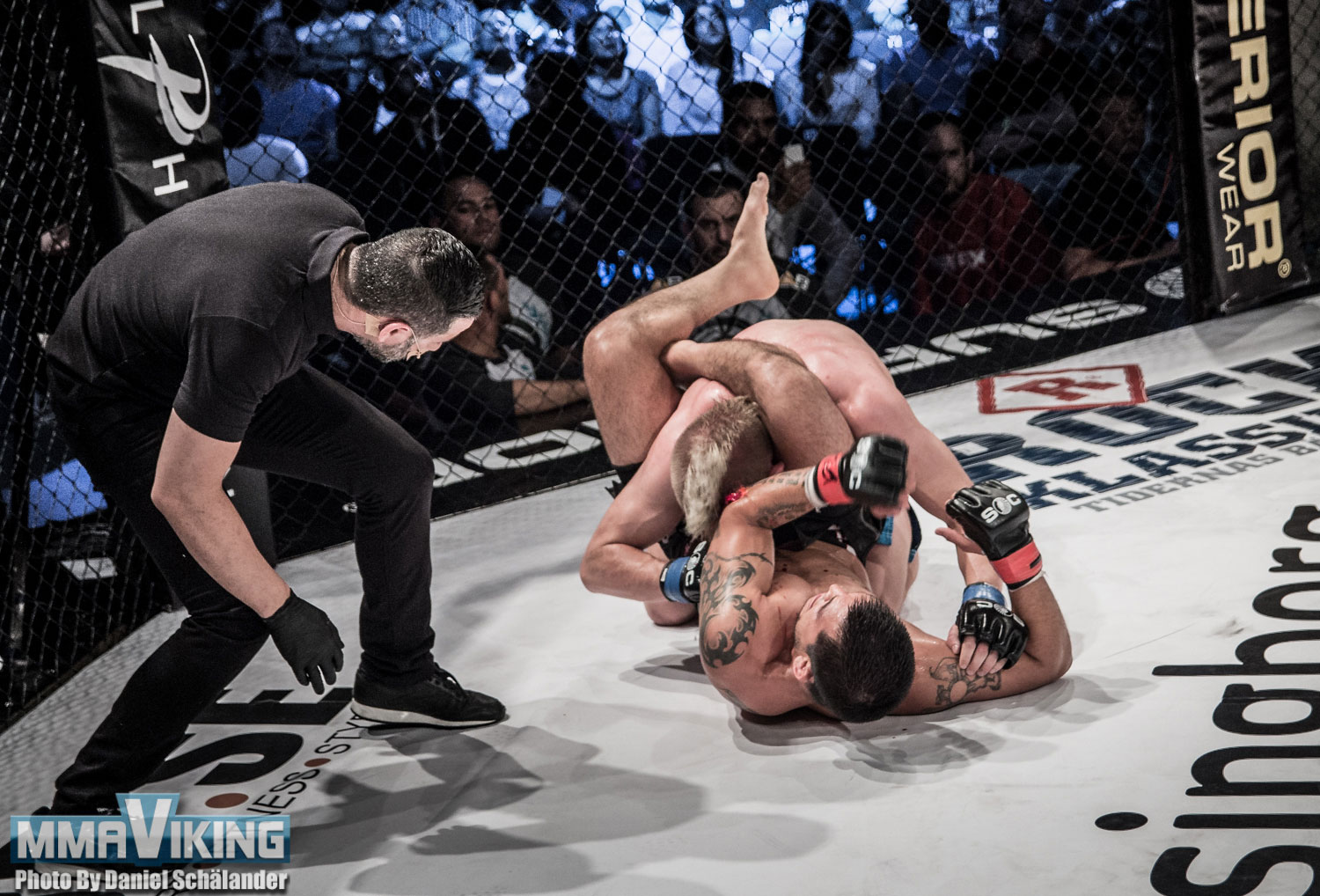 When normal people have a bad day at work it pales in comparison to what a bad day at work as a MMA Fighter looks like. Finlands Juha-Pekka Vainikainen took the fight against fromer UFC Fighter and Season 8 Ultimate Fighter on a short notice replacing Reza "Maddog" Madadi at Superior Challenge in Helsingborg in early May. The tall Finn had trouble finding his distance in the standing part of the fight and as the fight went on to the ground "JP" found himself stuck between a rock and a hard place being caught in the triangle of Escudero while getting battered with elbows to the head. The photo was taken at the exact moment when the MMA Lab Lightweight landed a nasty elbow to Vainikainens head opening up a deep gash. If you look closely you will see the blood splatter spout from the Finns head and with only 12 seconds left of the fight referee Kevin Sataki had seen enough and stopped the fight declaring Escudero the winner and new Superior Lightweight Champion.
So those are my top five photos of this year, if you haven't seen our Finnish photographer Iikka Nikkinens top five pics from the past year you can do so here. Also look forward the top five photos from Denmarks Jesper S. Baek in the coming days, you don't want to miss those, trust me.
For a complete list of the MMAViking.com 2014 awards and favorites, plus a complete listing of award's history.