With the UFC 158 behind us, it's now time for the UFC in Sweden II event. The card also known as UFC on FUEL TV 9: Gustafsson vs. Mousasi will take place on April 6 at Stockholm's Ericsson Globe Arena. Below is the latest card, which has 12 fights officially announced, and it is expected after the TUF season is over that Tor Troeng will be added.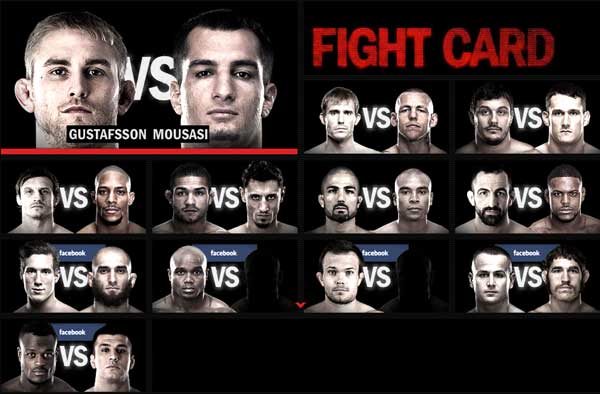 Main Card
The card will feature seven Swedes, which are noted below.
– Alexander Gustafsson (Sweden) Vs Gegard Mousasi
– Ryan Couture Vs Ross Pearson
– Philip De Fries Vs Matt Mitrione
– Mike Easton Vs Brad Pickett
– Diego Brandao Vs Pablo Garza
– Akira Corassani (Sweden) Vs Robert Peralta
Prelim Card
– Michael Johnson Vs Reza Madadi (Sweden)
– Adlan Amagov Vs Chris Spang (Sweden)
– Michael Kuiper Vs Tom Lawlor
– Marcus Brimage Vs Conor McGregor
– Papy Abedi (Sweden) Vs Besam Yousef (Sweden)
– Ben Alloway Vs Ryan LaFlare
– Tor Troeng (Sweden) Vs Adam Cella*
*Not yet announced
This card will feature the first sanctioned 5 round bout between Alexander Gustafsson and Gegard Mousasi. The card will also feature the first Swede versus Swede bout as Stockholm's Papy Abedi faces Gothenburg's Besam Yousef.
Gustafsson, Madadi, Abedi, and Yousef competed at last year's UFC in Sweden, while Corassani, Troeng, and Spang will be in the Swedish Octagon for the first time. Both Troeng and Spang will be making their UFC debuts.