Malin Hermansson (2-0) signed with Bellator back in August, but has not been able to find a matchup. "2019 is going to be a great year.  My bellator contract is live, they've sorted out my US work visa and are actively searching for opponents for me." says the Swede to MMA Viking.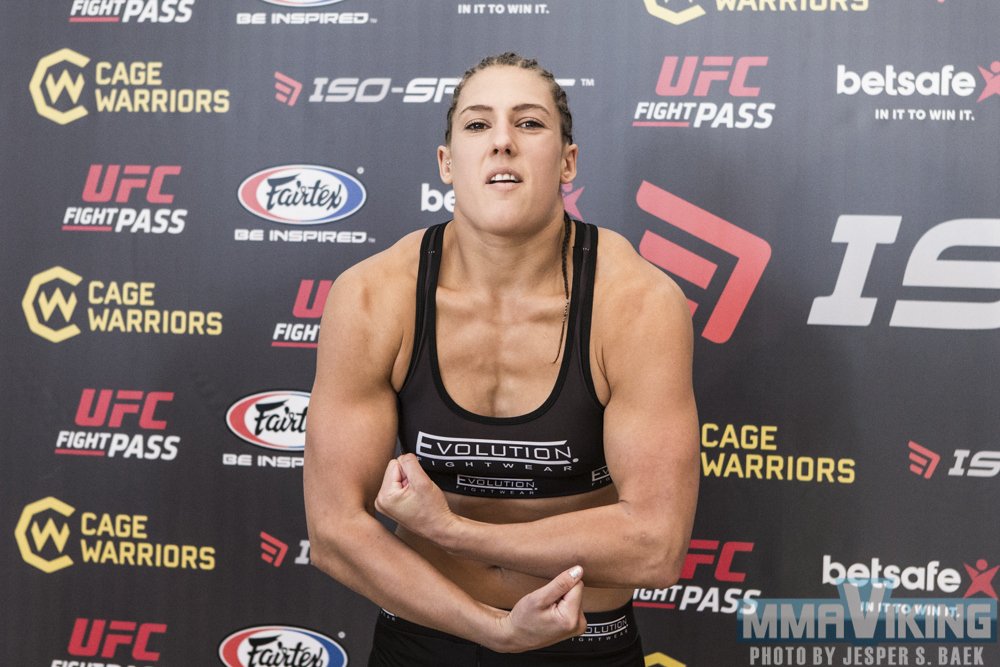 The Akademi Nord fighter was most recently in the cage at Cage Warriors 93 earlier in the year, where she edged Cornelia Holm (1-1) in the battle for the #1 Nordic flyweight spot. She also won her pro debut over Gabriella Ringblom (0-1) at Superior Challenge 16.
"I was close to fighting on the Newcastle card in February. Jude (Samuel, the European matchmaker) had an opponent lined up, but as usual she got 'injured' (something that seems to happen a lot when someone gets matched with me, then sees what I've done to past opponents). We've been trying to find other opponents. We've even reached out to a few ourselves; women who have appeared on global MMA TV shows, who's email, Twitter, Facebook and even contact sheets via their websites seem to have stopped working as soon as we've reached out to them.  Rather than waste time on these girls who have no ambition, we're now looking to the States. We've been told that the US matchmaking team are looking for opponents for me for early 2019." says Malin with a new outlook.
"I like to make things happen myself too, so I've just set up a Twitter account as that seems to be the best way to get in touch with future opponents. I've called out half the division, but as usual, most seem to be unable to see their notifications unless it's someone kissing their ass, of course. I've tried Lukewarm Heather Hardy a few times, as I think that would be a good match up for the fans, but she's silent."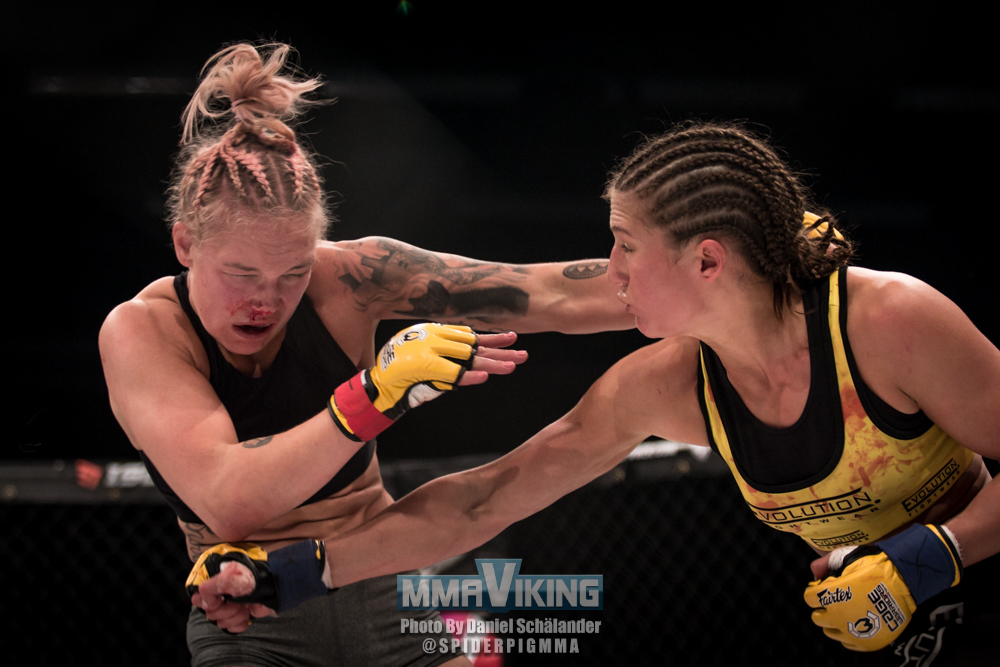 "The first person who's actually stepped up is Brooke Mayo. She calls herself 'The Bully', but is 0-2 in her career! She has to be the worst bully on the planet… In a way, I'll feel sorry for her, as when I make her go 0-3, her career will be over. Well, not unless you want to fight in front of 150 people in Nantucket or somewhere else as pointless. I respect her for having the guts to say she'd face me though. If it wasn't for the nonsense she sent me about Twitter followers, I might feel a bit guilty over changing the course of her career. Brooke, if you're reading this, the 1,000 followers you've amassed over 3 years on Twitter may be more than the 30 I've got in 3 days of having an account. That won't save your career though. I'm sure Bellator can handle losing you, especially now us European girls have arrived."
"Valerie Letourneau is another woman I'd love to fight in my career. She's been one of the pioneers in women's MMA. I called her out respectfully, but if we fight, when the cage door closes, it's all business.
"This is the year I want to be active. I want to fight at least three times in 2019, maybe 4. By the end of the year I want my name to be the only name in the title picture. Ilima-Lei is a great role model for women's MMA. She's a very talented fighter too, but she'll have to keep inspiring kids without the belt on her shoulder, as I'm bringing it back to Sweden by early 2020. I'm humble of the challenges ahead, but I can't sit around on my ass doing nothing. It's my time now."