Aleksi Mäntykivi (12-5-0) used a viscous striking attack to slow and eventually stop Brazilian Guilherme Cadena (25-17-0) with a paralyzing attack of low kicks . The Finn bounced back from a loss in his last fight to dazzle the crowd in Helsinki fro Cage 46 tonight. "Nobody can take my leg kicks" yelled the Team East Front fighter after the win. Read the play-by-play of the action below.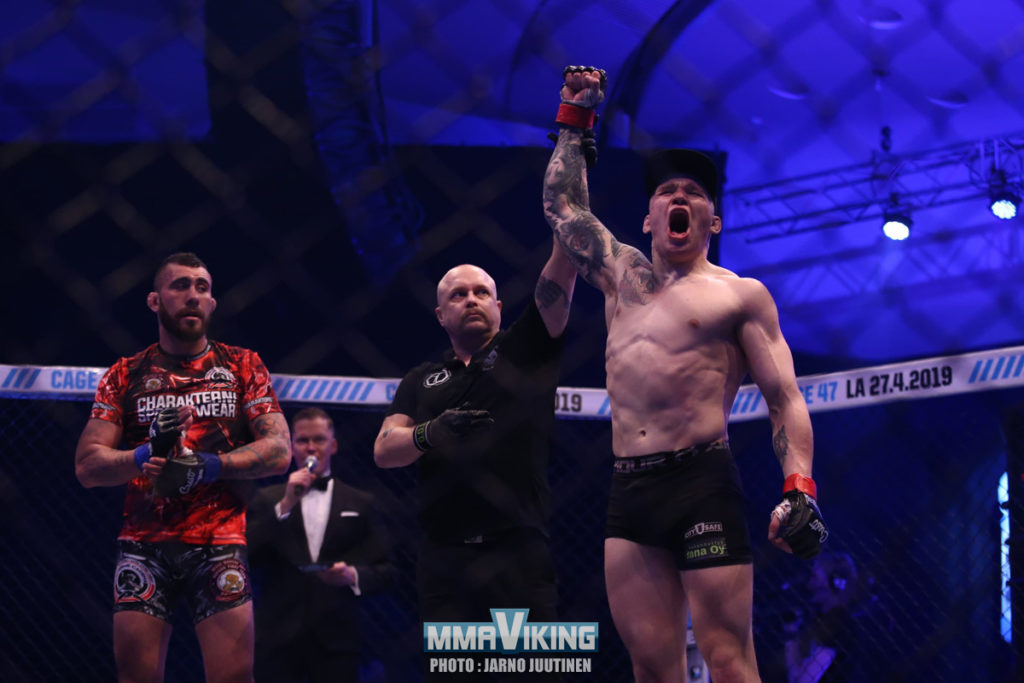 Round 1 – The Hurricane of Violence returns to Cage for a one-off fight! Touch of gloves and here we go. Both fighters start throwing kicks. Cadena pushes forward with punches and looks to take Mäntykivi down. Mäntykivi counters and lands on top of Cadena and Cadena pushes Mäntykivi away. Fighters end up clinching and the fight moves to the ground with Mäntykivi on top. Cadena is turning and might be looking for an armbar or a triangle choke. Mäntykivi creates some space and lands an elbow. What an intense pace so far, halfway of the first round. Mäntykivi lands a few more elbows and Cadena is turning to an armbar, Mäntykivi defends. Cadena is flowing in his guard smoothly, clearly a black belt in BJJ. Cadena attacks with another armbar and it's almost locked in! Mäntykivi stacks on top of Cadena and is defending! Thirty seconds left and Mäntykivi stands up and Cadena attacks immediately with a flurry of punches. Mäntykivi lands a tough right straight and throws a headkick that is blocked by Cadena right at the end of the first round.
Round 2 – Crowd is cheering as the fighters are throwing down! Cadena throws combos and Mäntykivi counters. Mäntykivi lands a hard leg kick and Cadena falls to the ground. Cadena stands up slowly and Mäntykivi has a clear target. Mäntykivi sees an opening and lands a bomb of a leg kick and Cadena falls down and the fight is called off! Mäntykivi yells to the camera that no one can take his leg kicks!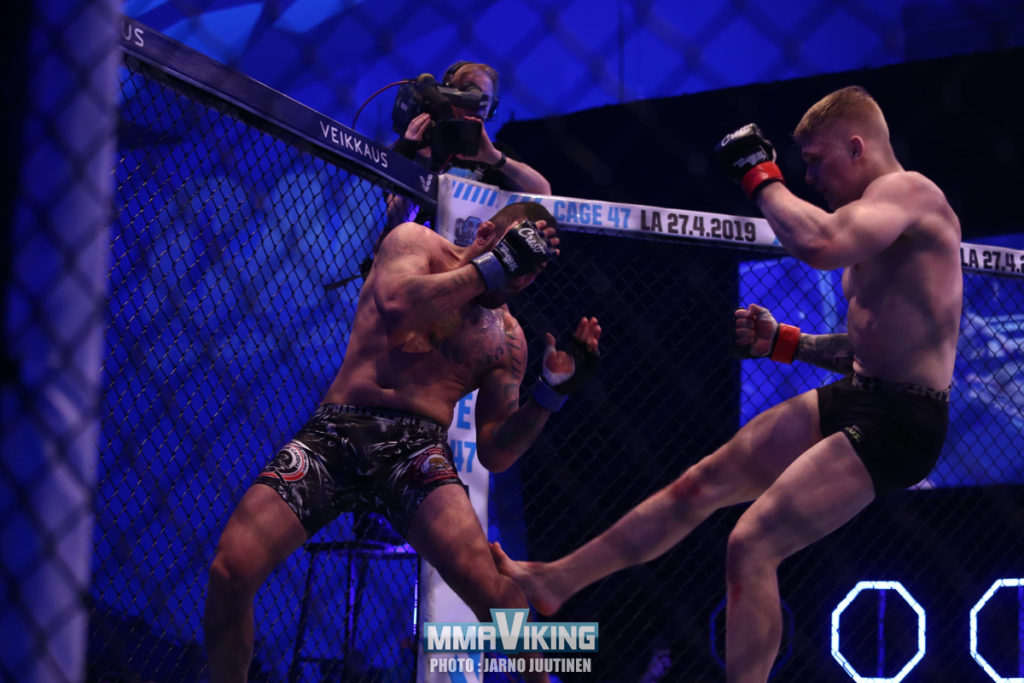 Result: Aleksi Mäntykivi (12-5-0) wins via TKO (leg kick) on the second round.