Today, FortunaPR sent the following Press Release to the media outlets:
Coming off an impressive win at BAMMA 7 against highly ranked UK Lightweight Jason Ball, ex Ultimate fighter star Andre Winner is looking to make a big impression against Diego Gonzalez at BAMMA 8 on December 10th. With the bout details now finalised the pair meet at the Capital Fm Arena in Nottingham for a Lightweight title eliminator. The fight will also be part of the main live broadcast on HDnet, available in homes across North America and Canada.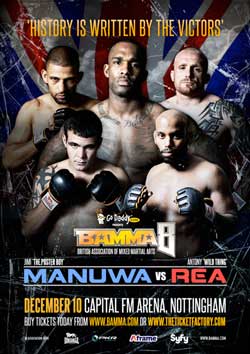 Diego Gonzalez is coming off a notable first round submission victory against Jarkko Latomaki and with an impressive 14-5 (1 nc) record, the Swedish star looks a stern test for Winner. Renowned for his in your face durability, Gonzalez will look to take the fight to Winner in his home town. Winner has been aware of Gonzalez and his credentials on the European scene for a long time, as he explains:
"I know Diego from when he sucker punched Dan Hardy, he's a good fighter and I know he will be training hard somewhere. It's going to be great to come back to Nottingham to fight in front of fans and my family. I'm really looking forward to it"
Lightweight contender Winner is pleased with his performance last time out at Bamma and wants to showcase more of his growing mixed martial arts arsenal in this bout, as he explains:
"I wanted to show a lot more variation in my fight with Jason and that's just what I did. You are going to see some more things in this fight. I'm becoming more of a mixed martial artist, there is no point being in mma unless you are going to use everything"
Former Ultimate Fighter finalist Andre Winner is well known for his crisp technical boxing and although he promises to showcase some new things, he firmly believes his stand up skills will be too much for his opponent:
"He probably has better jiu-jitsu than myself but I don't think he'll outwrestle me and I don't think he'll out strike me. I think I'm the better striker, he's got some nice overhand punches but I've got more variations".
Winner is clear on his intentions at this stage of his career and wants to fight the best available opponents on Bamma. A true fighter, Winner is ready to take on all comers and is happy that Bamma offers him the chance to take on some top calibre opponents:
"When I left the UFC there was one promotion I wanted to go to and that was Bamma. Fighting easier guys never crossed my mind whatsoever. They can make the fights and do the promotion and I will get in there and fight anybody."
As far as a prediction for his fight?
"I think it could be a war mostly on the feet. I don't like to make predictions but I see myself stopping him in the second or early in the third".