Denmark's biggest MMA event takes place at the MCH Herning Kongrescenter this Saturday evening. Headlining the Cage Fight Live (CFL) card is a title elimination bout between top Danish star Kenneth Rosfort-Nees and Brazilian BJJ ace Fernando Paulon. The winner is set to fight Philipp Schranz for the CFL Lightweight Title in March.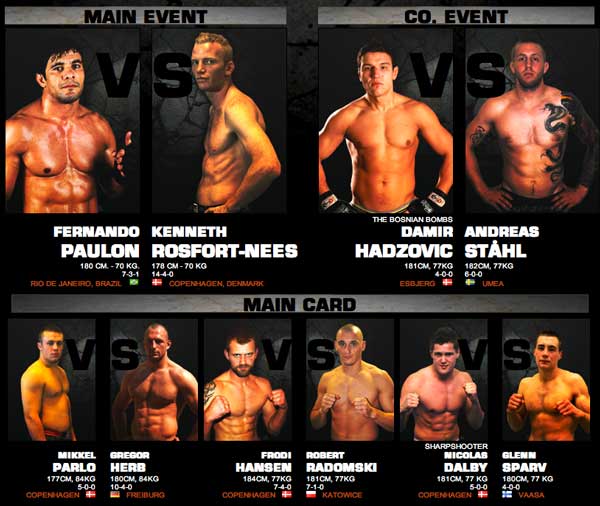 Paulon says in an interview with CFL that "Kenneth is one of the best fighters in Denmark. But I am here to show the Danish fans that I am better and the right contender for the world title." In response, the confident Rosfort-Nees states "Paulon may be a Brazilian jiu jitsu world champion, but how good is that, when I hit him and he will get knocked out?"
The card is filled with up-and-coming prospects looking for a breakout performance. Most notable is a battle of undefeated fighters in the co-main event, where prospect Damir Hadzovic (4-0) from Esbjerg, Denmark, takes on and Swedish Andreas Ståhl (6-0).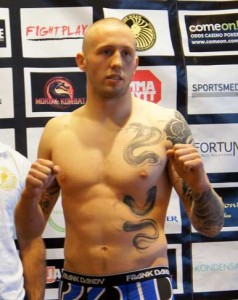 Ståhl tells MMA Viking "I expect a tough fight. Hadzovic is a talented guy standing." The winner of Sweden's Kimura Talent competition prior to turning pro says he expects his opponent to "come out hard in the early rounds with his hard punches and try to keep a distance."
Hadzovics boasts that "Ståhl can say whatever he wants, but it will not change the fact that he will get knocked out or submitted. After the fight, there is only one of us who remains unbeaten and that´s me!"
The much hyped Mikkel Parlo, who has finished all 5 of his opponents in his pro career from Denmark, will take his undefeated record into the cage against the experienced grappler Gregor Herb (10-4) in a much anticipated bout. Herb has won his last four of five bouts, with his lone loss coming to grappling star Mats Nilsson from Sweden.
The powerful Glenn Sparv (4-0) of Botnia Punishment travels from Finland to take on Nicolas Dalby (5-0) a Fightcraft gym Danish fighter who has making a name for himself smashing opponents at Fighter Gala events since turning pro in March of 2010.
Poland's Robert Radomski (7-1) also enters the cage against Copenhagen's Frodi Hansen (7-4) on the main card.
Prelim Card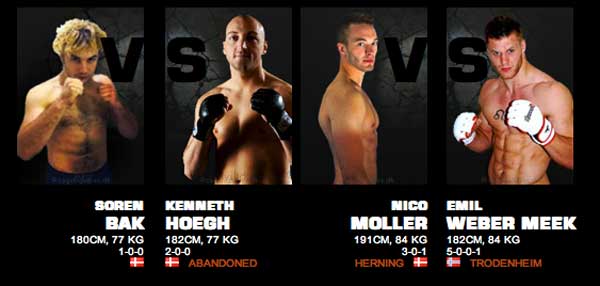 Event Video Promo
How to Watch
If you can't attend the event at Koncertsalen MCH Herning Kongrescenter, Østergade 37, 7400 Herning, the card can be seen live on the internet for the price of 100kr (17.99 USD). Go to
http://spstv.dk/2011/11/15/sps-cage-fight-live-live-saturday-nov-19-7pmcet/ or www.ustream.tv/channel/spstvlive to purchase the event for on-line viewing.
CFL's first event was April 9th of this year, but with TV coverage of the event and good publicity the event is on the rise. As one of its objectives of CFL is to represent the Danish MMA as a positive advocate for the sport, promoting MMA athletes and aiming to be a big part of the growth in this sport. The promotion is striving to take MMA to an even greater level and give a positive image by standing as an ambassador for the sport and showcase Denmark's finest competitors. www.cagefightlive.dk for more information.
Be sure to read play by play and view Cage Fight Live Results.
"Like" MMA Viking on Facebook and connect with Ryan O'Leary on Twitter for more Nordic MMA news.