Cage promotion's second event in November will take place in northern Finland in the city of Oulu. The show, labeled Northern Storm 2, had a big headliner fight when Cage Featherweight champ Tom Niinimäki was set to defend his belt against Scottish veteran Paul Reed. Unfortunately Reed decided to pull out of the fight just few days before the event. The promotion worked around the clock to find a replacement for Reed and they did. Russian Vladimir Karasiov will step in couple days notice. The fight with Niinimäki will still be about the belt.
The card has a bunch of interesting prospects on it. Bantamweight Toni Tauru has improved rapidly lately and made a big impression in his last fight at the Royal Arena in Denmark. UFC welterweight Demian Maia's top student Rafael "Rafi" Domingos is a grappling phenom who made a successful MMA debut a year ago at the Cage Northern Storm 1 event in Oulu. GB Gym's tank Jussi Halonen is a wrestling powerhouse with heavy hands. Member of national wrestling team, who usually fights at welterweight, has had to take some time away from fighting due to a broken hand and going through the military service that is still mandatory in Finland.
Cage 20 "Northern Storm 2" Trailer
MMA Viking sat down once again with the Cage matchmaker Olli Hartikainen who shared his thoughts on the fight card:
"The card has changed a bit again due to injuries but that's how it goes. Another big change is that Musa Amagov is off the card too. Amagov injured his neck at Cage 19 and he also has a old foot injury that is still bothering him. Many of the fights on the card are classic striker versus grappler match ups. So I think the fighters, who can play with their own strengths without adjusting too much to the opponent's style, will be the winners at Cage 20. I hope the crowd also pays attention to the preliminary fights as those are filled with very talented up-n-comers. " says the matchmaker.
Cage Featherweight title fight:
Tom "Stoneface" Niinimäki (17-5) vs Vladimir Karasiov (7-4), Russia
" Niinimäki is very good in all aspects of the game and he rarely makes mistakes in his fights. Finns have waited his breakthrough for a long time. Niinimäki is ready to show what he is made of at Cage 20.Karasiov is a brave man to step up against someone like Niinimäki on such short notice" comments Hartikainen.
FinnFighter's Gym's Tom Niinimäki has been among the very best European featherweights since his comeback in 2010. Niinimäki started fighting pro MMA bouts at the tender age of 18 competing with mixed results against high quality competition. After a over two year hiatus Niinimäki jumped back on board and has been really tearing it up ever since as he has won all of his seven bouts in dominant fashion. During this run Stoneface has beaten highly regarded opponents like Sergej Grecicho, Ben Boekee and Johnny Frachey. Niinimäki made his North American debut in his last fight at the Titan FC when he faced Ultimate Fighter alumn Brian Pearman. Niinimäki outstruck and outgrappled Pearman throughout the fight and finished him with a rear naked choke in the second round.  As a fighter Niinimäki is a total package with many strengths and very few weaknesses. He has very technically sound striking and grappling with makes him hard to catch with either strikes or submissions. Niinimäki is a big boy for the weight class and he will hold a size advantage over Karasiov.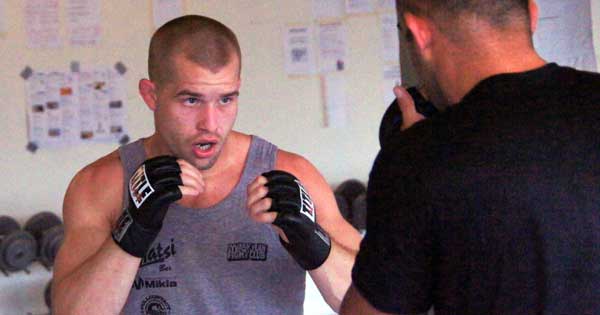 MMA Viking talked to Niinimäki who shared his thoughts on preparation for the fight and plans for the future:
"Training and preparation for this fight has gone well. The fight was signed on short notice but I was already in a pretty good shape. At the moment I have nothing special set for the future. I just want to win my fights and stay healthy."  says the Stoneface
Russian Vladimir Karasiov faces the biggest challenge of his career on a very short notice. 20 year old Karasiov has fought pro only since 2011 but managed to fight eleven times already. This is mainly because he has fought two tournaments in Russia with three and four fights per one show. Karasiov is no stranger to big challenges. In his last fight he took on Sweden's Sirwan Kakai, who is one of the best bantamweights in Europe. Karasiov lost to Kakai by rear naked choke in three minutes. The Russian is at his best on the feet with diverse striking skills and a fearless attitude.
WW: Olli Jaakko Uitto (9-2) vs Tahar Hadbi (8-6). France
"This is a grappler vs striker match up where Uitto is the grappler. The Finn has a strong ground game which he has used to finish most of his fights. Frenchman Hadbi's strength is his dynamic striking on the feet. The fighter, who can keep this fight on his own comfort zone, will probably win." ponders the match maker.
Finland's Uitto is a powerful grappling heavy fighter with effective takedowns and a versatile ground game. Uitto holds notable wins over top class Finnish welterweights Ville Räsänen and Kai Puolakka. Räsänen is also responsible for one of Uitto's two career losses with the second loss coming to Swedish prospect Nico Musoke at Cage 16. In his latest fight in September Uitto submitted Frenchman Jordan Boussin with an armbar in the first round.
French striker Hadbi has been fighting pro since 2009 and competed with mixed success. He has however raised his stock in 2012 winning all of his three bouts with two of the wins coming via TKO. Hadbi hasn't scored any big notable wins yet but he did go full rounds Faycal Hucin who after that has done great in Cage Warriors. Three of his losses have come by submission so the Frenchman better be careful with Uitto if the fight hits the ground.
BW: Toni Tauru (4-1-1) vs Lauri Ülenurm (3-3), Estonia
"Both guys had a successful amateur career before turning pro. Ülenurm has won the Finnish Open so some Finns already know him. Tauru won the Shooto Scandivanian championships as an amateur and is now quickly climbing up the featherweight division ranks." says Hartikainen.
Two allrounders meet in this bantamweight fight. Tauru is on his way to the top of the European bantamweight division. After the recent success the talented Finn has now put even more work into his training which hopefully will produce even better results in the future.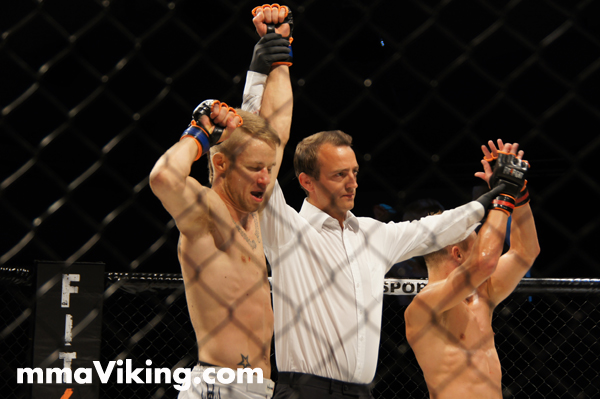 Toni Tauru shared his thoughts to MMA Viking a week before the fight:
"My fall season started off great in Denmark and it was nice to see that hard work has paid off. At the Royal Arena I knocked my opponent down and then choked him out. I'm planning to do the same on Saturday at Cage 20. My opponent Lauri Ülenurm has been in the game for a long time already, he fought his first pro fight in 2007. I'm feeling good about this fight. I've trained twice a day and had great sparring sessions with my team mates. The hardest rounds we did in Mikkeli with Tommi Marttinen and Jaakko Väyrynen. Let's win this fight first and then see what's out there for me, hopefully fights abroad. " says the rising Finn.
Finn's opponent Ülenurm is a seasoned combat sports veteran. Ülenurm fought last month in Estonia at the Raju 10 event where he lost to Polish grappler Marcin Lasota by heel hook .
FW: Rafael Domingos (1-0-0), Brazil vs Henri Hiiemäe (2-0-0), Estonia
"Rafi is one of Demian Maia's best students and his grappling skills are truly world class. He had a impressive pro debut a year ago at Cage Northern Storm 1. Estonian Hiiemäe is a striker with a clean 3-0 pro record. He is the reigning K-1 champion of Estonia. Hiiemäe has also won Estonian no-gi championship in 2008."  states the match maker.
Someone's zero has to go in this featherweight bout between two previously undefeated fighters. Brazilian Domingos is a phenomenal grappler but his opponent Hiiemäe holds a significant advantage on the feet.
LW: Jani Ridasmaa (2-1-0) vs Ali Ameziane (1-2-0), Sweden
"Heavy handed Jani Ridasmaa meets Sweden's Ali Ameziane, who last visit to Finland ended up to a decision loss to more experienced Jake Anttila."
MW: Jussi Halonen (2-1-0) vs Matias Rantala (0-0-1)
"GB Gym's Jussi Halonen has a strong background in wrestling. He usually fights at welterweight but now he faces Matias Rantala at middleweight. Both guys are known for being vigorous brawlers so there probably won't be much backing down in this fight." believes Hartikainen.
FLW: Harri Määttä (0-0) vs Dimitri Goette (3-0-0), Germany
"Oulu's own Harri Määttä will make his pro debut against more experienced Dima Goette of Germany. Määttä will have the support of the local crowd behind him but also the pressure from fighting at home." comments the match maker.
MW: Vyacheslav Andreev (0-0) vs Jani Myllynen (2-1-0)
"Competent striker Andreev faces Jani Myllynen who scored a big win over BJJ black belt Junior Beltraio at Botnia Punishment."
FW: Jaakko Dahlbacka (0-0) vs Martin Fouda ( 1-3-0 ), Sweden
Experienced Muay Thai striker Dahlbacka makes his debut against Sweden's Fouda who has over 1000 full contact karate matches under his belt.
Women 65kg: Eeva Siiskonen (1-0-0) vs Helin Paara (1-1-0), Estonia
"The event will begin with women's bout between reigning Finnish champion Siiskonen and 2011 Finnish Open winner Paara"