Once again, it seems the matchup between veteran Paul Reed and Tom Niinimäki is cursed. The two were scheduled to tango this weekend at Cage 20 in Oulu, Finland, but today it became clear that the bout might not happen again. MMA Viking has confirmed with Reed that the bout had fallen apart, and Cage has begun searching for a replacement.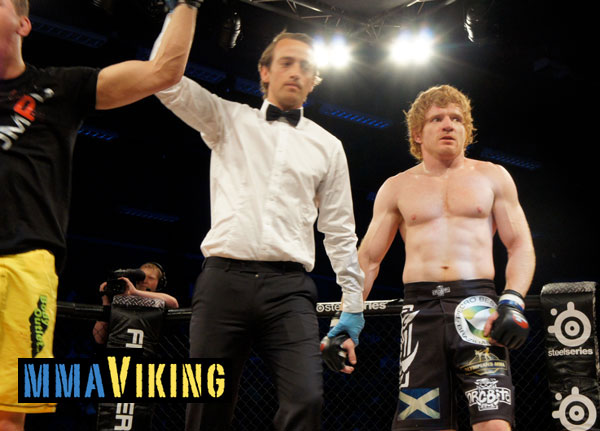 Niinimäki is ranked as MMA Viking's #1 Featherweight, and currently holds a 17 win and 5 loss record. At 29, "Stoneface" is ready for a major promotion and is riding a 8 fight win streak. He was looking to secure his position as one of the most deserving fighters for a UFC contract with the match against another veteran Paul Reed.
Reed, who was once scheduled to fight Niinimäki at Cage 18 pulled out of that bout due to injury. When MMA Viking contacted the 41 year old read for comment, he gave the following statement "There was a misunderstanding regarding the deal.It transpired that Olli the match maker expected me to pay for my own flights out to Finland, and I was told this on saturday when I asked about travel. I have never and would never pay for my and my corners flights to a show in Europe. I have Never did this one time and I have never heard of anyone doing this. I tried to negotiate with Olli over the weekend. I offered to come by myself and ask one of the Swedish fighters to do my corner. I would need to come on thursday to make weight. Olli told me there was no way my hotel would be paid for for thursday, I would need to pay myself. He could find another fighter for cheaper. Shortly after this I told him I decided I the show wasnt for me. I started eating, I made another fight elsewhere. Then he offered me what I asked for the previous day. Too little, too late. I spoke to the promoters at Cage after this and had a completely different experience, if i had spoken to them to start with I am 100 % sure I would still be fighting. But after 3 days of negotiating with Olli, when all i want to do is focus on the fight, I was completely put off. I am very sorry ive left Tom without an opponent, I have the total respect for him and I think he is a great fighter"
Cage promotion's matchmaker Olli Hartikainen commented on the situation on a Finnish MMA forum:
"We did the contract over the email with Reed. It said that the travel costs were included in the purse and that the promotion would only pay for the hotel. Over the weekend things got a new turn when Reed said that there had been a misunderstanding and demanded for flight tickets and extra hotel nights on top of a big purse. We have been trying to work this out for days now. In the end the promotion was willing compromise but the fighter didn't agree to anything anymore and told us that he was upset and doesn't want the fight."
According to the information MMA Viking has received Niinimäki will still fight at the Cage 20. New opponent for the Finn will be announced shortly.