CAGE 35 goes down tonight at the Culture House in Helsinki. The six fight pro MMA card will be headlined by UFC veteran Anton Kuivanen (23-9) who will take on Brazilian Felipe Silva (6-0). Another Brazilian that now trains out of Finland, Rafael Domingos, is the co-headliner, and other Finnish names such as Joni Salovaara, Mika Hamalainen, Suvi Salmimies, and Aleksi Toivonen also take on foreign opponents. MMAVIking.com is live cageside, so stay tuned for results, pictures, and more!
Results
ALEKSI TOIVONEN vs. NICOLAI TURCAN
Round 1
Toivonen scores and early takedown and quickly passes to mount. Turcan gives up his back, and Toivonen transitions to a an inverted kneebar. Turcan taps out at 1:09, and Toivonen picks up a quick finish.
SUVI SALMIMIES vs. TATOU GHANIA
Round 1
Both fighters start out cautious in the early going. Salmimies presses Ghania to the cage and lands a straight right. Ghania circles the cage but seems unable to create distance. Salmimies takes the back, and Ghania gets warned twice for holding the cage. Salmimies is in perfect position next to her corner, and her coach Toni Tauru calmly instructs her every move. Salmimies lands a few good strikes to the body and head to finish the round.
Round 2
The two exchange in a flurry and Salmimies lands a powerful kick to the body. She tries her luck again, but this time Ghania is ready for it and catches it, and feeds her a few shots for her troubles. Ghania flicks out a few jabs, but is still having a hard time getting off the fence.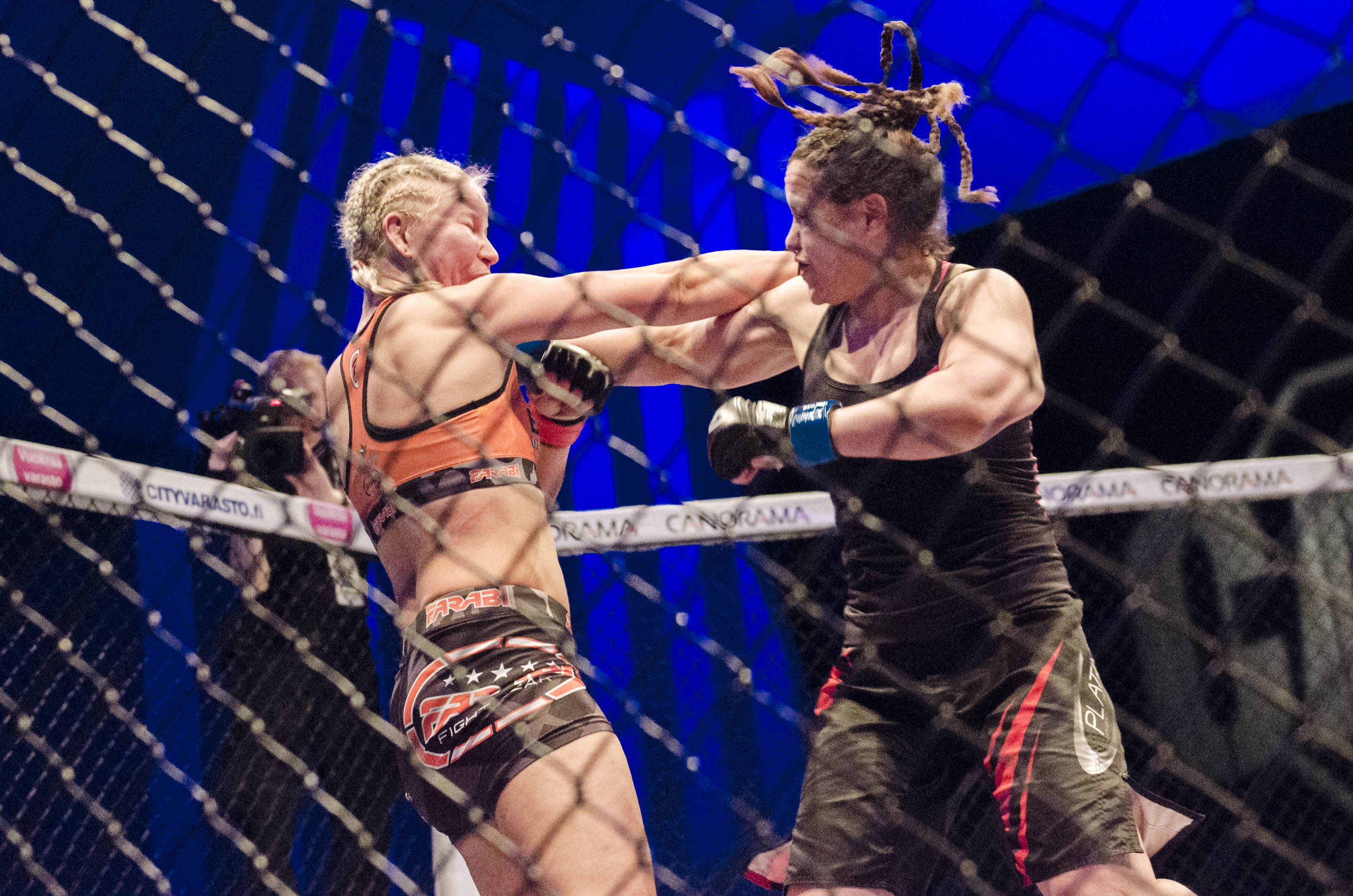 Salmimies opens up with a head-body combination and finishes with a strong kick to the body. Ghania takes a deep breathe and appears winded.
Round 3
Round 3 and it´s deja vous. Salmimies presses Ghania to the cage and lands hard leg and bods kicks. Salmimies tries a spinning backfist but fans Ghania´s face. Ghania lands a nice jab and looks for a takedown. Salmimies easily stuffs it, and feeds her a right-hand. The bell rings, and Salmimies raises her hands after a dominant performance.
Salmimies wins by unanimous decision.
MIKA HÄMÄLÄINEN vs. VALENTIN DESCHAMPS
Round 1
Hämäläinen lands a right cross counter seconds in and we´re off! Deschamps just misses a spinning heel kick. Hämäläinen drops his foe with a straight right, but Deschamps quickly recovers. It is a high action fight so far with both fighters landing big blows. Hämäläinen scores a takedown and immediately looks for a leg lock. He then mounts with a minute and a half left in the round.
Hämäläinen lands a few nice elbows and then gets deep on an arm bar. Deschamps steps-over, defending brilliantly, and reverses the position to briefly take Hämäläinen´s back. Close round to call. Hämäläinen might have landed the better strikes and submission attempts.
Round 2
Hämäläinen comes out quick landing a double-leg takedown. Deschamps defends well at first, but gives up the mount with four minutes left in the round. You can hear Deschamps head thudding against the canvas as Hämäläinen lands crushing hammerfists.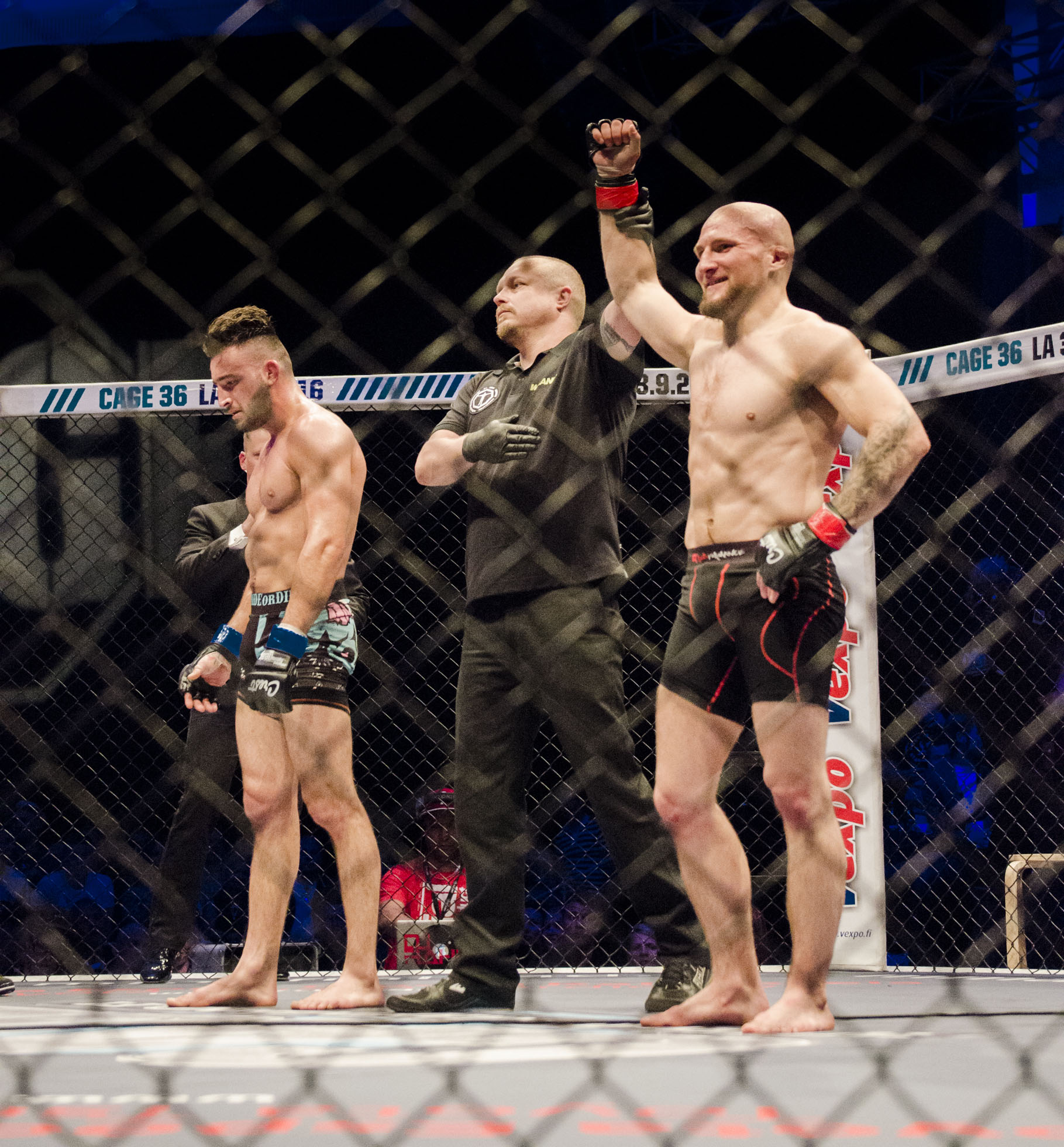 Hämäläinen sinks in a head-and-arm choke, and Deschamps has no choice but to tap. Hämäläinen wins by head-and-arm chokc at 2:58 in the second round.
JONI SALOVAARA vs. IVAN GADKIY
Round 1
Salovaara comes out kicking the legs and body, and Gadkiy just misses with a hard overhand right. Salovaara answers with a head kick thats partially blocked. Gadkiy drops Salovaara with a counter right, but Salovaara quickly returns to his feet. The same sequence happens again, but this time Gadkiy has more success with ground and pound. Salovaara gets to his feet and lands a knee.
With one minute left, they scramble, and Salovaara lands on top in side control. Salovaara transitions to mount, and unleashes a flurry of elbows with seconds left in the round, opening a deep cut above Gadkiy´s left eye. Saved by the bell?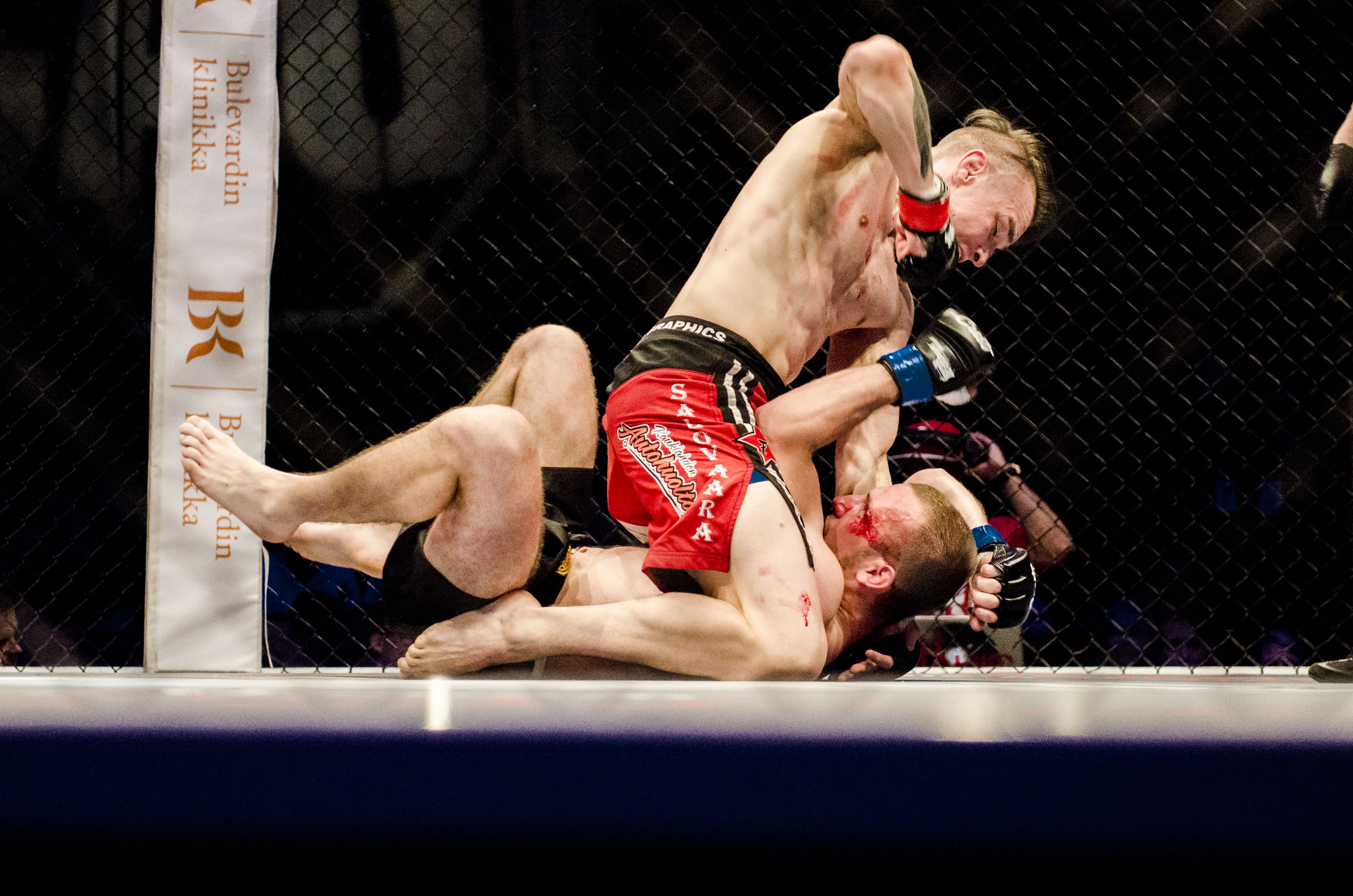 No dice. The doctor takes a look at the cut and calls the fight. Salovaara wins via TKO doctor stoppage.
RAFAEL DOMINGOS vs. ARNOLD QUERO
Round 1
Domingos comes out charging for the takedown and briefly gets his man down. Quero rises quick and catches Domingos´ kick and sweeps his leg. Quero then lands a lancing jab and stuns Domingos. Quero gets poked in the eye and the referee briefly stops the action.
Action resumes with the Frenchman finding a home for his slick combinations. Quero wins the first round.
Round 2
Domingos is breathing heavy before the start of round 2. Quero peppers Domingos with inside control. The first half of the fight is all Quero. He is putting on a boxing clinic. Very few kicks have been thrown by either man. Quero lands a powerful body kick, and Domingos looks slow to recover.
Domingos circles to his right and eats an overhand right. With less than a minute left in the round, Domingos scrambles for a takedown, but Quero shows excellent balance. Two rounds for Quero.
Round 3
Round 3 starts with more of the same, Quero landing thudding jabs and Domingos circling away from his power hand. Quero catches another kick and makes Domingos pay with a hard low kick that sweeps Domingos off his feet. Domingos is slow to get up and appears to have an injured leg.
Quero lands several unanswered straight rights with less than a minute left. It´s all Quero as the final bell sounds. Quero wins by unanimous decision.
ANTON KUIVANEN vs. FELIPE SILVA
Round 1
Silva opens up with a barrage of kicks. Kuivanen replies with kicks of his own. Kuivanen catches a kick and takes Silva to the ground. Silva shows solid defense from his guard by tying up Kuivanen´s arms, eventually scrambling to his feet. Silva lands several powerful knees from the clinch.
Silva then rocks Kuivanen with a one-two and briefly gets him to the ground. He lands hammerfists from back-mount. Kuivanen scrambles to his feet, but appears dazed.
Silva drops Kuivanen a second time and finishes the fight with relentless hammerfists. Silva wins by TKO at 4:04.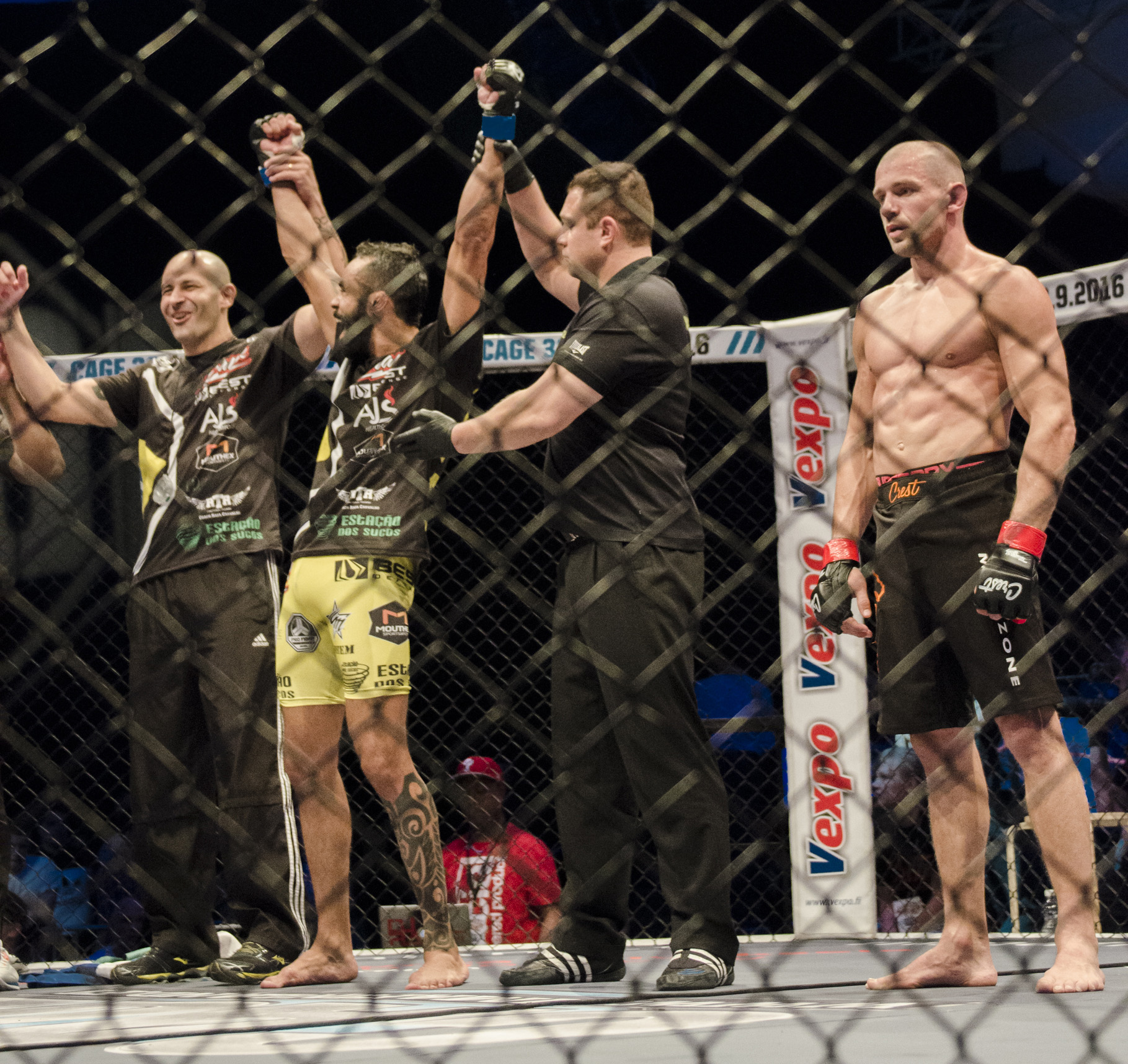 MMAViking.com was live reporting live from Helsinki for the event