Cage 43 goes down today in Helsinki and MMA Viking is cageside for live reporting. Get your results and some pics of the card headlined by vet Matteus Lähdesmäki (14-9-3) and Ashleigh Grimshaw (19-10-1), plus Olli Santalahti (7-2) going for his 8th straight win, Aleksi Toivonen (5-0, 1 NC) with a tough matchup, the MMA debut of grappling star Jesse Urholin, and more.
Jesse Urholin Versus Aaron Kennedy
Round 1 – Urholin shoots for a take down off the bat and gets it. Urholin immediately to side control, but is soon forced back to Kennedy's guard. Urholin works hard and gets back to side very soon. A chant in the crowd erupts commanding the Finn to "Strike! Strike! Strike!" and so he does.
Urholin drops tens of short shots on the grounded opponent, but for now Kennedy survives. Urholin controlling the wrist of his opponent and making him carry his weight. Kennedy is nearly able to get up, but Urholin trips him and drags Kennedy to deep, deep waters.
Soon both fighters stand up and Urholin lands an overhand right, goes for a high crotch take down, but then switches to a trip and gets another take down. Total domination by the two-time european ADCC champion.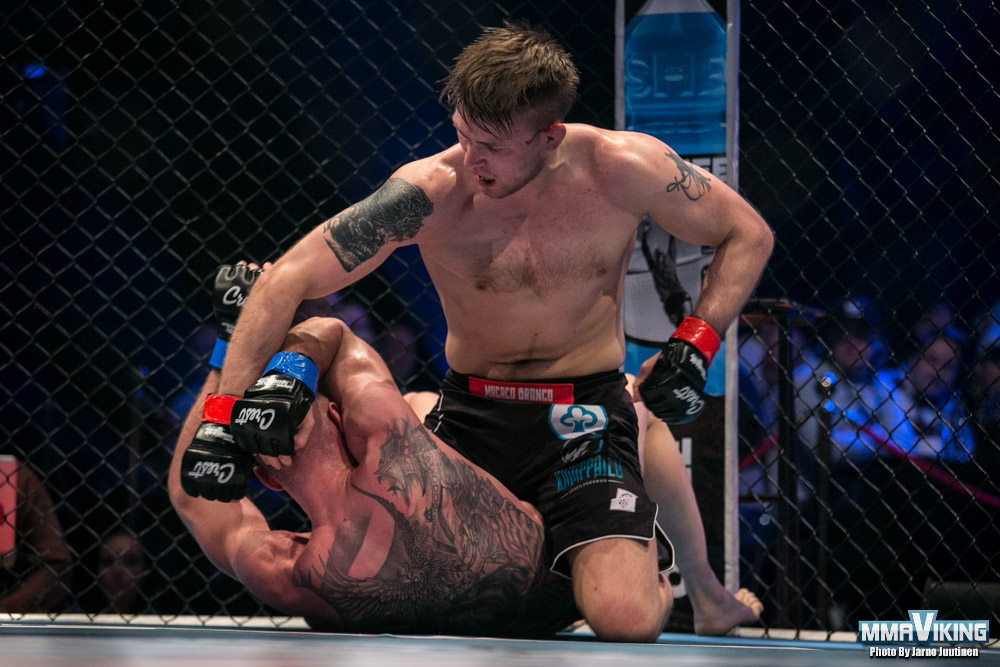 Round 2 – Urholin again with a take down attempt in the start, but Kennedy defends well and counters it with a flying knee, which lands partly. This is followed by a lot of not-so-technical striking from both fighters and soon Urholin takes his opponent to the ground after both land multiple strikes. Urholin in the mount, striking, and then trying for a side choke. Kennedy gets to full guard, but only for a second. Half guard now.
Urholin advances to mount and again with the side choke attempt. This is stuffed by Kennedy and then Urholin switches to strikes and elbows. Urholin keeps on pounding his opponent's face for a painfully long period until the referee is forced to step in and stop the fight. Impressive first ever MMA fight for Urholin.
Winner: Urholin by TKO
Patrik Pietilä Versus Toni Lampinen
Round 1 – The striking game is pretty even in the beginning, but Pietilä forces Lampinen against the cage. Lampinen reverses and now Pietilä's back against the cage. Both landing short knees in the clinch.
Lampinen lands a good low kick to the calf of Pietilä thrice. Pietilä counters with solid shots to the middle. Soon Pietilä again forces Lampinen against the cage. Soon they separate and some shots are fired in the stand up. Out of nowhere a cracking right hook finds a home in Pietilä's chin and Pietilä falls to the canvas stiff on his legs. Fortunately Pietilä is soon well again. Worth noting: Lampinen did not follow up the KO with punches, but instead looked at the referee and let him interrupt the fight before unnecessary damage was caused. Respect.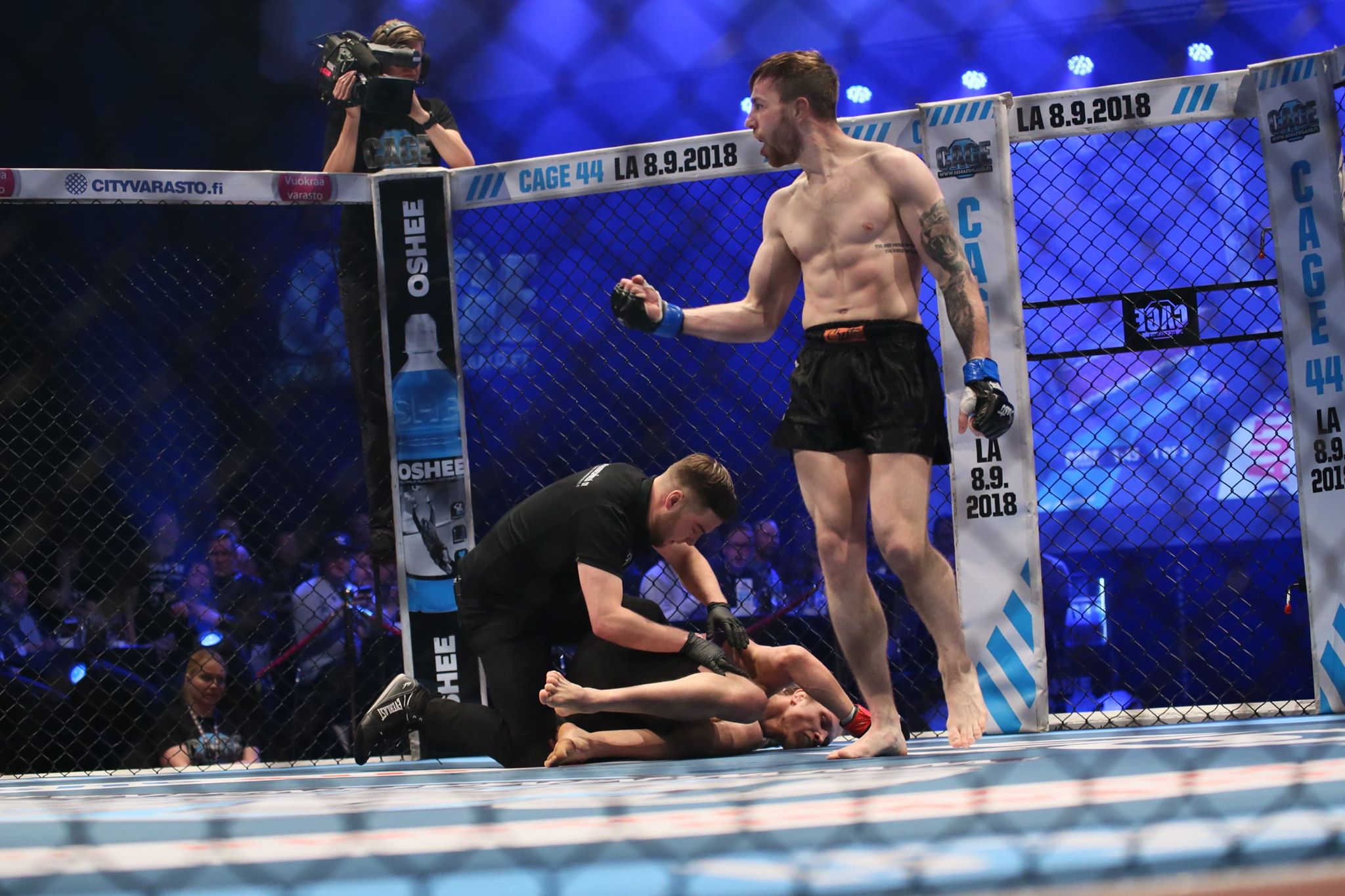 Winner: Lampinen by KO
Mika Hämäläinen Versus Ilia Topuria
Round 1 – Hämäläinen starts with an overhand right, Topuria prefers the jab as his weapon. Both are landing solid shots in the start and as soon as Topuria is attempting to put all his power into one uppercut Hämäläinen slips it and gains an advantage.
Hämäläinen shoots for a double leg, but Topuria sprawls well. Topuria ends on top but chooes to stand up and lands a couple of very heavy strikes and a knee. Hämäläinen shoots again, but fails agains as well.
Topuria is constantly landing heavy strikes in the stand up and another take down attempts from Hämäläinen is stuffed. Hämäläinen's neck is in danger and soon the pressure is too much from the mounted guillotine.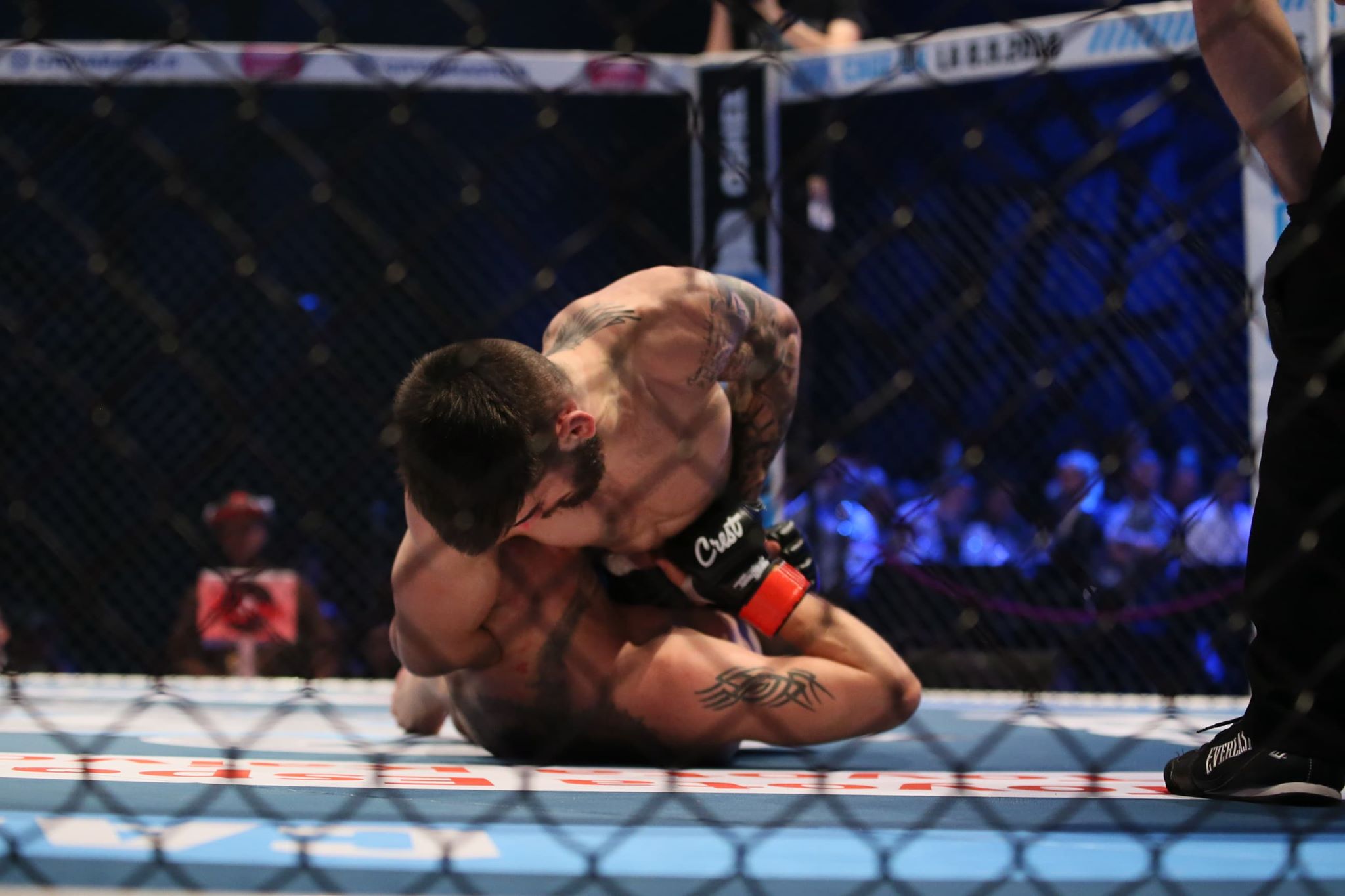 Winner: Topuria by guillotine choke
Suvi Salmimies Versus Zejna Krantic
Round 1 – Salmimies starts with high kicks, but  they miss. Immediately Salmimies follows up with a ragdoll type of take down and advances to side choke position. She forces Krantic to tap twice right after the take down. The match ends after only 30 seconds, but Krantic protests loudly. She is not happy with the stoppage.
The replay, however, shows clearly that she taps twice before the referee stops the fight.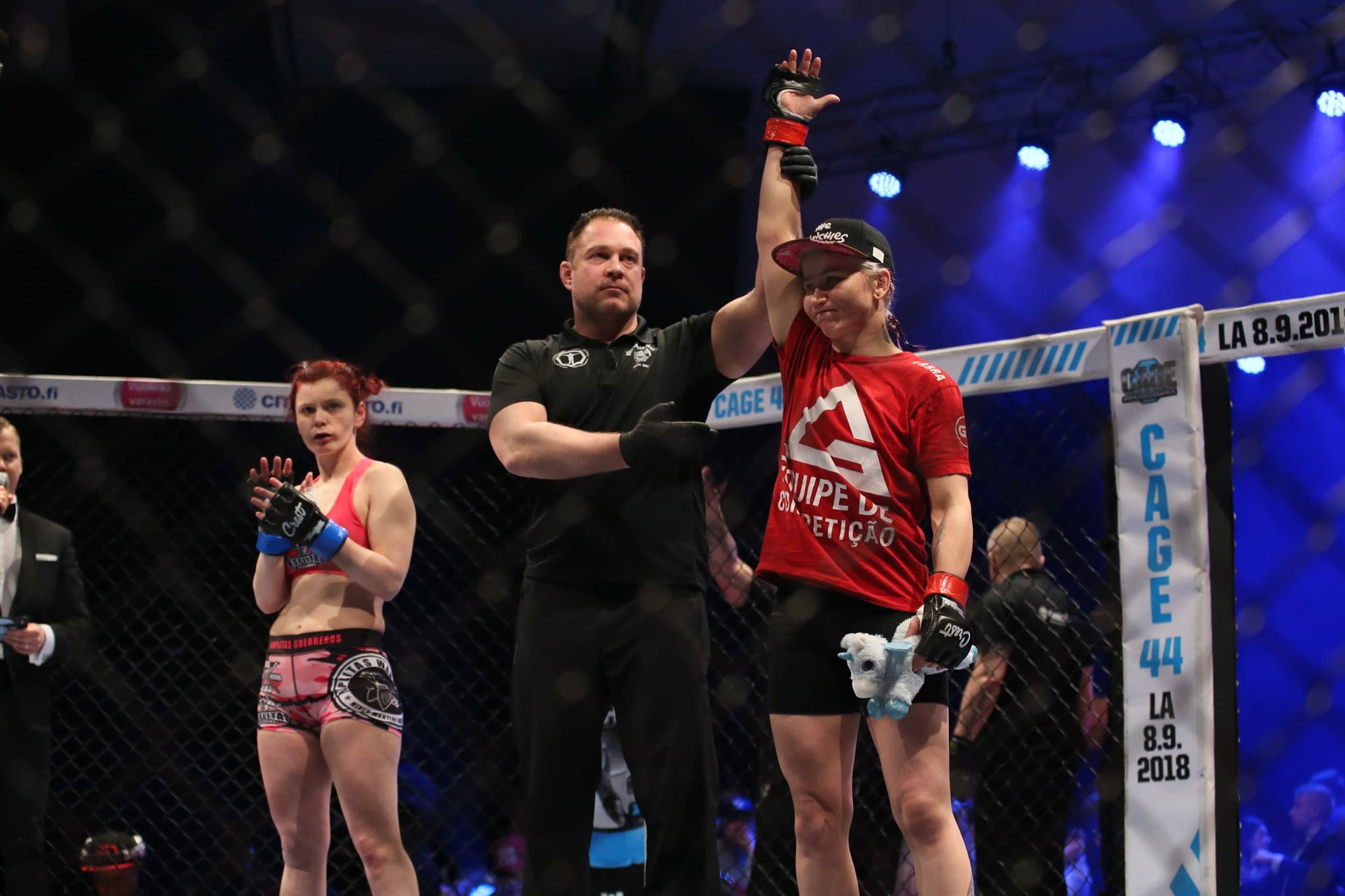 Winner: Salmimies by side choke
Edward Walls Versus Manolo Scianna
Round 1 – Walls with a low kick in the start. Another one. Scianna returns fire with similar intent. A couple of strikes are exchanged, and then.. BOOM! Walls lands a flush kick to the head of his opponent and down goes Scianna. This is as brutal as knock outs get. The fight ends in just 42 seconds as Scianna lands to the canvas face first.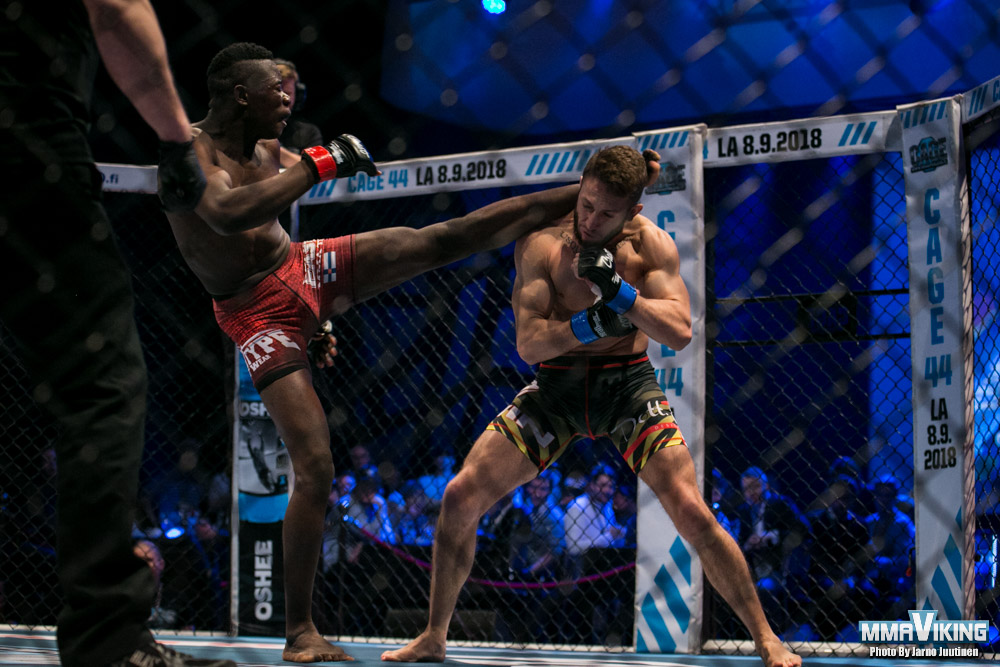 Winner: Walls by KO
Olli Santalahti Versus Nathan Jones
Round 1 – Jones with a jab, Santalahti shoots for a double, but Jones defends well. Santalahti lands a huge kick to the lead leg of Jones, shoots and gets the take down. Half guard.
Santalahti secures the position, does not go for nothing too crazy.  Jones tries a sweep, but Santalahti defends and takes his back. One hook in, striking from top. Santalahti swittches to guillotine, looks tight but not enough. Santalahti on top again trying to pass guard.
Santalahti passes guard to side control and looks to isolate the arm of Jones. Jones reverses and takes the mount, but then goes for the back. Jones attacks with RNC, Santalahti defends well and eventually ends on top. Jones sweeps again, gets triangle attempt from top, but Santalahti survives and then the round ends.
Round 2 – Jones now dictating the pace and landing crisp strikes. Santalahti seems a bit exhausted, but goes for a double leg and gets the take down. Open guard now.
Santalahti actively seeking to improve the position, but Jones defends well and constantly looks for submissions from below. Santalahti now advances to side control and drops some hammer strikes. Suddenly referee stand the fighters up and now Jones is landing again.
Santalahti shoots and forces Jones' back against the wall. Jones reverses and now Santalahti against the cage standing. Soon the fighters leave the clinch, Jones lands two strikes and then Santalahti shoots again successfully.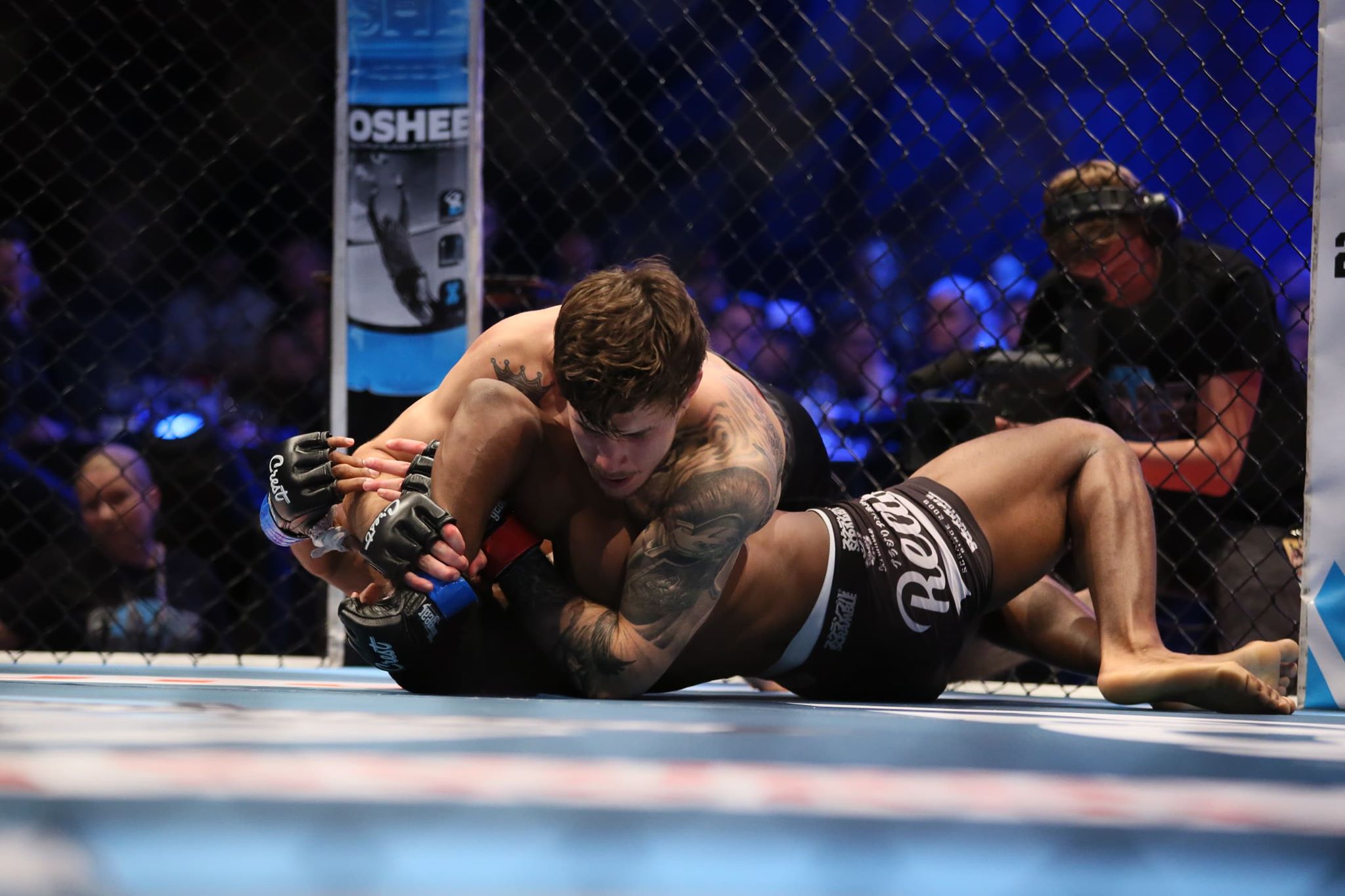 Round 3 – Both fighters looking rather out of energy in the stand up. Santalahti shoots, but Jones ends on top. Shorts strikes from Jones in the dominant position. Soon Santalahti reverses with pure will despite seemingly exhausted. Santalahti on top, soon takes the back of Jones. Santalahti has seat belt grip, but Jones stand up again. Santalahti returns fire by taking Jones down again, but only for a moment.
Jones attacks with strikes, Santalahti ducks under and gets the take down. Half guard. Soon Santalahti takes the back again, both hooks in. Santalahti tightens up a body triangle as there is one minute left, but Jones reverses again. Both fighters stand up.
Jones lands, Santalahti shoots but Jones sprawls and attacks the neck of the Finn. Round ends immediately.
This is now officially the first bout of the night that goes the distance.
Winner: Santalahti by unanimous decision
Aleksi Toivonen Versus Salambek Damaev – Co-Main Event
Round 1 – Both fighters starting very carefully measuring the opposition. Damaev lands with a jab, Toivonen strikes back. Toivonen shoots, Damaev dodges, but Toivonen keeps on bulldozing and gets the take down. Side control. Toivonen striking heavy, advances to mount and corner calls for patience.
Toivonen drops around ten elbows, Damaev turns his back and the punishment continues while Damaev's face is bleeding. After around 50 strikes to the head the fight is stopped by the referee. A bit of a late stoppage if you ask me, although not all of the strikes landed flush obviously.
In the interview Toivonen calls out for One FC or UFC signing. He wants to be able to showcase his skills in the bigger organisations now after a win like this.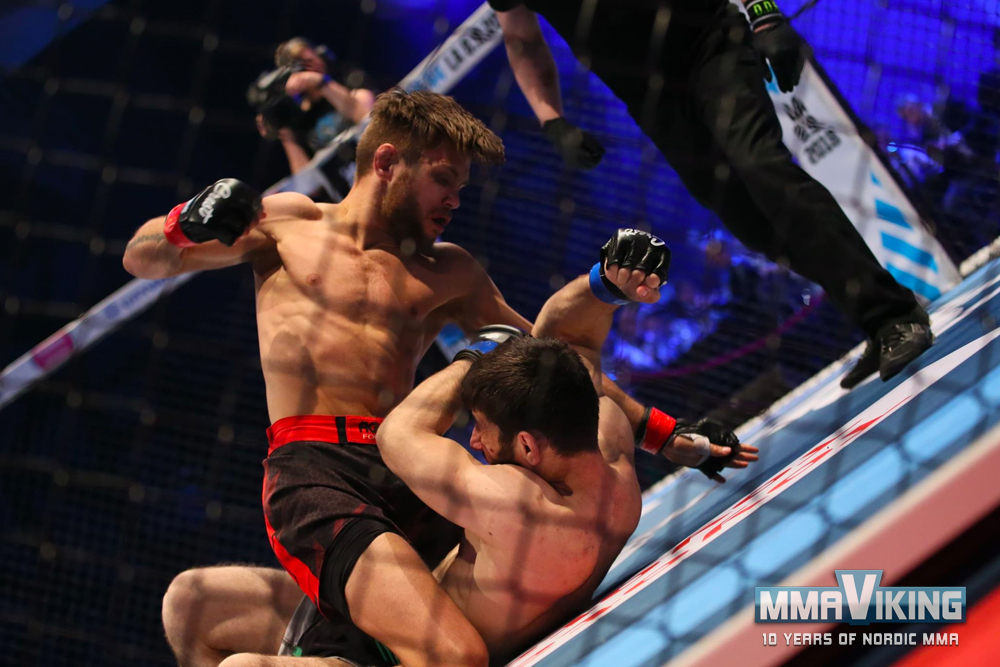 Winner: Toivonen by TKO
Matteus Lahdesmaki Versus Ashleigh Grimshaw – Main Event
Fun fact: Grimshaw is cornered by UFC legend Brad Pickett and current UFC fighter ( and Cage Warriors champion) Nathaniel Wood.
Round 1 – Lähdesmäki with the lowkick, Grimshaw does the same. Lähdesmäki goes for a high kick, but Grimshaw catches it and takes the Finn down and into side control. Both fighters are up soon again.
Lähdesmäki pushes his opponent against the cage and stomps multiple times and the follows with nasty knees to the legs of Grimshaw. Soon fighters separate and Lähdesmäki lands two massive strikes. Lähdesmäki goes for a single leg take down and lands it.
Grimshaw, however, stands up quickly and then lands a nasty low kick. Soon a flurry of punches follows, both fighters land. Lähdesmäki attempts a trip, but gets tripped instead and Grimshaw is now on top in Lähdesmäki's guard. Grimshaw lands a nasty elbow from top and soon Lähdesmäki attacks with a leglock. This does not work, and Grimshaw lands a huge strike from top position. Lähdesmäki loses consciousness and a couple of more blows land before referee is able to step in.
Lähdesmäki is out cold for a very long time and the paramedics are rushed into the cage.  An oxygen mask is placed over the mouth of Lähdesmäki.
After a while Lähdesmäki is revived. He stands up and the crowd welcomes him with applause. The fighters greet each other and Lähdesmäki smiles.
Winner: Grimshaw by KO