Cage Warriors 93 goes down today in Gothenburg and MMA Viking is cageside for live reporting. Get your results and some pics of the card headlined the return of Danish UFC vet Nicolas Dalby, a lightweight title contender bout between Soren Bak vs Alexander Jacobsen, a much hyped Swedish clash of Cornelia Holm and Malin Hermansson, plus much more.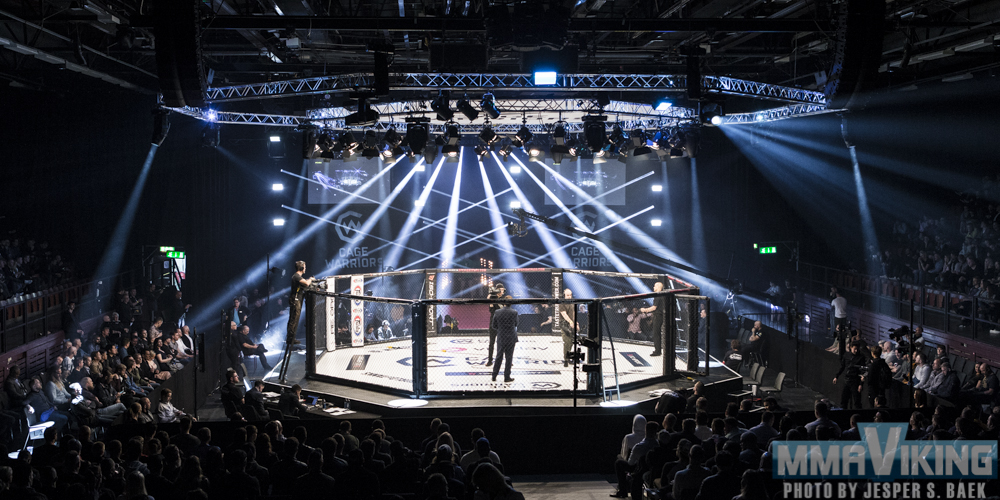 EARLY PRELIMS
Sahil Siraj vs Simen Raa Stordrange
Round 1 – Sahil comes out relaxed and is landing kick after kick! Simen takes them like a champ but there are only so many kicks you can take, he needs to close the distance. Sashil lands a huge overhand that sends Simen to the canvas but Simen isn't out, reaching for the legs of Sahil. The fighters reset but it isn't long before Sahil lands another one and this time it's game over for the norweigan.
Sahil Siraj wins in the first round via KO.
Saeed Ganji vs Mohamed Habal
Round 1 – First round starts out a bit slow, both fighers looking to hit their range. Saeed goes in for a blitz but gets hit on the way in and gets cut on his right cheek.
Round 2 – Habal is being coached by Akira Corassani who's feeding instructions that Mohamed is following closely, almost like seeing a video game. Habal is focusing on keeping his range with the long frame and Saeed is having trouble getting his shots of and comes of a bit passive while trying to find the range. Habal is keeping on working methodically and landing combos with straight punches at will. In the end of the round Saeed finds a guilottine attempt but slips off.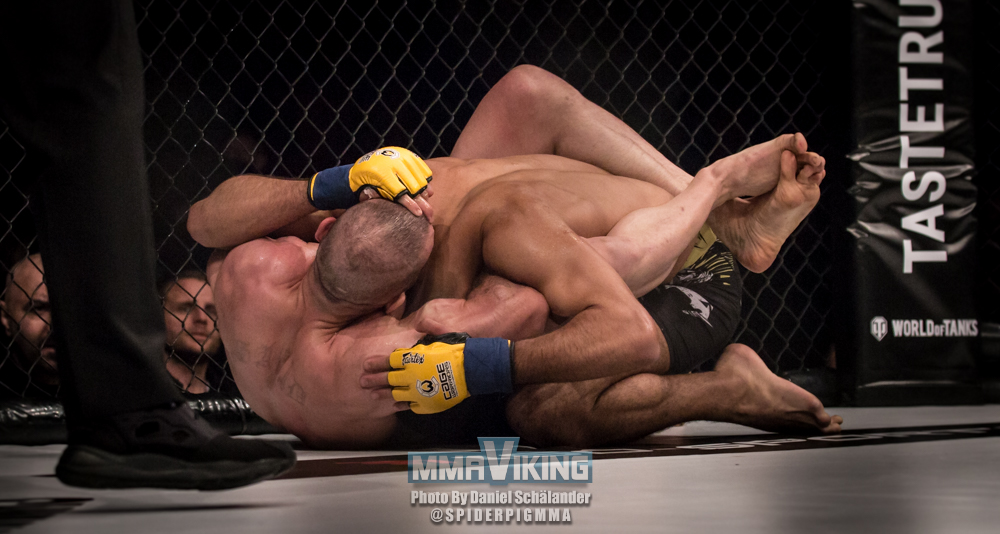 Round 3 – More of the same with Habal landing straight punches. Habal goes for a takedown that is defended and Ganji can sink in a deep guilottine and Habal taps! Saeed needed the to finish in this round as the first two rounds looked like they we're headed to the Redline fighter.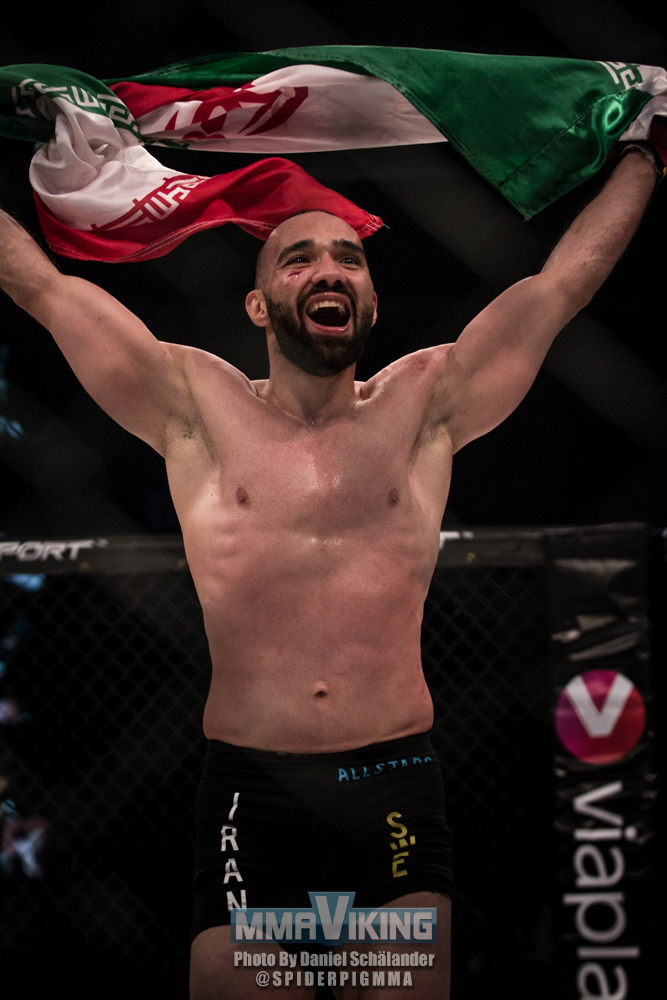 Saeed Ganji wins by guillotine in the third round.
PRELIM CARD
Modestas Bukauskas vs Kristian Lapsley
Round 1 – Lapsley is looking to land theh big shots throwing a huge overhand followed by a spinning wheel kick. Both fall short though and the fighters end up on the ground with Bukauskas on top. Bukauskas advances to the back and looks for the rear naked choke. He gets his arm under the chin bit Lapsley is fighting it. As he's fighting and turning into the choke the ref steps in and stops the bout. Lapsley looks confused as he didn't tap. Looking at the replay it is clear that Lapsley was not unconscious either. A clearly early stoppage ends the norweigans night.
Per Franklin vs Orlando D'Ambrosio
Round 1 – Franklin is stalking the italian looking for an opening but Orlando isn't giving any. Franklin keeps the pressure but not much damage is being deal either way. The round ends with a takedown for Franklin.
Round 2 – More stalking from Franklin but no action which makes referee Mark Goddard step in and tell the combatants to get working. No the two clash and Franklin finds an opening for the takedown and he gets it. Franklin is bleeding heavily from the nose but doesn't look phased. Not much action on the ground so the fighters get stood up again. Franklin secures another takedown before the round ends.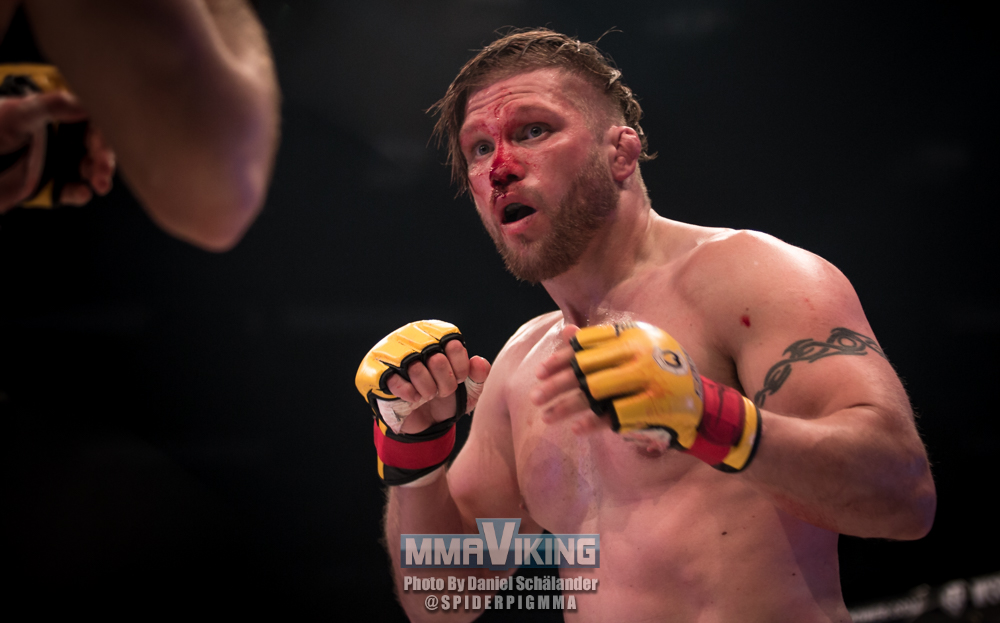 Round 3 – Franklin looks for another takedown but gets put in a guillotine from the italian. It's not very tight and Per waits it out. Per holds positioning on top and stays there until the end of the fight.
Thomas Robertsen vs Saeed Yunesi
Round 1 – Saeed slips after the first exchange and Robertsen pounces and takes the fight to the ground establishing side control. Robertsen looks for the back but Saeed scrambles forcing Robertsen to revert the transition to mount. Robertsen stays with it though and takes the back but not long before Saeed makes his way up again.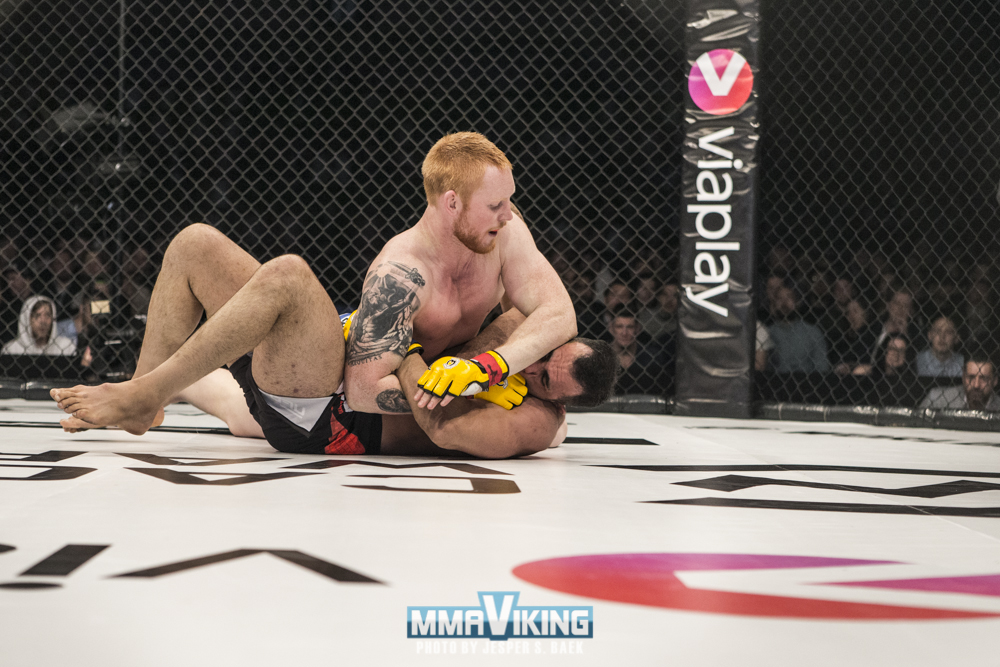 Thomas Robertsen makes his gameplan clear and takes the fight to the ground again and establishes back control. This time he doesn't lose it though and secures the rear naked choke and a tap from his opponent.
Thomas Robertsen wins in the first round via rear naked choke.
Perry Goodwin vs Rafael Macedo
Round 1 -Both fighter come out scraping. Perry lands a left hook that stuns Macedo who throws himself at the legs of Goodwin to stay in the fight. First round is a big one for Perry who's doing ton of damage.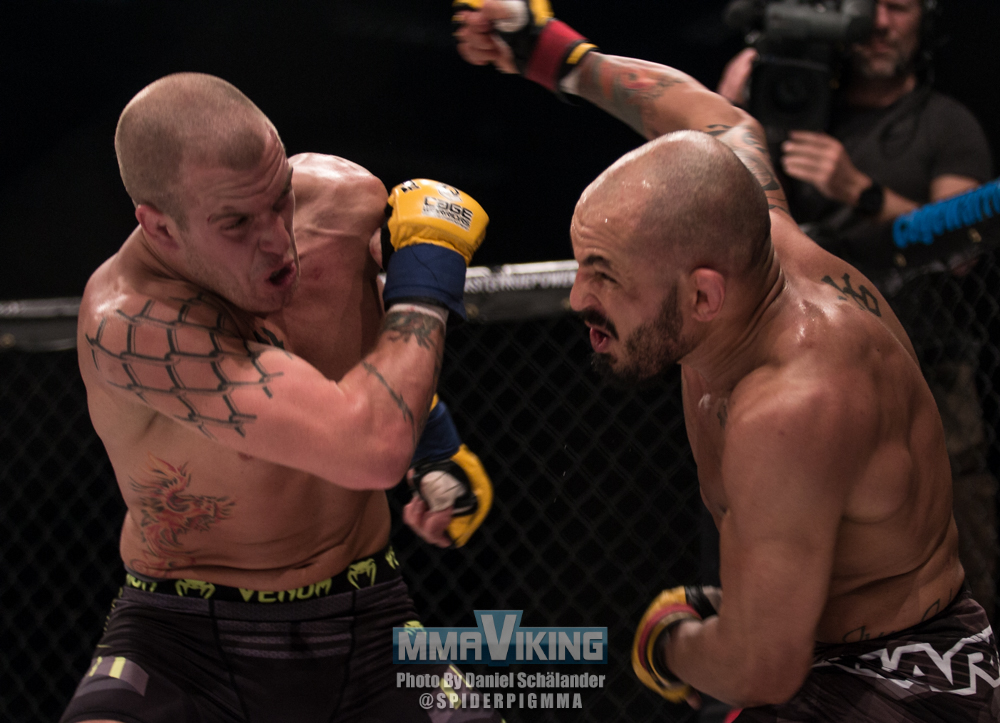 Round 2 – Macedo comes out scrapping though and isn't giving anything away for free. He puts the pressure on and looks for the takedown and gets it. More control on the ground from Macedo on top this round but Perry is working hard at getting up and does so in periods before getting put back on the canvas by the Brazilian.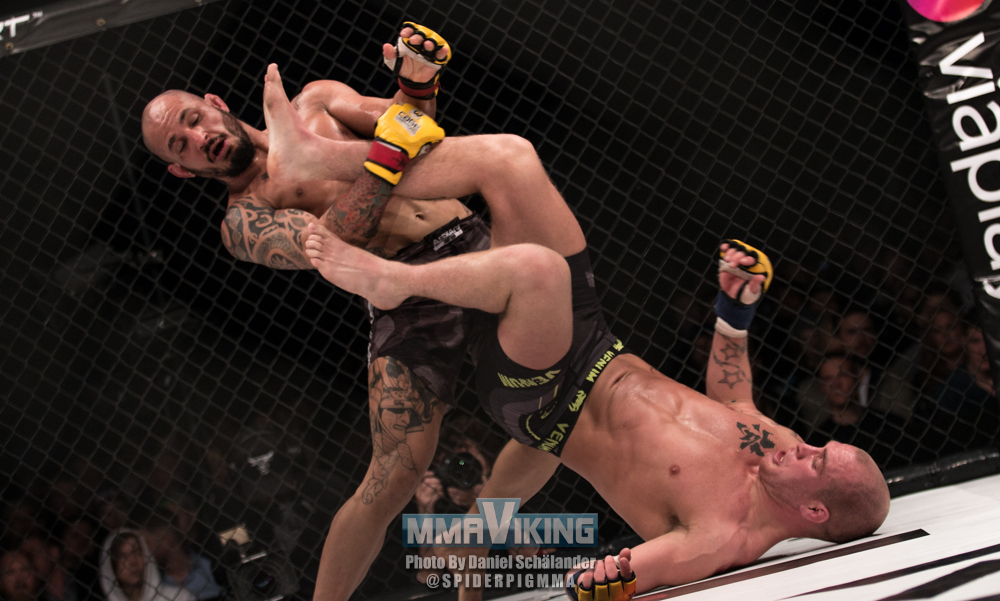 Round 3 – Macedo gains even more control this round and is managing to stay on top more and more when he gets the fight to the ground. Goodwin goes in aggressive looking for big blows but Macedo capitalizes on the openings and gets takedowns much more frequent now. He establishes good positions on top and secures the last round of the bout.
Rafael Macedo wins by unanimous decision.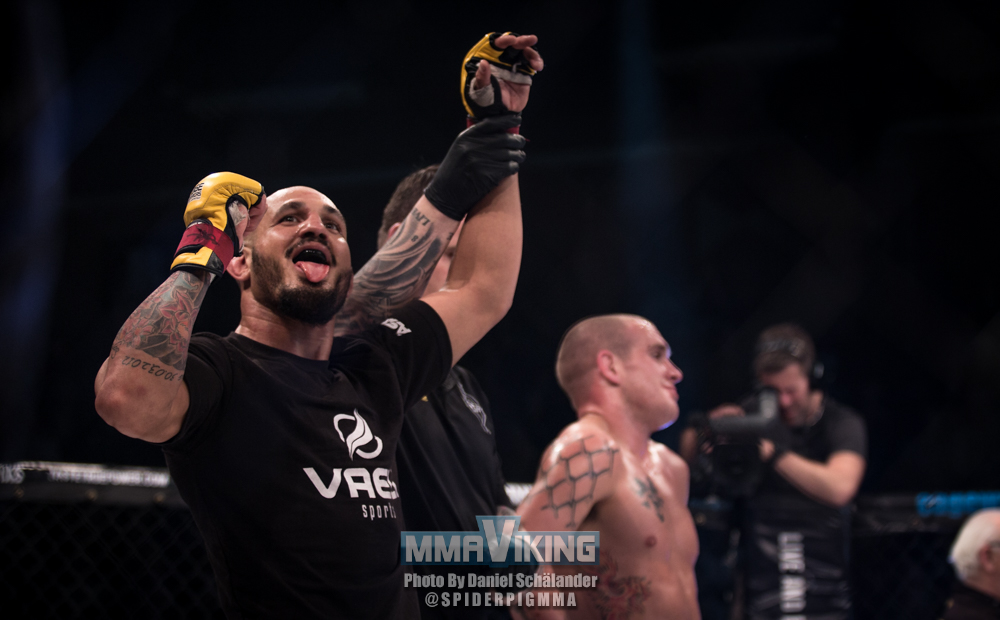 Cornelia Holm vs Malin Hermansson
Round 1 – Cornelia forces Malin into the clinch after a few seconds and keeps the control for the first minute. Malin gets out and makes distance to land some great punches. Back to clinch again and Cornelia gets a HUGE SLAM, Malin scrambles instantly though and is fast up again and looks sink in a guillotine choke before the bell rings.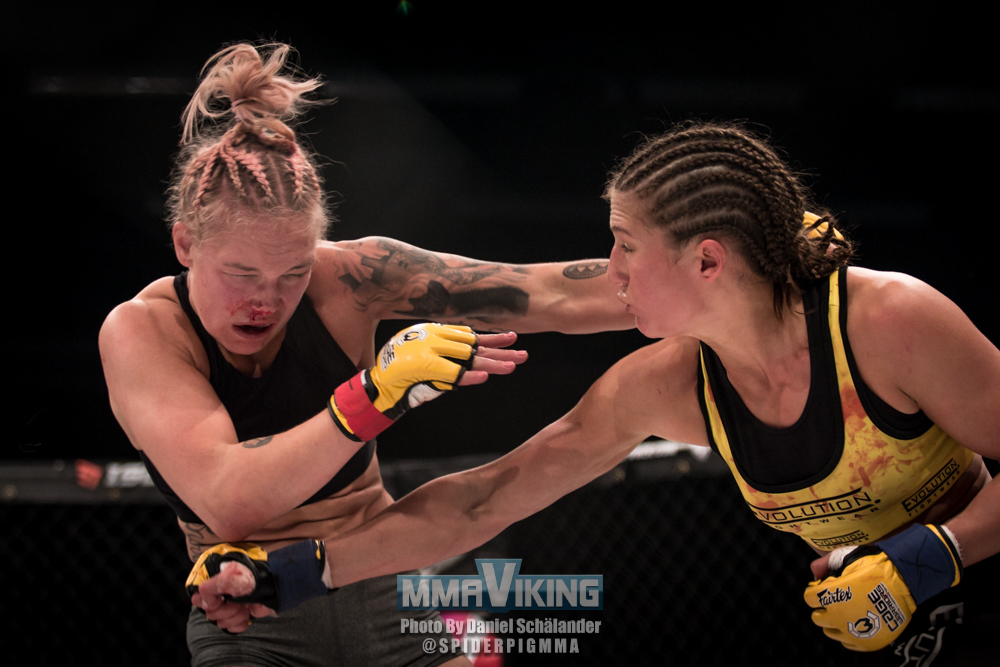 Round 2- Malin dominates the first minute with her striking. Cornelia throws some great kicks and then back to clinch where Cornelia keeps the control. Cornelia gets a takedown and establishes top position. She keeps the control for the last seconds of the round.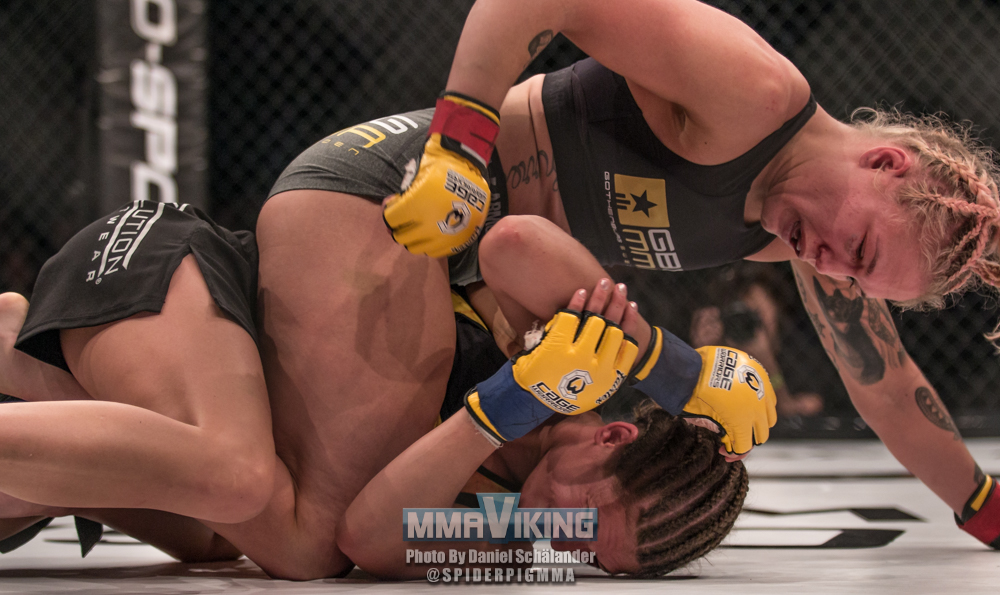 Round 3- Cornelia tries a headkick on Malin but gets out of balance and falls, but she scrambles beautifully and getting the takedown and transitions into mount and keep the control on the top. Cornelia dominates this round.
Malin wins on a split decision 29-28, 29-28 and 28-29.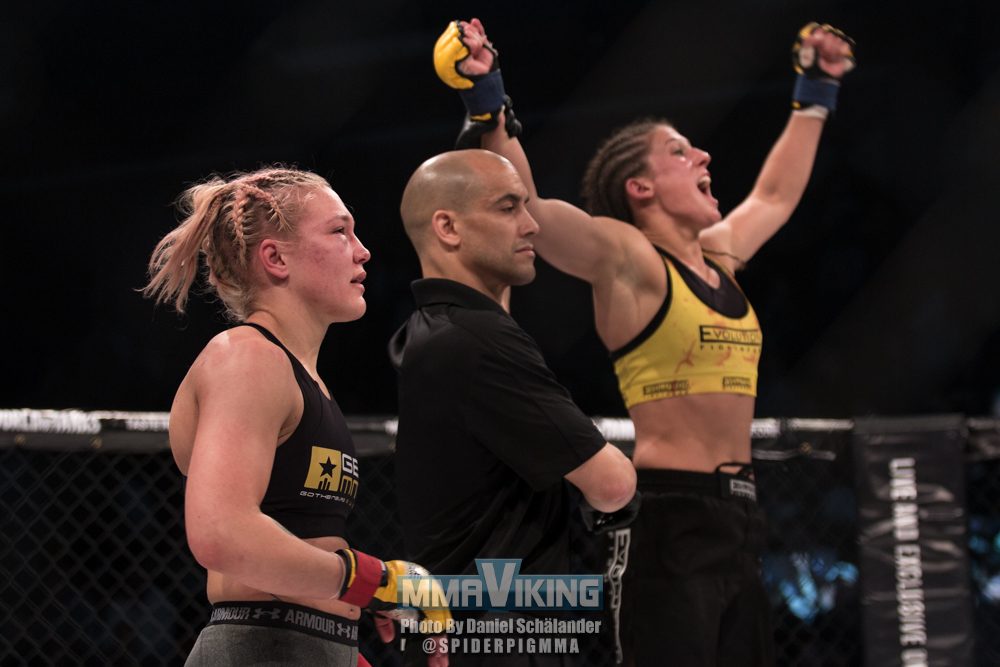 Jack Mason vs Håkon Foss
Round 1 – Jack "Stone" Mason starts by controlling the center of the cage but Foss comes with a flying knee, followed by a barrage of punches and two more knees right into Masons head and referee Mark Goddard has seen enough and stops the bout! Huge win for Frontlines Håkon Foss!
Foss wins by KO after 1 minutes and 56 seconds in first round.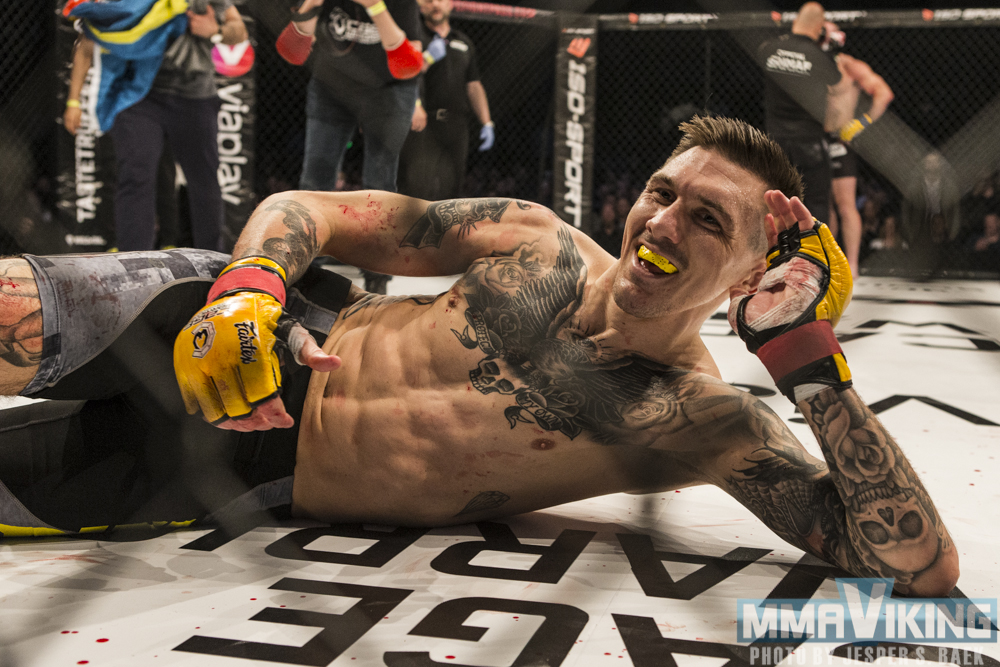 MAIN CARD
Junior "Fatty" Karanta vs Sofiane Boukichou
Round 1 – Junior dominates the cage in the first seconds of the round with his striking but Sofiane soon forces him into a clinch. Junior gets out and back in the middle of the cage but will soon be hunted back to the clinch by Sofiane. Junior comes out of the clinch and manage to give some great punches, a hard uppercut and a knee.
Round 2 – Sofiane successfully goes for a takedown but Junior manages to scramble back up quickly. Back to clinch were Sofiane keeps the control but as he shoots in Junior Karanta gets a guillotine and it's really tight. Sofian falls over and he is out cold but neither the referee or Junior notices!! This is the craziest thing I've seen! Fatty lands an elbow to the back of Sofianes head as he's slumped over and gets a point taken away, it's insane! Had Junior just stopped and stepped away the referee would have seen that Sofiane was out cold, instead he he gets a point taken away and the fight continues!!  Junior lands a huge uppercut on Sofiane as he comes in and sends him down to the ground, but Sofiane is fast to scramble up again and back to clinch. Junior dominates this round!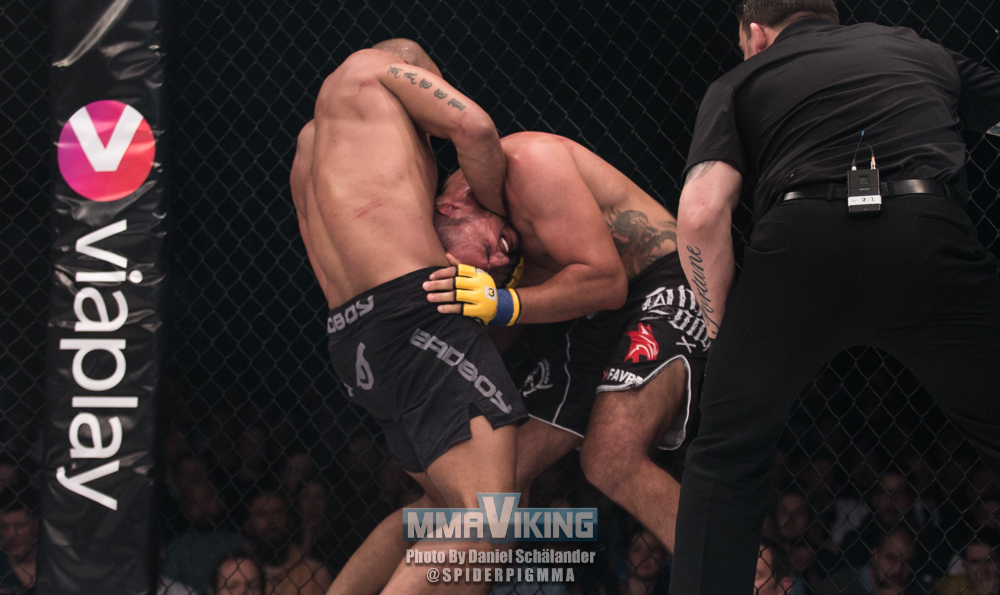 Round 3 – Takedown by Sofiane, controls the top goes into mount position and then it's ground and pound until Mark Goddard steps in and ends the bout. This is one of the most insane comebacks I've ever seen, from being out cold to winning the next round.
Sofiane wins by TKO round 3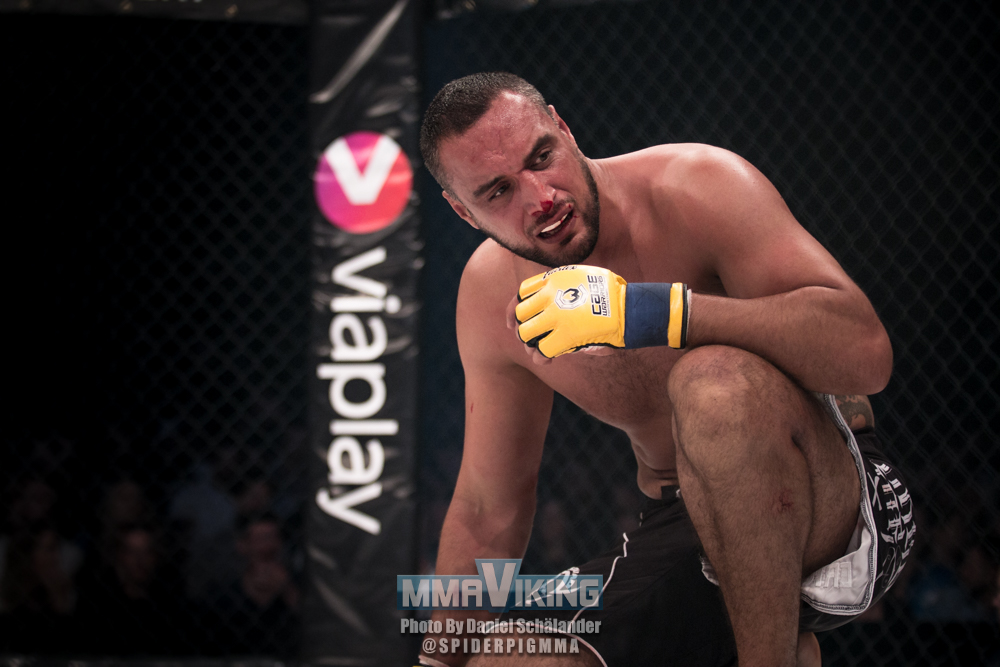 Jack Grant vs Mehdi Dakaev
Round 1 – Great kicks by Jack followed by a very beautiful takedown by Mehdi! Jack is fast to scramble up again and they are back to striking. Takedown again by Mehdi but Jack manages to get Mehdi into a triangle from the bottom. Good defence from Mehdi though, giving some punches and gets out. Jack goes for a giullotine, changes to top position on the floor. Keeps the control the last seconds of the round on top.
Round 2 – Jack lands a nice front kick to the face and controls the cage the first minute of this round. Mehdi lands a low kick but Jack keeps his kicks and punches coming. Mehdi goes for a takedown, doesn't really get it but Jack is forced to the cage. Jack goes for a kimura from the cage, takedown by Mehdi.
Round 3 – Low kicks by Jack, Mehdi goes for a takedown but jack takes the control on the ground. He almost manages to get an arm triangle but instead a transitions to mount. Both fight well on the ground but Jack has the control and manages to get some punches in from top before the bell rings.
Jack Grant wins by unanimous decision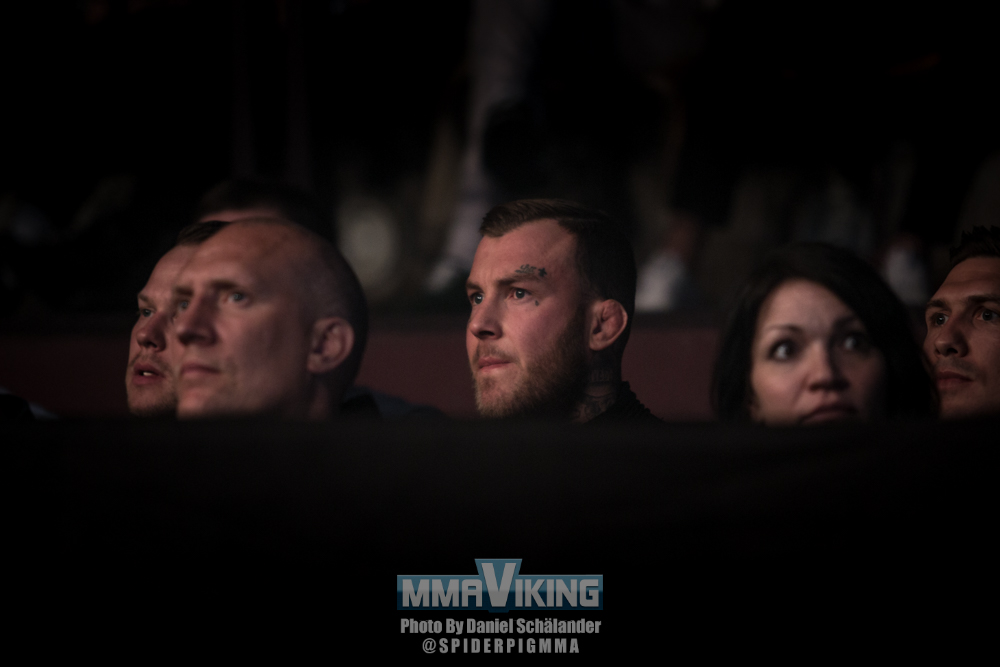 Alan Carlos vs Norman Paraisy
Round 1 – Alan landed a great hook and forces Norman to the cage for a clinch. Back out again and both are very active exchanges, kicks, punches and great movements. Alan is more dominant this round.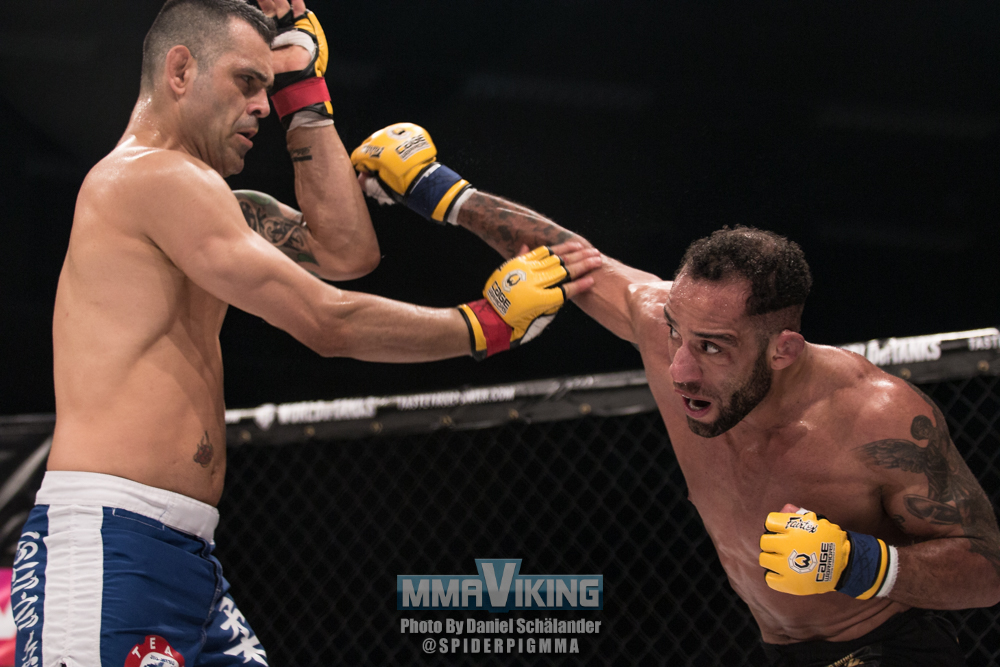 Round 2 – Alan lands great punches but like in the first round both have a great footwork and are very active in their striking game. Nice hook and low kick landed by Norman. Takedown by Alan when he catches a kick, landing some punches on top before Norman gets up again. Really great over hooks by Norman and Alan manage to land some front kicks.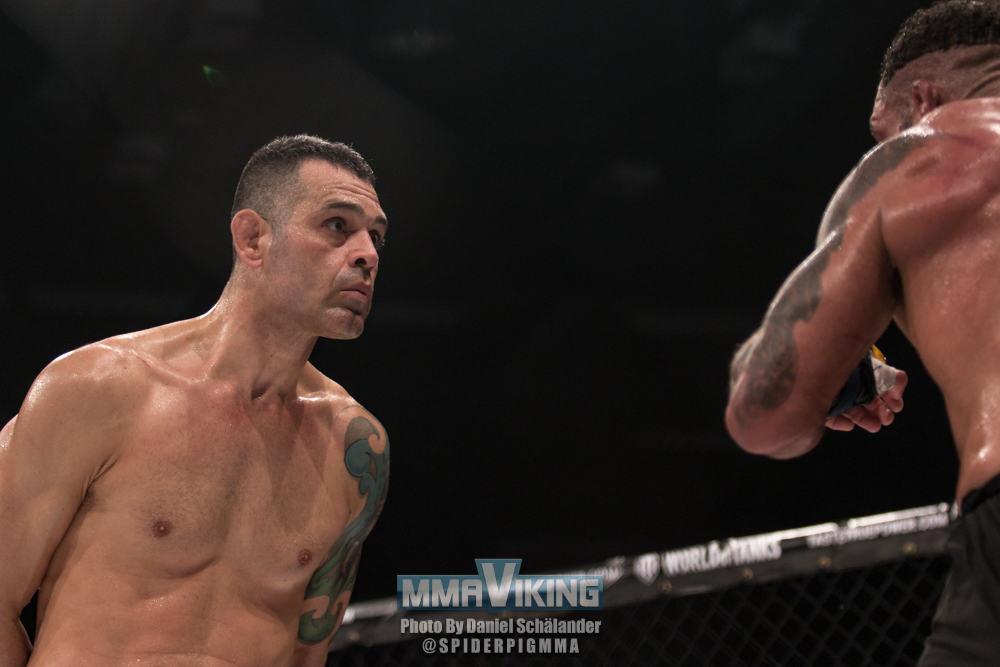 Round 3 – Same energy in the last round from both! Norman goes for the low kicks. But Alan will soon take the control of the standing game with his front kicks and punches. Alan is dominating this round.
Alan Carlos wins by unanimous decision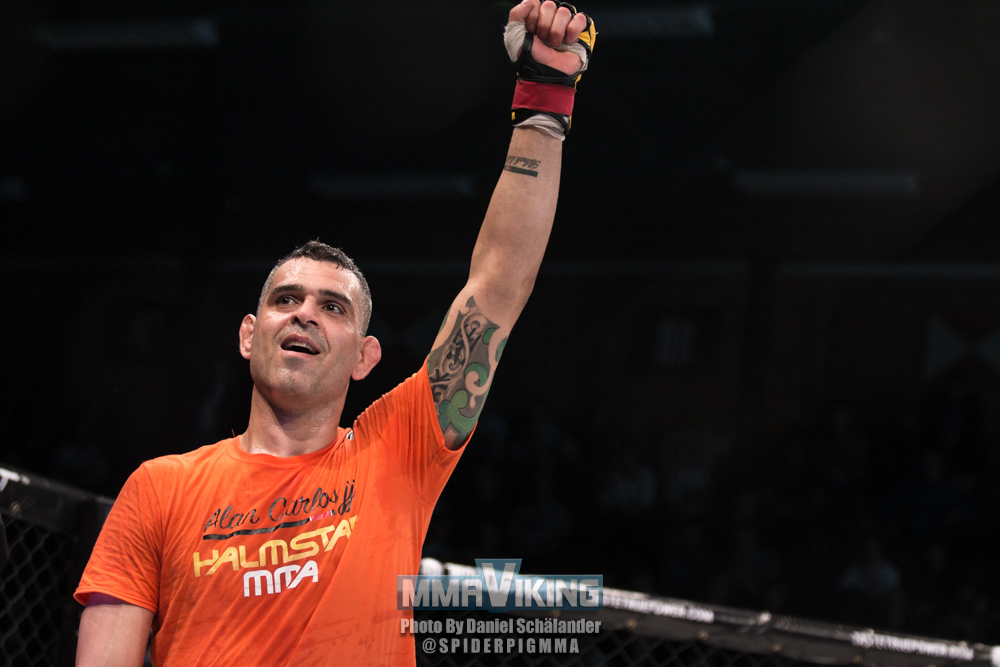 Soren Bak vs Alexander Jacobsen
Round 1 – Alexander almost gets a guillotine choke when Soren dives in for a takedown. Soren gets out of the choke and up again, and manages to get a takedown by the cage. Alexander is scrambling up fast again though. Punches and hard knees in the head by Soren followed by a takedown again. More punches and a knee by Soren who wins this round.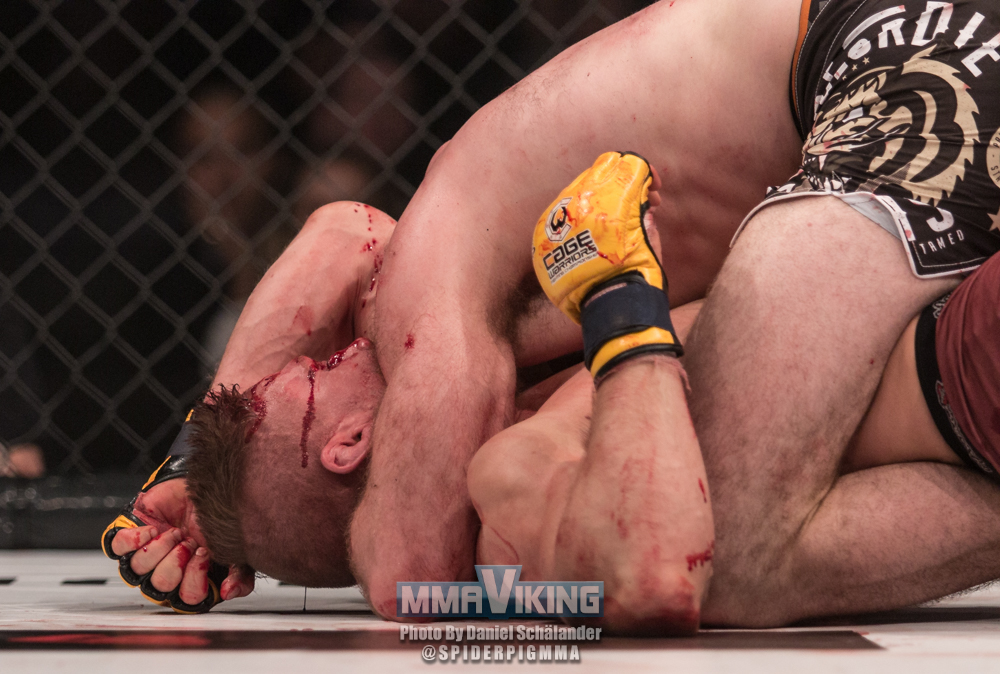 Round 2 – Soren landing some hard punches but fails a takedown attempt because of a good sprawl from Alexander. Soren keep the punches coming and Alexander forces him to the clinch to stop him. Great punch from Alexander from the clinch. Soren wrestles the Norweigan down and gains mount rapidly and after that Bak does a beautiful transition to the back, then back to mount position and sinks in the arm triangle choke.
Soren Bak wins by arm triangle choke in round 2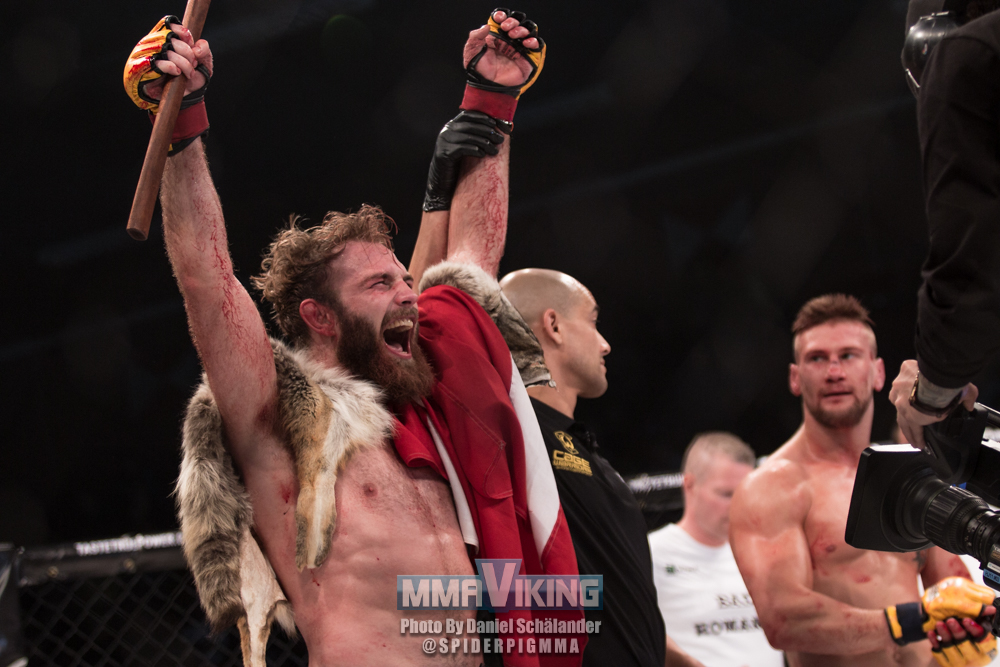 Nicolas Dalby vs Carlo Pedersoli Jr
Round 1 – Nicolas starting out strong with punches and kicks. Both exchanging huge blows in a real give and take battle. Carlo goes for a uppercut and a kick but Nicolas catches it and gets a takedown but Carlo is up quickly. Nicolas almost gets another takedown against the cage. Nice headkick landed by Nicolas and Carlo answer with a great headkick as well. Active striking and takedown defence from both. One last punch for Carlo before bell rings.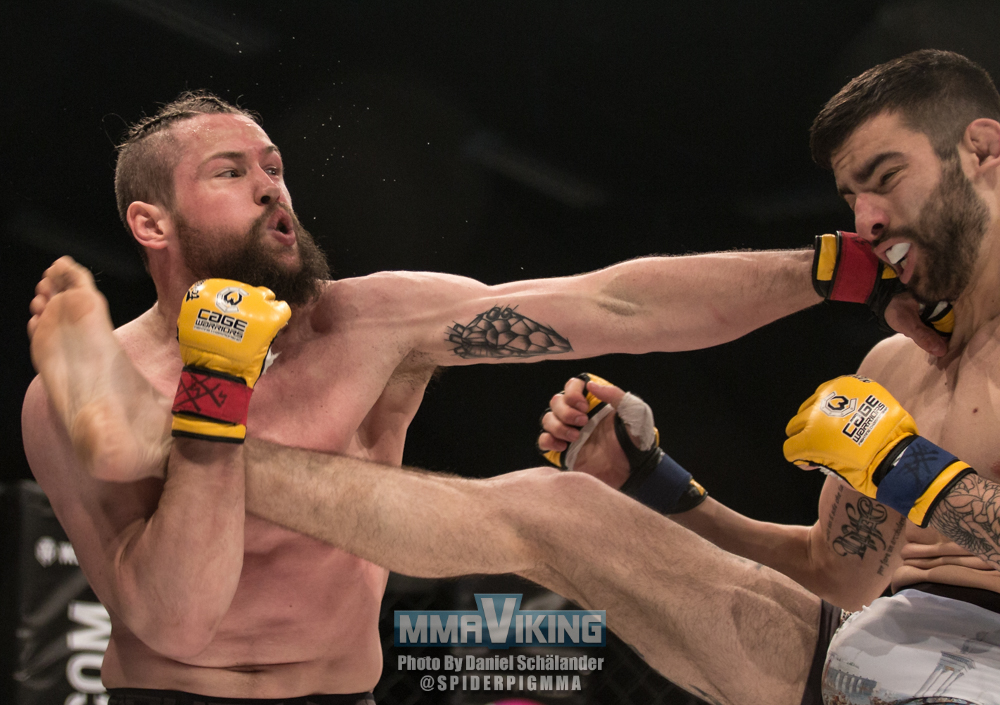 Round 2 – Nicolas goes all in with punches and forces Carlo into a clinch. More punches and kicks from Nicolas. Carlo gets a takedown and controls the top by the cage. Nicolas manage to get up and they are back to striking. Carlo lands near perfect head kick that puts Nicolas to the ground, very close to putting the Dane out but Nicolas stays in the fight and regains his composure and regains guard and fights his way back up. Carlo gets another takedown and goes for a crazy upside down inverted calf slicer. I've never seen it before from that position. Nico hang in there and escapes just before the round ends.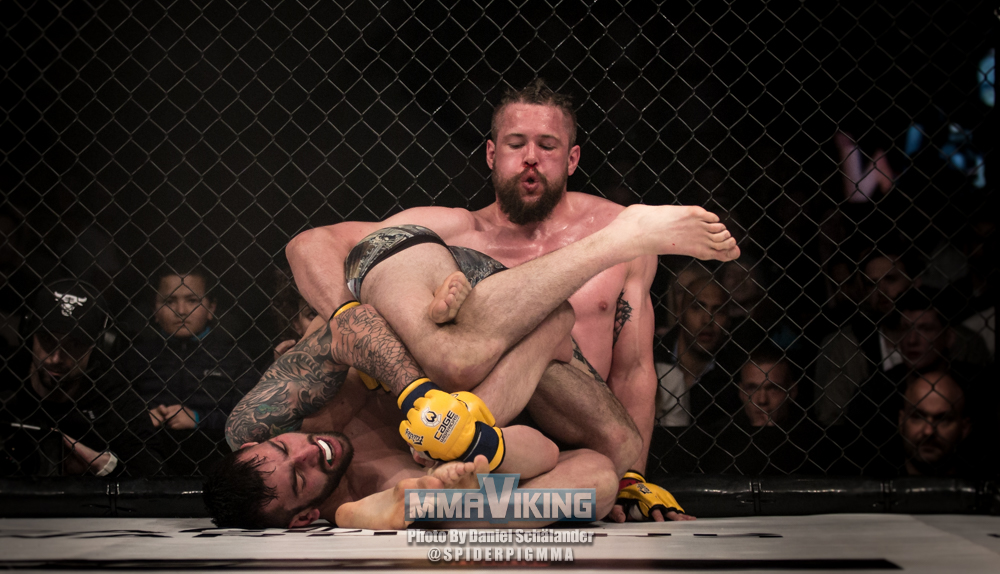 Round 3 – Like the second round Nicolas goes all in again with punches and kicks. Carlo gets a takedown but can't control on top, they are back up in the clinch. Nicolas lands a nice kick and scores a takedown. He keeps the control in the top position for a few seconds. Carlo tries to scramble but Nicolas retains the control on top. Carlo is looking more and more tired the longer this fight goes. Nicolas gets mount position and finishes the fight with some ground and pound. Had this been a five round fight there's no way that the Italian would've keept up with Lokomotivo Dalby but unfortunately it isn't.
Carlo Pedersoli Jr wins by split decision.