Finnish lightweight Juha-Pekka Vainikainen (18-5-1) will fight UFC veteran Kyle Watson (13-7-1) in the main event of Cage Warriors Fight Night 3 this Saturday. The event will took go down in Beirut, Lebanon.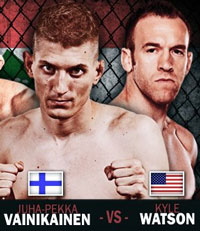 Vainikainen, who is ranked #4 in our Nordic rankings, is on roll right now with seven wins and one draw in his last eight fights. In his recent fights Vainikainen has managed to beat tough UFC vets in Steve Lopez and Brian Geraghty. A win over Watson could catapult the rising Finn to UFC or Bellator. Long limbed Vainikainen is most dangerous on the feet but his ground game has also steadily improved.
American Kyle Watson is probably most well known from his appearance in the Ultimate Fighter. In the UFC, Watson is 1-1 and was cut from the promotion after getting knocked out by John Makdessi at UFC 129. Watson is now looking for quality wins to get back into the UFC. A grappler by heart Watson is at his best on the ground so this fight seems to be a classic striker vs grappler match up.
Interview
MMAViking talked with the young Finn about his training for this fight and what he thinks about the opponent.
MMAViking: Tell us a little how the preparation for this fight has gone?
Vainikainen: Training and preparation for this fight went well. I have trained a lot with the pro fighters at my home gym Espoo Ring Sharks. I have also sparred few times at the GB Gym with UFC lightweight Anton Kuivanen and Kai Puolakka. Now all that is left is some light training and getting my weight in check.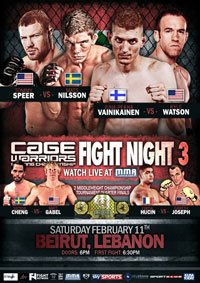 MMAViking:  You have fought your most recent fights in your home country Finland. How are you thoughts on fighting in Lebanon this time?
Vainikainen: Yeah I have always fought wherever there have been fights available and recently there have been a lot of fights for me here in Finland. My last abroad was in Poland and that trip went well. I'm happy to get a chance to fight outside of Finland and see new places, even if it brings some challenges when you have travel a lot and the places are unfamiliar.
MMAViking: How do you see your opponent Kyle Watson? How are you going to approach this fight?
Vainikainen:  I'm sure he comes in well prepared for this fight. He's much better on the ground than on the feet but you have to be careful with him at all times. I believe that with a good game plan and patience I will be able to keep this fight on my own comfort zone.
MMAViking:  Thanks J-P. Shout out to fans, sponsors?
Vainikainen: All you Finnish fans check out Kehähait Pro Team page on Facebook and our blogs at Pakkotoisto.com. I want to thank my sponsor Mivitotal, Label23, Sebastianclothing.fi. I also want to mention my mom and dad who have supported me for a long time.