MMAViking.com is reporting live from Helsingborg, Sweden for Saturday night's Superior Challenge X taking place at the Helsingborg Arena. The card includes a headlining bout of Finn Juha-Pekka Vainikainen taking on American Efrain Escudero for the lightweight title, plus Swede Matti Mäkelä versus Dane Joachim Christensen for the lightweight strap, and Yosef Ali Mohammad will face Mike Neun from the UK as a late replacement for Christian Golcic, who is off the card in a bizarre turn of events, for heavyweight gold.
Play-by-Play of Superior Challenge X
Michel Ersoy (Sweden) vs Jorge Landa Peirona (Spain)
Round 1 – Michel the agressor early,and after a brief clinch Michel lands a good knee! Jorge however seems alright and both men are back to the center of the cage. Already some blood on the spaniard, and Michel going forward trying to land. Jorge is looking for the takedown and he gets it. Michel doing a good job from preventing the spaniard to do anything, even looking for the kimura but not able to get anything significant. Now Jorge moves to half guard, throwing some punches and Michel uses the cage to get up. Now it's Michel who is looking for the takedown, and he lifts Jorge up and slams him down to the canvas. End of round. MMAViking scores that round 10-9 to Michel Ersoy.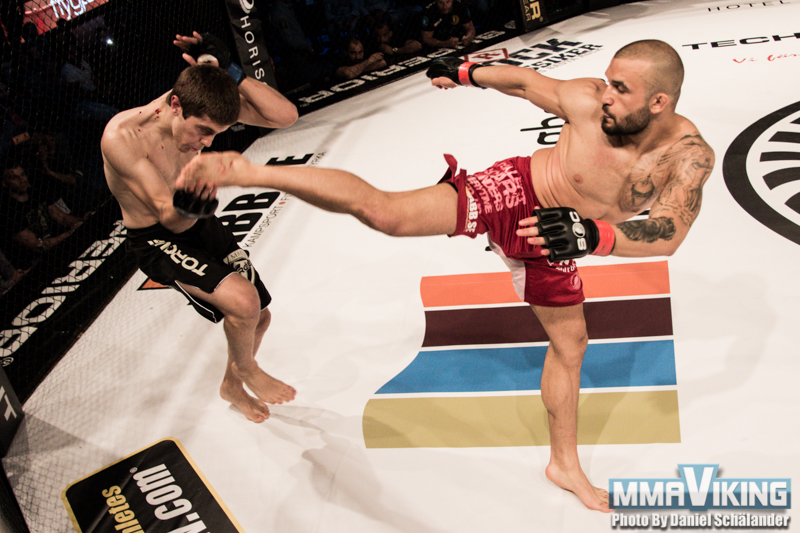 Round 2 – Both men landing some nice combinations, but Michel seems to have a lot more power in his striking. Now Michel puts Jorge against the cage and unleashes some devastating knees, Jorge is forced to look for the takedown and eventually he gets it, but Michel springs to his feet and can shake off the spaniard. Michel is now looking to pressure Jorge even more, and eats a clean right hook but seems okay, gets Jorge on the ground and pummels him with punches from the turtle position, and a good knee to the body! More knees and punches, and the spaniard looks out of it, nothings lands clean but Jorge is staying in there. Michel advances to Jorge's half guard and is landing a lot of punches, now postures up but can't make anything happen. End of round. MMAViking scores that round 10-9 to Michel Ersoy.
Round 3 – Jorge now pressuring Michel, trying to find his distance and timing. Michel with a hard right hook that backs off Jorge, but doesnt seem fazed. Now a eye poke from Michel and the referee pauses the action. And we're back, the spaniard landing some good body kicks, but Michel responds with a high kick followed by a leg kick. Now Jorge times the takedown well and ends up in half guard. Michel eventually able to advance position into full guard, but having trouble getting up. Jorge landing a few strikes on the body of Michel. Jorge postures up and lands a good punch on the way down. End of round. MMAViking scores that round 10-9 to Jorge Landa.
Winner by unanimous decision is Michel Ersoy.
Pannie Kianzad (Sweden) vs Annalisa Bucci (Italy)
Round 1 – Both girls rushing each other with punches and ends up in the clinch, Bucci landing some clean knees to the body but Pannie locks Bucci up and trips her beautifully to the canvas. Pannie with some solid ground and pound, trying to posture up but Bucci foloows, a scramble and the Swede end up in half guad. Good combinations from top, Bucci eventually able to get guard again. Very solid ground and pound from the Swede, not letting Bucci get any space. Bucci tries to improve position but Pannie instantly goes for the back, both hooks in, Bucci rolls but Pannie got a armbar locked in, not extended though. Bucci survives but Pannie is swarming the Italian tonight. Both girls are up standing again. A great push kick to counter a head kick from Bucci. End of round. MMAViking scores that round 10-9 to Pannie.
Round 2 – Pannie looking to box with Bucci but the Italian got some good kicks to keep the range, but now goes in and the two clinches against the cage. Pannie swaps her around it looks like but actually trips her beautifully to the ground again. Pannie activily looking to advance position while delivering good ground and pound, Bucci clearly outmatched on the ground here. But now reverse from Bucci! Ends up in full mount, Pannie scrambles, gets half guard and lightning quick she is back to full guard. Now Pannie looking for a triangle from the bottom, uses it to sweep Bucci over! Now in full mount, hammering down punches and the crowd goes crazy. Bucci scrambles but Pannie is on her back and landing nice hooks. Bucci is just holding on and unable to go anywhere, tries to lock up the rear naked but cant get it under the chin of Bucci. End of round. MMAViking scores that round 10-9 to Pannie.
Round 3 – Again they meet in the center, exchanges some good punches, and Bucci looking to score kicks. Pannie with a solid left hook, now circling and landing more crisp punches! Bucci starting to slow down, going straight after Pannie while the Swede is circling and landing punches from different angles. Now Bucci with a good combination and a knee that lands, but Pannie stays in the pocket and delivers shots of her own. Pannie looking for a takedown but the Italian punishes her with another good knee to the body, and now hard combinations from both fighters. Bucci is the agressor in this round, landing some good legkicks and tries for headkicks. Pannie now charging for the double leg but Bucci sprawls and got Pannie turtled up. End of round. MMAViking scores that round 10-9 to Annalisa Bucci, but a very close round.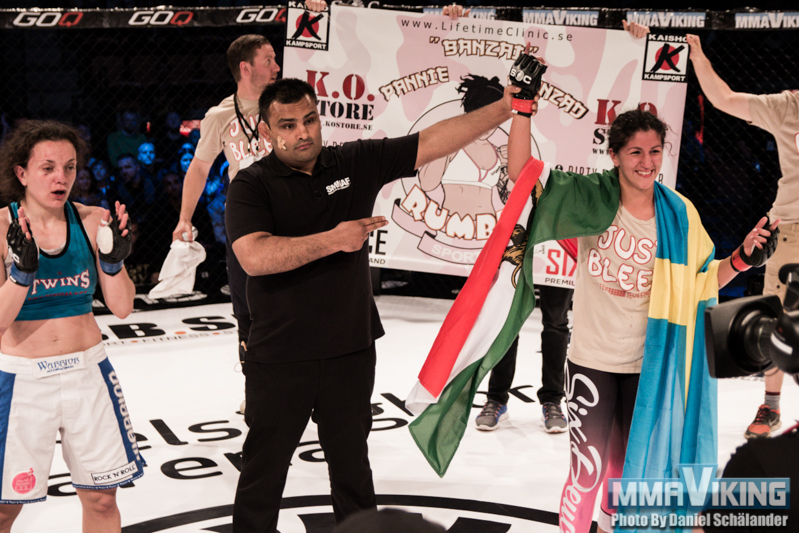 Winner by unanimous decision is Pannie Kianzad.
Bilal Musa (Sweden) vs Craig Derbyshire (England)
Round 1 – Both fighters starting cautiosly, not a lot happening. But then Bilal explodes with a amazing slam, Craig gets up but Bilal got a guillotine choke locked in, it looks close but he pops out of it! Now Craig going forward with solid combinations, and Bilal answers with a combination of his own. Now Bilal pressuring Craig against the cage, scoring knees and punches. Referee breaks them, Bilal feints a takedown and goes high! Craig answers with a powerful left hook that looks to rock Bilal, Craig rushes forward and trips Bilal to end up in full mount. End of round. MMAViking scores that round 10-10.
Round 2 – Bilal takes the center of the cage with a low stance, and Craig is waiting for the barrage so he can counter. Now Craig pressures Bilal and the Swede recognizes and takes Craig down but the brit springs right back up, not for long however because Bilal scores another takedown. Craig able to get up again but Bilal clinches and presses the brit against the cage. Now Craig looking for the trip, doesnt get it and Bilal unleashes a crazy combination but nothing doing significant damage. Now battering the brit with good knees, and the referee restarts the action. Both fighters having a scrap here! Hooks from both guys, lightning quick takedowns from Bilal but Craig quickly gets up and now they're back to the center. Bilal goes low, Craig sprawls but it's not enough and gets taken down. Uses the cage however to get up immediately, Bilal having good pressure here but not enough to hold him down. Referee restarts the action. End of round. MMAViking scores that round 10-9 to Bilal.
Round 3 – Both fighters to look to be in exceptional shape, now its Craig pressuring Bilal and eats a headkick after a failed spinning kick. Bilal now goes forward and clinches up, throws Craig over his head with what looked similar to a suplex. Bilal with another quality slam! Not able to keep Craig there however, leaving too much space. Bilal pressuring the brit against the cage, looking for a opening to take him down but it doesnt happen. Referee restarts them in the middle. Craig with a good combination, Bilal defends easily and steps to the side and succesfully takes Craig down yet again. Craig using the cage to get up but Bilal recognizes and suplexes the brit again! End of round. MMAViking scores that round 10-9 to Bilal.
Winner by unanimous decision is Bilal Musa.
Abbe Joof (Sweden) vs Hermann Kungu (Spain)
Round 1 – There is a feeling out process here, with Abbe carefully pressuring Kungu. Kungu closes distance and presses Abbe against the cage, but cant get anything done and Abbe seperates. Looks very comfortable standing throwing well timed and hard leg kicks. Now enters the pocket with a knee. Kungu looking for the overhand but Abbe recognizes and punishes him with a few strikes, taking his time. Abbe looks very accurate and calm right now, lands a beautiful left kick to the body of Kungu! And immediately he goes down and the referee dives in. Wow, what a kick from Abbe.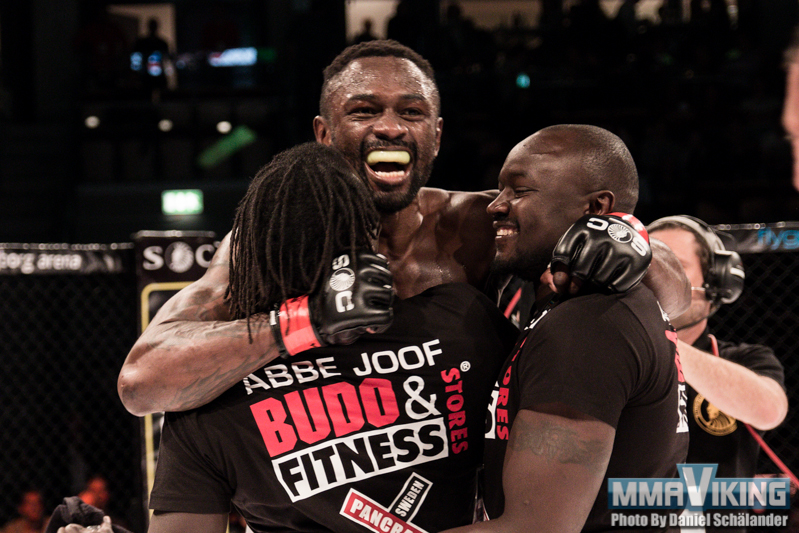 Winner is Abbe Joof by KO at 3:25 in the first round.
Simon Sköld (Sweden) vs. Salih Kulucan (England)
Round 1 – Simon grabs Salih and scores a beautiful takedown, now doing some damage from the top. Salih trying to scramble and get up but Simon is not leaving any space and able to hold him down. Advancing to half guard, throwing good strikes against the brit. Now Salih bridges and able to reverse Simon! But the Swede locks up a triangle, switches to armbar and rolls him over! Adjusts his hold a little and it looks so close! Simon cranks it and the referee intervenes to save Salih who immediately jumps up to his feet and protest the stoppage.
Winner is Simon Sköld by referee stoppage 3:13 in the first round.
Diego Gonzalez (Sweden) vs. Frodi Hansen (Denmark)
Round 1 – Frodi pushing the pace here early and lands a hard body kick heard throughout the arena! Frodi moving forward with another good kick to the body, Diego swings and misses on the return. Diego lands a right hook but dont affect the Dane, both guys exchanging good combinations, Diego finding some success with the leg kicks. Frodi with a sharp jab, Diego looks for the takedown but Frodi circles and is out of danger. Diego now closes distance and lands a solid combination. Frodi with another hard body kick but eats a right hook! Diego going forward with punches and goes low for a takedown, eventually he gets it and Frodi is now against the cage. End of round. MMAViking scores that 10-9 to Frodi, but a very close round.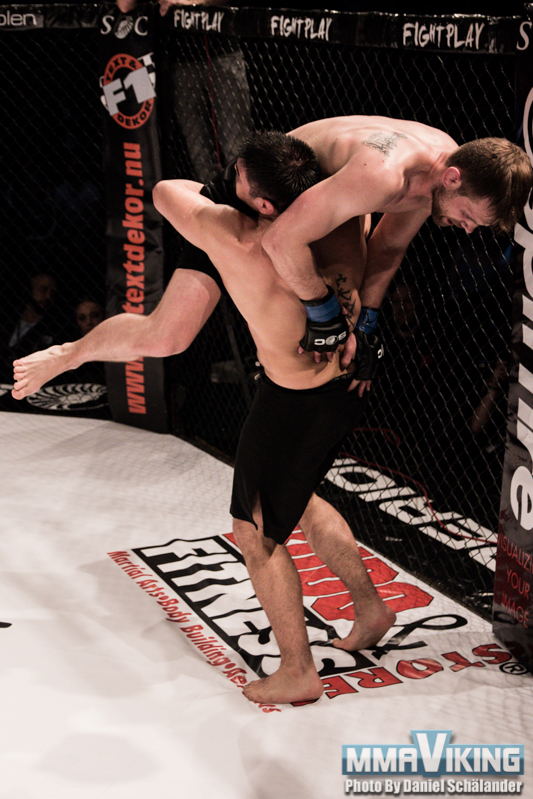 Round 2 – Diego looks eager to get in there again, going forward and lands a beautiful combination and Frodi wants to punish him for it. Frodi looking for a trip but Diego delivers a good left hook. Frodi presses Diego against the cage, lands a few nice punches, Diego answers with some solid dirty boxing, turns Frodi around, goes low and gets the slam! Diego trying to advance position, right now switching between side control and half guard. Eventually gets a full mount, Frodi turns and Diego goes for the rear naked, adjusts and finishes Frodi with a crank! Diego looked on fire this round.
Winner by rear naked choke/crank 2:39 in the second round is Diego Gonzalez.
Malik Arash (Sweden) vs. Aaron Jahnsen (Norway)
Round 1 – The two fighters hug before they start off the main card action. Malik scores with a beautiful spinning kick to the body! Aaron gestures to bring it on and delivers some solid combinations of his own before Malik dives for the takedown and gets it, Aaron however locked up a guillotine which seems to bother Malik, he tries to get out of it but the Norwegian doesnt let go. Finally Malik can shrug it off and is now in north south looking for the choke! It looks very tight but Aaron survives and Malik goes to side control instead. Aaron explodes and scrambles, Malik ends up on top and have full mount now, flattening out Aaron. Landing good punches, Aaron scrambles and forces the Swede into half guard. Aaron now back to full guard but Malik is landing very good strikes from top! Aaron is with a scramble and Malik locks in a rear naked choke in the last second of this round! It's very close and Aaron looks like he's in danger! End of round. MMAViking scores that round 10-9 to Malik.
Round 2 – Malik charges with a overhand but Aaron is not in danger, now Aaron goes forward but eats a hard right hand which rocks him! Malik now moving forward and takes him down, landing in sidecontrol. Malik having great success with strikes from top, mixing up knees. Aaron is looking a bit fatiqued and not as explosive as in the first round. Able to scramble himself back to full guard though. Malik tries to advance into side control again, and succesfully does so. Malik putting good pressure on the Norwegian, really putting a lot of force into his knees. Last seconds Malik gets Aaron in a crucifix and blasts him with punches. End of round. MMAViking scores that round 10-8 to Malik.
Round 3 – Now it's Aaron looking for the takedown, gets Malik down but eats couple of shots on his way there. Aaron on top doing some damage on the body of Malik, but Malik reverses! Aaron with a high guard looking for openings but Malik isnt giving him any, who is again showing great ground and pound. Aaron trying to get up but Malik takes the back of Aaron, locks in the body triangle and tries to sneak in the rear naked and finally he gets it! The two fighters hug it out and Malik is getting back up with a limp.
Winner by rear naked choke is Malik Arash 3:49 in the third round
Daniel Acacio (Brazil) vs. Alan Carlos (Sweden)
Round 1 – Acacio starts off with a overhand that just misses, but Alan responds with a beautiful combination and its light out of Daniel Acacio! Alan Carlos destroyed Acacio with a uppercut!
Winner by TKO 0:36 in the first round is Alan Carlos.
David Bielkheden (Sweden) vs. Besam Yousef (Sweden)
Round 1 – David with some good knees early which sets up the takedown for David, and he secures it! Now in half guard landing some ground and pound. David posturing up here and there to hammer down on Besam and is doing a great job. Besam landing a few good elbows from the bottom too, but David keeps popping up to deliver some hard punches. David showing a excellent top game hammering down on Besam. End of round. MMAViking scores that round 10-9 to David.
Round 2 – David starts off the action with a headkick, followed by a frontkick that almost lands. Besam on the return with a perfectly timed legkick. David with another good kick to the body of Besam! David goes low and just barely gets Besam to the ground, adjusting a little bit and ends up in half guard again. Besam with a few good elbows from the bottom. Not able to get David off him however, who is doing a good job of dealing damage and controlling the Gladius fighter. A lot like the first round here, David gets half guard and does good damage while Besam cant get up or improve position. David rolls over and goes for the kneebar! Besam grunts in pain but survives. Wow, that was close. End of round. MMAViking scores that round 10-9 to David.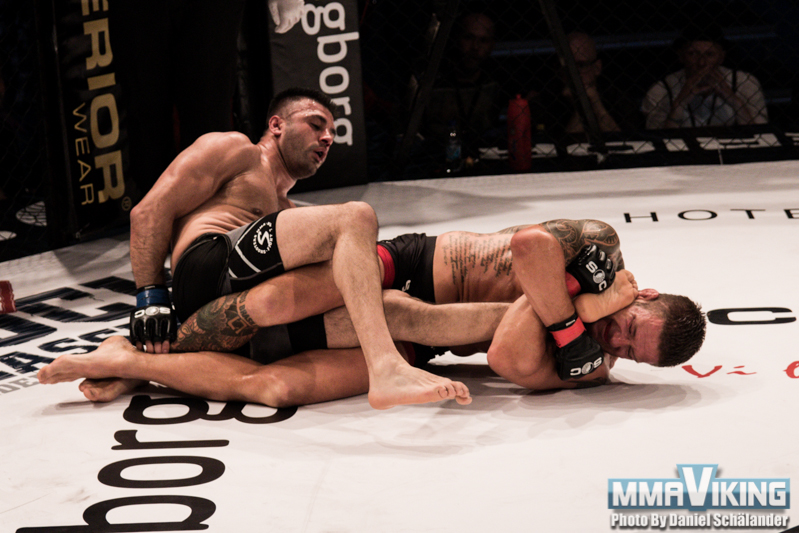 Round 3 – Besam knows he is under and now pressures David landing some fantastic punches! Now rushing David with combinations but David ducks under and gets the takedown, again sneaks in a leg and secures the half guard. David postures and delivers some hard elbows to the head of Besam. David goes into side control, looks for the arm triangle but lets go of it. David gets back to half guard, where the majority of this fight have taken place. End of round. MMAViking scores that round 10-9 to David.
Winner by unanimous decision is David Bielkheden.
Yosef Ali Mohammad (Sweden) vs. Mike Neun (England) – Heavyweight Title
Round 1 – Ali times Neuns jab beautifully, goes low and easily gets the take down, and now goes into sidecontrol briefly before full mount, thrashing Neun here with punches! Going back to side control, postures and again with nasty punches. Now Ali is looking for the kimura, adjusts and cranks! He gets the tap quickly in round 1.
Winner by Kimura 1:06 in the first round is Ali Yosef Mohammad
Juha-Pekka Vainikainen (Finland) vs. Efrain Escudero (USA) – Lightweight Title
Round 1 – Efrain the agressor here landing excellent body punches, which drops JP! Huge shots to the head of JP which forces him to scramble, but unable to shake off the American. JP still on the bottom looking for a way out, but Efrain is on him, now jumping for a guillotine! It looks very tight, but JP seems to be alright and hammers the body of Efrain. End of round. MMAViking scores that round 10-9 to Efrain.
Round 2 – Jp now pushing the action, trying to land some jabs but Efrain is quick with the counter and is creative with his striking, going low, high and to the body. Efrain again lands a nice combination and ends it with a hard leg kick, JP trying to stay in there but ends up short in almost every exchange. Efrain now the guy who goes forward, really landing good strikes! Looked like it hurt JP and he is backing up, but only back to the center of the cage. JP now lands a great straight! But Efrain responds with a hard knee to the body and a legkick. JP goes in with a short elbow, Efrain dodges, goes low and takes him down. Efrain in side control, JP trying to scramble for a better position but Efrain puts his hooks in and is now on the back of the Finn. End of round. MMAViking scores that round 10-9 to Efrain.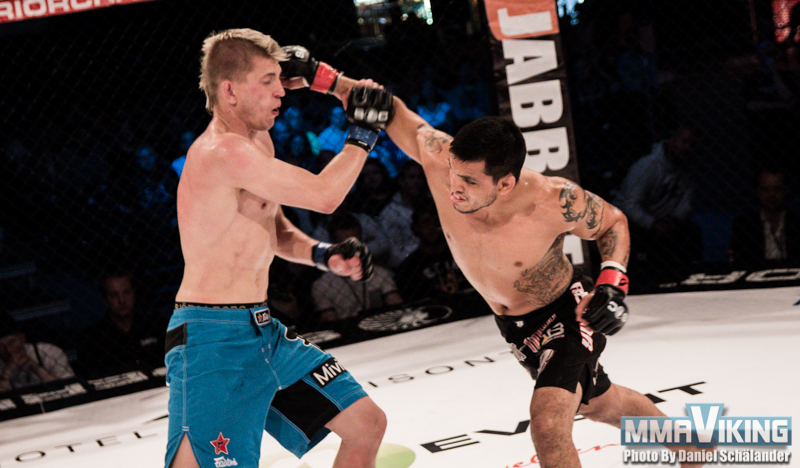 Round 3 – Efrain steps in with a good combination and retreats, does that a couple of times before he decides to take JP down, ending up in half guard. JP scrambles, gets hold of a leg and reverses briefly before Efrain stands up, and again takes the Finn down. Efrain keeps pressure all the time, being able to end up top in every scramble JP attempts. Now JP scrambles but Efrain goes for the triangle choke instead of defending, not quite locked in but hammers hard punches and elbows! He opens up a big cut on the head of JP and the referee jumps in to save him from more damage.
Winner by referee stoppage 4:48 in the third round is Efrain Escudero
Matti Mäkelä (Sweden) vs Joachim Christensen (Denmark) – Light Heavyweight Title
Round 1 – Matti goes straight forward, looking to put pressure but Joachim with some dirty boxing and a good uppercut, Matti drives him to the cage. Now Joachim turns it around and lands 4-5 hard knees to the body! Still against the cage, Joachim with the pressure. Again the Dane creates a little space and unleashes some vicious knees. Now Matti turns it around, on the way out he lands a hard left hook! Matti again landing a nice combination. Now Joachim goes for a judo throw, momentarily gets him down but Matti is able to get up again. Matti again creates distance, and lands a spinning elbow! It lands flush and Joachim looks hurt for a second, but quickly recovers. End of round. MMAViking scores that round 10-9 to Joachim, a close round.
Round 2 – Matti wants to close the distance again, throws a body kick and clinches Joachim against the cage. Joachim able to switch it around, but seperates in hope of landing a punch but misses. Both men with hard exchanges, and Matti tries for the spinning elbow again but Joachim recognizes and gets out of the way. Now Matti pressuring the Dane against the cage and landing good knees, and again Joachim is able to turn Matti around. The two seperates, displaying a competitive stand up game, both men having great dirty boxing on their way out and in. Matti goes forward and lands a hard elbow, Matti obviously frustrated rushes forward and Joachim dips under and takes him down. The Dane stands up and lands good kicks before the round ends. MMAViking scores that round 10-9 to Joachim, again, a very close round.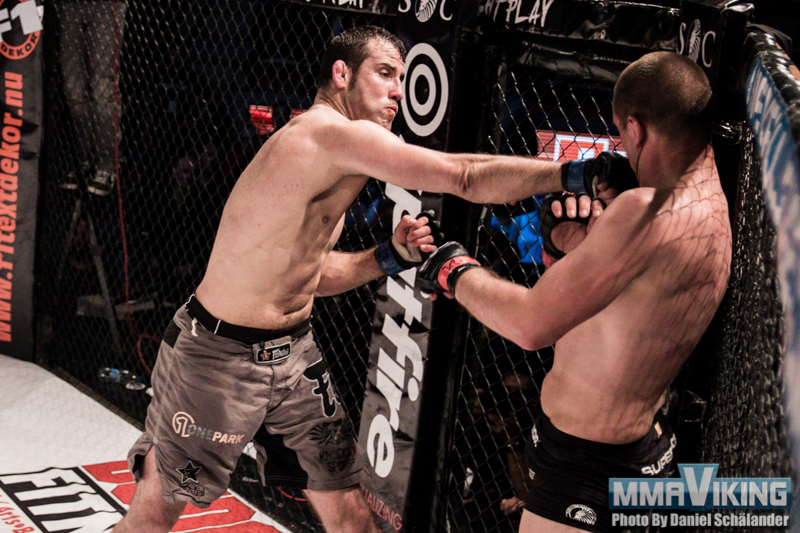 Round 3 – Matti goes forward swinging hard! Misses but hits the target with a hard body kick. Joachim closes distance  and gets Matti against the cage. Having some success with the dirty boxing, looking for a single leg takedown but cant get it. Matti turns him around, seperates and legkicks Joachim that wobbles him for a second, both guys looks tired but still a good pace. Joachim swings hard and connects, Matti still going forward throwing haymakers, Joachim capitalizes and goes low for a takedown. Sets up a arm triangle, looking to change side in order to sink it in, Matti recognizes and prevents that from happening. Joachim doing some damage from the top but nothing that does any significant damage. MMAViking scores that round 10-9 to Joachim.
Winner by unanimous decision is Joachim Christensen.
MMAViking.com will have exclusive pictures of each bout and post-fight video interviews.  Stay tuned.