Finn Janne "Jamba" Elonen-Kulmala (11-4-0) has recently returned to his native locale, fresh off of a five-week training tour of the United States. The #5 Ranked Nordic Bantamweight, was joined on this trip by fellow Finnish MMA competitor Juha-Pekka Vainikainen and their voyage has taken them to some of the most elite camps in the American Southwest, a legendary hub of martial arts knowledge and historic hotbed for top-tier competitors. "We are here to see how people train, and how they approach training. If we can pick up some stuff from that area, that helps a lot." says Jamba to MMAViking.com.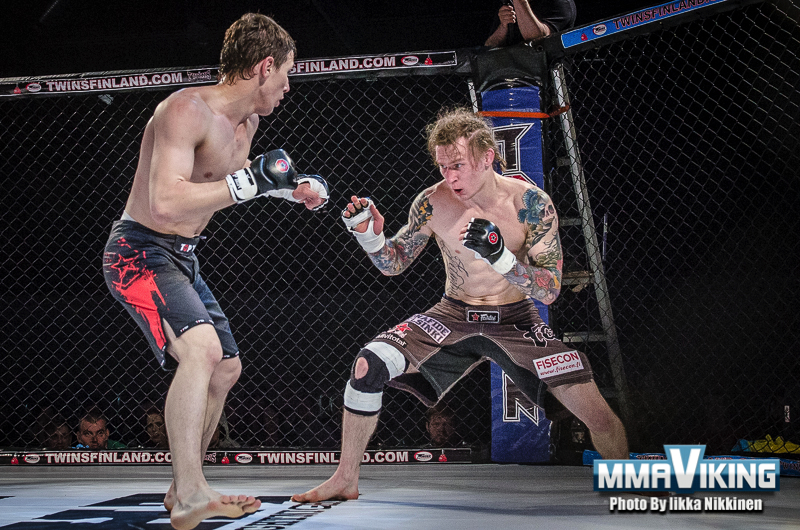 During their five weeks stateside the duo trained at prestigious gyms in Las Vegas, Salt Lake City and Sacramento. Among these gyms are Salt Lake City's Absolute MMA, and The Pit (both at a towering 1,288 meters of elevation), as well as the Las Vegas-based gym owned and operated by recent UFC addition and 2007 ADCC Open Division champion Robert Drysdale. The trip was rounded off with a stay at Team Alpha Male's headquarters in sunny Sacramento, California, a world renowned facility notable for its stable of dominant fighters within the lower weight-classes.
The 24 year old Espoon Kehähait product took full advantage of his opportunity in Sacramento, putting in rounds with #1 Ranked UFC Featherweight Chad Mendes, and long-reigning former WEC Featherweight champion Urijah Faber. "I got some good tips for my wrestling" says the Bantamweight to MMAViking.com, that went on to say that he has also added to his striking arsenal.
Much love for Finnish guests! @MMAjamba and Jp Vainikainen. Vitun jees!!! pic.twitter.com/5xCtF89Ws1

— Team Alpha Male (@TeamAlphaMale) June 19, 2014
While Jamba acknowledged there is always more to learn, he also stated that an important function of his trip was to analyze not just the skills being taught, but also the method of training among elite American camps.
"There are a lot of people who think that you cannot become a high level fighter if you train only in Nordic countries. Based on my experience I disagree with that." says the Finn that now believes he can get his way to the top without the need for traveling abroad.
Elonen-Kulmala will surely be taking new knowledge, new weapons, and most importantly a new perspective with him in his next foray in the cage, which appears to be at an upcoming Cage event in the fall.