After pulling out of  of his title shot two weeks ago due to a knee injury, Alexander Gustafsson today had surgery.  "I am glad that it is fixed and ready now so that I can focus on rehab and coming back stronger" says The Mauler to SVT Sport.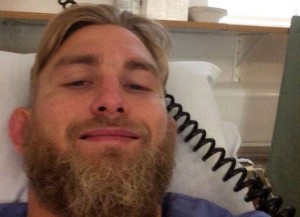 The Swede says he isn't sure what is next for him. "I do not know. It is unclear right. I really want to have a title, have a chance again for the belt. That's where my focus lies. It is my goal, but right now my thoughts on becoming as strong as possible."  The reality is that Gustafsson is on the sidelines for rehab for a "full five-six weeks" before getting back to any substantial training.
Gustafsson's last bout was a TKO of Jimi Manuwa at Fight Night London in March, while he waited on Jones to beat Glover Teixeira at UFC 172 in April to set up the rematch.  In his place for the Light Heavyweight bout in Las Vegas is Daniel Cormier, who took his dislike for Bones to the next level at yesterday's press conference.
"I think it's childish at this level. We are all professional and must be shown by example and represent the sport as best we can. Just think it's ridiculous." says the Allstars Training Center fighter about the fight at the media event.
"A match against Jon Jones is something I really want. Everyone knows, everyone wants to see the match." says Gustafsson, that can't wait to get his time in the Octagon again for the title.