Fresh off of an impressive win at Carelia Fight X in a return from a knee injury, Eeva Siiskonen has now set her goals on her next target… the bantamweight Cage Warriors title. MMAViking.com talks to the MMA Imantra fighter shortly after her second round stoppage of the Knight of Plunge's Inga Kaledaite on Saturday.
When did you know that you weren't going to fight Isabelle Pare from France? 
On Thursday evening I had heard that Pare had an neck injury and that my new opponent is going to be Kaledaide, so it came a little last minute.
Did you have to change your game plan? 
My game plan changed a little bit but nothing dramatic change we didn't do. I watched two Kaledaites fights, she was more groundgirl and more agressive fighter than Pare.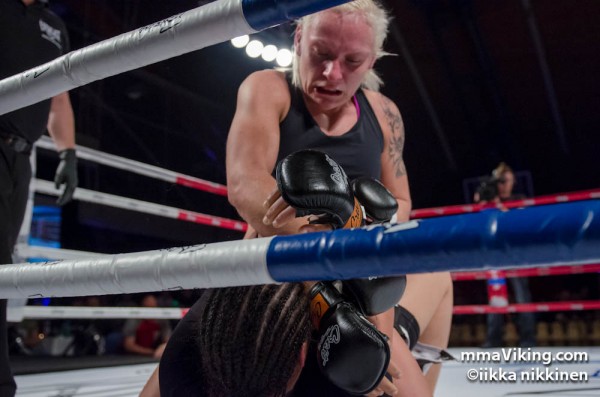 Talk about the fight, and the exciting knock out finish.
She had great kick! But the first punches that we exchanged, I realized that I'm more stronger than her. And when she tried to take me down, I was also ready to go there.
When I had the first choke, it was close.. she didn't breath that good anymore and was making this noise, but I had a bad position because I dropped to the side so I loosed my crip because i didn't want to tired myself.
Ground game was fun, but I wanted to do boxing more. First round i didn't get the distance right, because I have always been training with bigger men.  In the second round, I found my fighting distance and after that the punches got to the right point and then came the finish.
You always hashtag Cage Warriors in your posts, will we see you fighting for the promotion?
I always #cagewarriors because I have 5 fight contract there still and now that I'm fine and I can fight. I think you are going to see me there quite soon and that bantamweight belt is going to be mine some day, thats my main goal at this moment.
Fight Video