'M-1 CHALLENGE 45' took place on Friday night in St. Petersburg, Russia and undefeated Estonian heavyweight Denis Smoldarev (6-0-0) earned a M-1 Global title fight shot by defeating Ante "Walking Trouble" Delija (8-2-0) in the main event. The promotion announced the shortly after the win and released the following about the two bouts with Nordic fighters.
Known as "The Brock Lesnar of Estonia," the 6′ 5″, 266 ½ pound Smoldarev is now positioned to fight the winner of the M-1 Global heavyweight championship fight, March 14 at M-1 Challenge 46, between reigning champion Damian "Polish Pitbull" Grabowski (19-1-0) and challenger Marcin "Tybur" Tybura (9-0-0).
The 6′ 4″, 247-pound Delija had a successful throw and took Smoldarev's back to start a great first round of action. Smoldarev moved to Delija's guard, working from the top, and unleashed a volley of strong punches and leg kicks on the Croatian.
Smoldarev came out for the second round throwing a good left but Delija quickly went to the ground, taking Smoldarev's back and transitioning to a heel hook. It wasn't tight enough and then Smoldarev took the top position, firing strikes and then locked in an "Americana." Delija let out a scream that the referee considered a verbal submission and ended the fight. Delijia protested to no avail.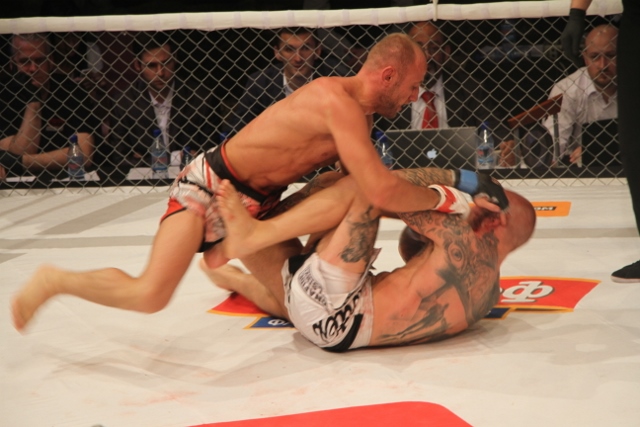 Russian lightweight Alexander "Iron Capture" Butenko (34-9-0) won a war of attrition in a battle of season veterans against Niko Puhakka (28-15-0), of Finland. Puhakka suffered a cut over his eye in the opening round that freely flowed during the entire fight. Butenko was unable to submit the game Finn but he was in complete control en route to a solid win by decision.