Botnia Punishment has updated their fight card on March 23.  The major news is that Danny Mitchell from England is now injured, and Pavel Bechtold is stepping in to face Team BP's Glenn Sparv.  The event Botnia Punishment XI is headlined by an exciting bout between Finland's Katja Kankaanpää and Japan's Mei Yamaguchi.  Updated fight card is listed below: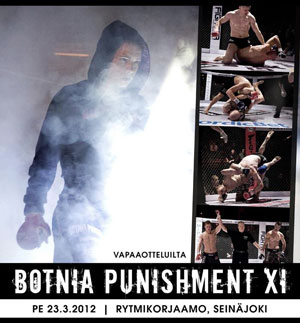 Fight Card
-52kg 3×5 min
Katja Kankaanpää, Team BP / Giudici Team, FIN 5-0-0 vs Mei Yamaguchi, Japan 9-3-1
-65,8kg 3×5 min
Greger Forsell, Sports Academy No1/ Alliance, FIN 4-0-1 vs Sergej Grecicho, The Knight of Plunge, LIT 10-4-1
-77,1kg 3×5 min
Glenn Sparv, Team BP, FIN 4-1-0 vs Pavel Bechtold, Penta Gym Prague / Shooters MMA, Czech Republic, 6-6-0                   
-59kg 3×5 min
Michal Hamrsmid, GCF Team, Chech Rep. 20-9-1 vs Mikael Silander, EKH, FIN 6-0-0
-82kg 2×5 min
Junior Beltrao, Brasil 3-1-0 vs Jani Myllynen, Gladiator Factory / Team east Front, FIN 1-1-1
-68kg 2×5 min
Juhani Aho, MMA Seinäjoki / Team BP 0-1-0 vs Hannu Suhonen, MMA Utti / Team East Front 0-1-0
Amateur:
-62kg 3×3 min
Timo Suihkonen KKU vs Herkko Lokka MMA Kuopio 
-65,8kg 3×3 min
Daniel Winiarcyzk KKU vs Matti Hyvärinen, Gladiator Factory, Kuopio
-77,1kg 3×3 min
Jesper Mattlar VKK vs Atte Ala-Kortesniemi MMA Utti 
-86kg 3×3 min
Matias Rantala, Mäntän Sutemi vs Jaan Hanson RNC Sport Club
Visit the Botnia Punishment Event Page on Facebook at https://www.facebook.com/events/218931024859200/
"Like" us on Facebook for updates on the Botnia Punishment XI and Nordic MMA.