The match between Farshad Farsiani (1-3-0) against Ake Bergvall (3-5-0) is scheduled to be held at Superior Challenge 8, October 6 in Malmo. Officials from the Swedish organization announced today. Read the press release below: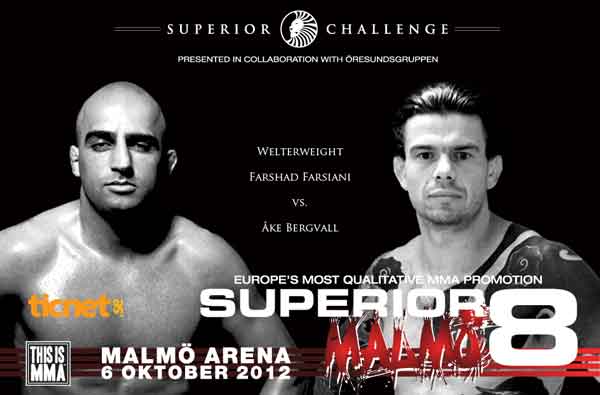 Farshad has had all four MMA matches in his career at Superior Challenge. As head coach for Hilti NHB in Uppsala, he is always active and improving his game. The former boxer always offers entertaining fighting games, and he has succeeded in winning the audience's attention by repeatedly showing his warrior's heart. The Superior Challenge 5 – Pride & Fury, he met Canadian Sean Farrell and broke his jaw early in the second round. Yet he never gave up and tried to win the match in the remaining one and a half rounds.

Get more pictures like this from SHERDOG.COM
Farsiana (right) Versus Mohsen Bahari from SC 7 | Photo by Henrik Wall at MMAViking.com
This is Åke's first match in Superior Challenge. The newly-appointed VBC fighter began competing as early as 2002 and has had time for a total of 18 amateur and professional matches. Unlike most of the elder generation MMA fighters, Åke jumped directly to MMA. Therefore, he feels that he is an all-round MMA fighter, and comfortable both standing and on the ground.
Babak Aghavali, CEO Superior Group International:
– This will be a really good match. Both Farshad and Ake has shown great interest in this game. They were very quick to accept and has demonstrated that they really look forward to seeing you. It's a very even match where both fighters are very smooth and are accustomed to face tough opposition. I think it will be an audience pleaser, and neither of the fighters will give up.