As we prepare for our yearly MMA awards, I have reviewed all the Nordic events I attended or watched on-line, and it hits me that one event won't win any awards… and it was my favorite day.  It was the UFC in Sweden weigh-ins, and it was really something special. So here is my ode to April 13, 2012.
Although everyone had purchased their tickets to the sold out Globen event immediately and MMA Viking wrote about every detail in the upcoming event each day, being at weigh-ins it was THE moment that I finally realized that the UFC was actually going to happen. For some reason, I was scared it was all a dream. How could the UFC actually make a trip to Scandinavia? But Mike Goldberg, Joe Silva, Arianny, and Bruce Buffer were actually there behind the official scale… and fans from around Europe packed Globen. To quote a line in Almost Famous, "It's all happening".
Below are just a few picture captions from the memorable day, plus our exclusive highlight of the event. I hope you relive this great moment for Nordic MMA, as the UFC finally made it's debut. My wish for 2013, is we can all do this again =)
Gothenburg's Yousef was making his debut, and he sported Superman underwear.  Memorable little moment early in the weigh-ins.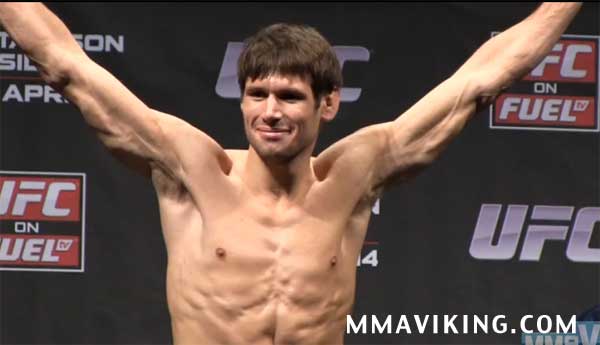 Simeon Thoresen representing Norway got a huge pop from the crowd, letting Sweden know that friends from the west were in the house to support their fighter.  Thoresen was all grins in preparation for the biggest fight of his career.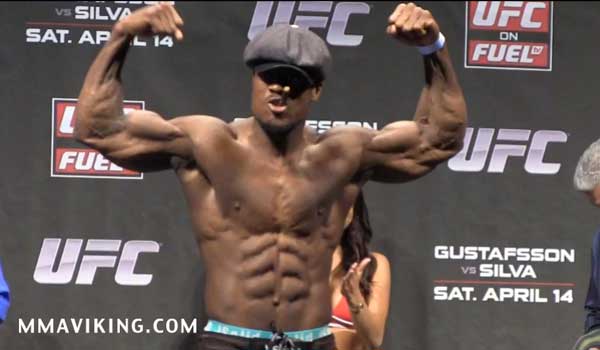 There aren't too many more popular fighters in Sweden, than Stockholm's own Papy Abedi.  You also won't find too many more charismatic or more chiseled specimens for weigh-ins.   Makambo rocked the crowd with his iconic hat and cigar. It was also very cool to see Swedish prospect Nico Musoke walk up with Abedi.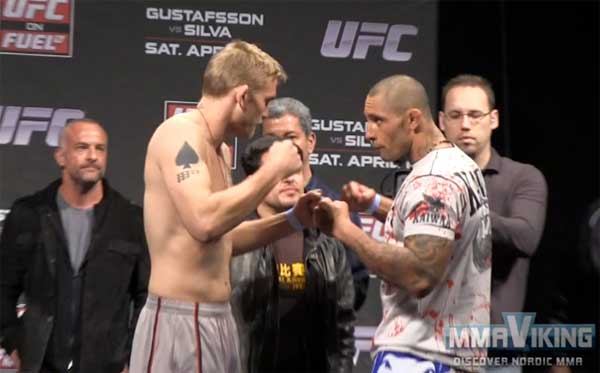 Alexander Gustafsson was headlining this card, and on the verge of a breakout performance agains the veteran Thiago Silva.  The Swede versus Brazilian showdown was an intriguing matchup for the emerging star Alexander Gustafsson.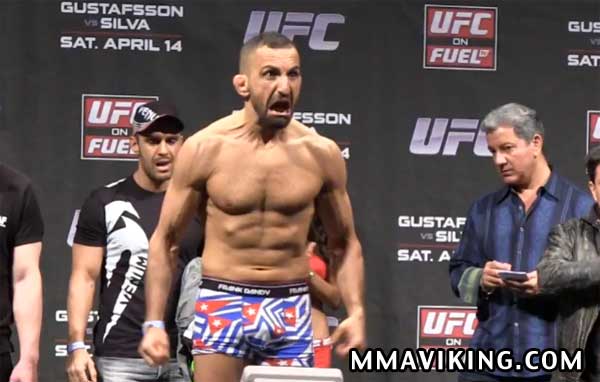 As Always "Mad Dog" Stole the Show.  His excitement coming out from behind the curtains was amazing.  The crowd was going crazy for their local boy making his debut in the big leagues.  It was always Madadi's dream to fight in the Octagon, and the time had come.  "Reza, Reza, Reza" the crowd cheered before making his famous pose and stepping up in the face of Yoislandy Izquierdo.
Exclusive Video Highlight of Weigh-ins
Lastly, all the fighters, coaches, trainers, managers, family supporters, fans of local mma, shop owners, manufacturers, sponsors, promotors, referees, judges, administrators, media, PR firms, and gym owners… it took the energy of so many to actually make this day happen. I was so proud to be there to experience it all, just 5 minutes from my home, among new friends and old. And for once, I didn't take pictures or try and tweet weigh-in results… I just enjoyed it all, and I'm glad I did.