The year 2011 is about to end so it's time to sum things up and select the highlights of the year.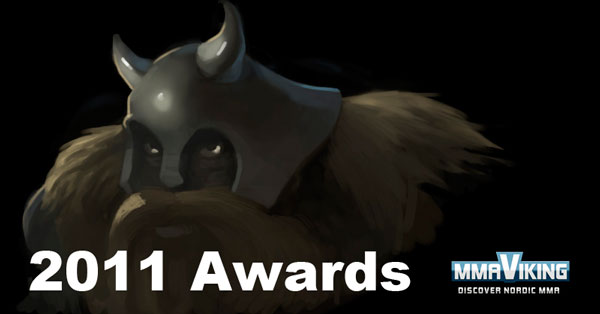 As a whole 2011 was a great year for Nordic MMA as the sport grew bigger all the time with bigger events, new gyms and thousands of new MMA practitioners… even MMA Viking went from 6,000 unique visitors a month to over 15,000 by the end of the year. Here are the "Of The Year" picks by MMAViking for 2011.
Nordic Prospect of the Year:
Andreas Stahl, Sweden
Fighting out of Renyi Fight Camp in Umea, Sweden, Andreas Stahl (7-0) had a very good year in 2011. Stahl racked up four consecutive wins in four fights and is still undefeated after seven pro fights.  The 23 year old Stahl , who is currently ranked #5 in the Nordic welterweight division by MMAViking, is your typical new breed fighter who is skilled in all areas of the game.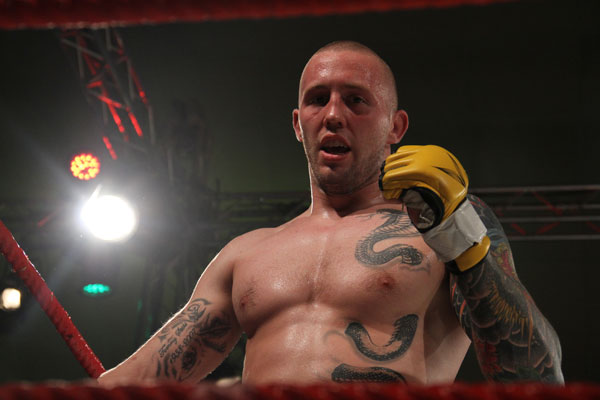 It will be interesting to see how Stahl will do in 2012 as he keeps climbing up the ladder and the level of competition gets stiffer.
Nordic Fight of the Year
Janne Tulirinta vs Claes Beverlöv, Cage Challengers 2
The best fight between two Nordic fighters in 2011 was the slugfest between Finland's Janne Tulirinta and Sweden's Claes Beverlöv at the Cage Challengers 2 event in December 2011 in Riihimäki, Finland. These two hard-nosed brawlers put on a awesome fight for the fans battering each other on the feet for three full rounds. Both had their moments in the fight but in the end Tulirinta was more accurate on the feet and received a unanimous decision victory for his efforts. Low quality video of the fight.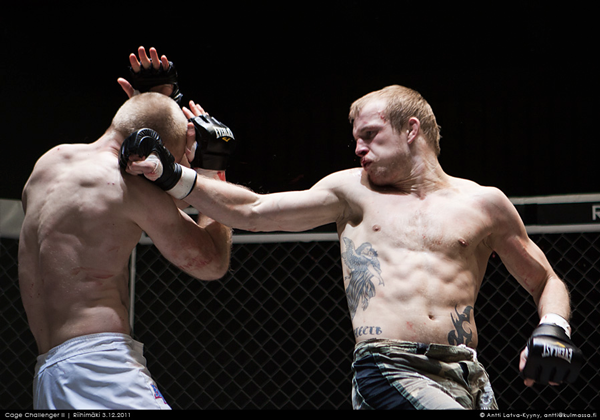 Reza 'Mad Dog' Madadi versus American Rich 'No Love' Clementi was another fight that had all the makings of fight of the year. However, the anti-climatic decision in favor of Madadi and protest that followed seemed to damper the hype of the fight, that is mostly remembered for its questionable judging at Superior Challenge 7.
Nordic Event of the Year
Fight Festival 31
Finland's Fight Festival promotion takes the event of the year honor with their event number 31. FF31 had a rock solid card stacked with European top tenners including Marcus Vänttinen, Niko Puhakka, J-P Vainikainen, Joni Salovaara and UFC veterans like Lucio Linhares, Kenny Roberts, John Gunderson and Steve Lopez. Although Superior Challenge 7 brought the UFC veterans and up-can-coming Swedes and Cage Fight Live highlighted Denmark's rising scene, it was FF 31 that was not only great on paper as it delivered a night full of exciting MMA fights for the crowd in Helsinki. Fight Festival has been putting up combat sports events since 1998 making it one of the longest running promotions in the Nordic.
Fight Festival 31 was the best Nordic event in 2011, and included a spinning back-fist KO to end the night in exciting and unexpected fashion.
Nordic Knock Out of the Year
Kristian Lexell vs Allan Love at Battle of Botnia 4
Stockholm Shoot's Kristian Lexell takes the Knock Out of the year with this spectacular flying knee – left hook combination that dropped his opponent like a sack of potatoes.
Nordic Submission of the Year
Bruno Carvalho vs Kyacey Uscola at Superior Challenge 7
GBG MMA's Brazilian born Bruno "BC" Carvalho cracked Kyacey Uscola's arm with a beautiful kimura lock at the Superior Challenge 7 event in Stockholm. You can see from the video (at 1:55) how Carvalho uses excellent grappling technique to isolate Uscola's arm, moves into correct position with a very slick transition and finishes the submission.
Nordic Female Fighter of the Year:
Katja Kankaanpää, Finland
Finland's undefeated Katja Kankaanpää (5-0) fought twice in 2011 winning both fights in dominating fashion. In her most recent bout at Cage 16 Kankaanpää easily outgrappled Spain's then undefeated Karla Benitez to an unanimous decision win.  Kankaanpää is currently 5-0 in her pro career and ranked #1 in the Nordic women's rankings. Hopefully a fight between Kankaanpää and Sweden's top ranked Hanna Sillen (5-1) happens in 2012.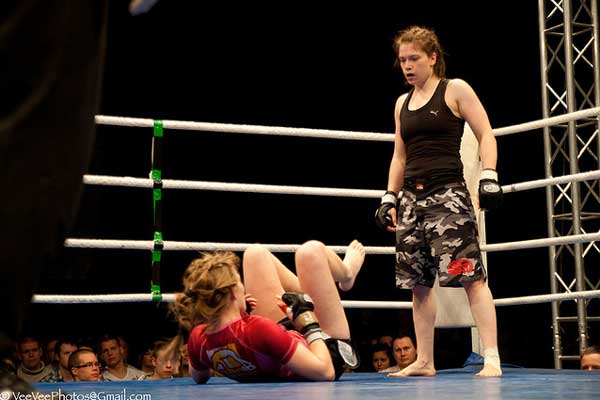 Nordic Fighter of the Year:
Alexander Gustafsson, Sweden
During 2011 the 24 year old Swede cemented his status in the UFC as one of the premiere light heavyweight fighters in the world. Gustafsson has fought twice so far in 2011. In February he choked out James Te-Huna in Australia and in August he scored a technical knock out win over American wrestler Matt Hamill. He has already locked up the award as fighter of the year, even though his third fight will be on the last day of the year at the UFC 141 in Las Vegas where he will meet the tough veteran  Vladimir Matyushenko.  Gustafsson, who still mainly trains in Sweden at Nexus Fight Center, has again proved that Nordic countries can produce world class talent in MMA. He will be featured on his first pay-per-view main card, where he will be on display fighting in Las Vegas for the first time.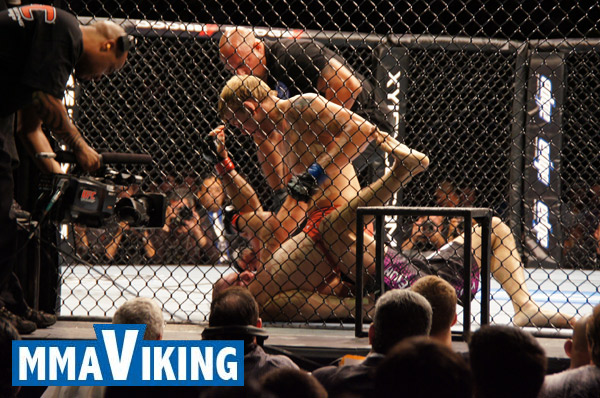 Gustafsson, who still mainly trains in Sweden at Nexus Fight Center, has again proved that Nordic countries can produce world class talent in MMA.
"Like" MMA Viking on Facebook for updates on the Nordic MMA.