Fight Festival 32 continues with the promotion's proven formula: match up local stars with foreign veterans. In a familiar Fight Festival fashion the card also holds kickboxing and muay thai fights in addition to MMA bouts. If you missed our first part of the preview of Saturday's event in Helsinki, you can find it here.
MMA Viking will provide live play-by-play and results from the spot on Saturday, and full scale event report on Sunday.
Lightweight: Juha-Pekka Vainikainen (19-5) vs Antun Racic (10-3), Croatia
Classic striker versus grappler match up where the Finn will be the one looking to throw bombs on the feet.
Finland's J-P Vainikainen has steadily worked his way up to the top ten of the European lightweight division. Vainikainen hasn't loss in three years and gone 9-0-1 in his last ten fights. In his last two fights Vainikainen has raised his stock considerably. At Fight Festival 31 he beat UFC vet Steve Lopez by decision after a back and forth battle. In his last fight at the Cage Warriors Vainikainen's elbow cut UFC vet Kyle Watson in the second round and doctor stopped the fight. The Finn broke his arm in the first round and hasn't fought since February.
Vainikainen is a tall and long limbed fighter for the lightweight division. Some might say there is a lot of Nick Diaz in his striking style: constant forward movement combined with high volume of strikes. Former boxer, who mainly trains with takedown artist Niko Puhakka, is nowdays very difficult to take down or keep on the floor.
Antun Racic is the complete opposite of the Finn: short, stocky and always looking to take the fight to the ground. Beefy Racic is just 165 cm and mostly fights at featherweight but that doesn't mean he isn't dangerous in this fight. The Croatian has finished all of his ten pro fights and all by submission. The powerful grappler prefers chokes over joint locks. Racic's striking isn't on Vainikainen's level but it's not that weak either. He is agile and explosive on the feet and throws fast looping punches.
Summary: Racic has a very aggressive style and he will be looking to take the fight to the ground as soon as possible. Early in the fight when both fighters are dry, the Croatian is especially dangerous. Vainikainen will probably start with a cautious tactic and try to keep the distance with his stiff jab. Once the fight progresses Vainikainen will turn up the volume and pressure Racic with forward movement and constant punching.
Featherweight: Joni Salovaara (10-5) vs Moktar Benkaci (8-2), France
Two up-n-coming featherweights meet in a bout that will not go to the judges.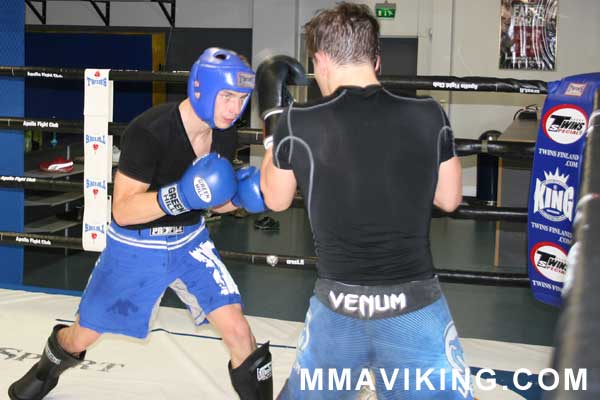 Joni Salovaara is a highly skilled allrounder who is among the top ten featherweights in Europe. After a rocky start on his pro career, Salovaara has gone 8-1 in his last nine fights. The only loss during that time came to Lithuanian grappler Sergej Grecicho who submitted Salovaara in May of 2012. Salovaara has put in a lot of work lately to improve as a fighter and trained new skills at various gyms in Finland and in the US. Now days Salovaara's best asset is his genuine allroundness  He is comfortable and competitive on the feet and on the ground. These days Salovaara is also a pretty big and physically imposing fighter for the weight class.
Born in Belgium but fighting out of Marseille, France, Moktar Benkaci is a rising featherweight talent. Benkaci's strength is his grappling that has earned him six submission wins so far. Benkaci's wins have come over lesser competition compared to Salovaara. His second career loss came to more experienced Araik Margarian who was able to decision Benkaci in February of 2012. Salovaara will his toughest test to date. Stocky Belgian isn't afraid to throw down on the feet even if his striking isn't technically polished.
Summary: While Benkaci goes as underdog to this battle, it doesn't mean he is out of the fight. Benkaci is certainly dangerous with slick leg locks on the ground and wild punches on the feet. Salovaara is the more experienced fighter with better technical striking and a clear reach advantage. The Finn will try to keep the fight on the feet and pick his opponent apart with strikes.
Flyweight: Mikael Silander (7-1) vs Wade Choate (14-13), USA
Highly regarded prospect Silander faces an experienced American veteran in Choate.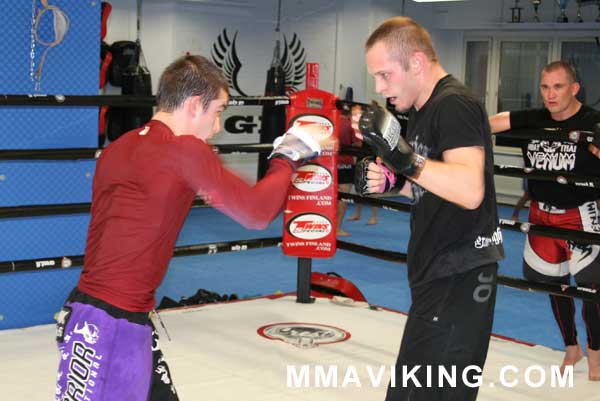 Maunu: "Silander is constantly improving as a fighter. He has been training rigorously. Now he faces a very experienced fighter in Choate who has gone full rounds with former UFC champion Jens Pulver."
Mikael "Hulk" Silander is widely considered as one of the most talented up-n-comers in the Nordic. Espoo Ring Sharks fighter has shown remarkable improvement over the last couple of years and looked very good against much more experienced opponents. Silander's success is built on a base of natural athleticism. He is quick, durable and strong for the weight class. Silander has previously relied on grappling but lately he has been focusing more on his stand up game. Based on what MMA Viking has seen at the gym, the work he has put in to developing striking skills has paid off in a big way. In his last fight Silander suffered his first defeat by decision after a close fight with Sambo world champ Ali Bagautinov of Russia.
Illinois based Wade Choate is a gritty brawler who has faced top talent like former UFC champion Jens Pulver and UFC bantamweight Eddie Wideland on his long career. Fighting since 2003 Choate has competed through out his career with mixed success. His record lacks any big wins but then again he lost to Pulver only by split decision in a slug fest. Most of his wins have come against fighters with a losing record. In his latest bout the veteran submitted Justin Robbins (13-13) with a guillotine choke in the second round. Choate has fought quite rarely in the recent years: two bouts in 2011 and this will be his first in 2012. Choate has allround skills but grappling is his main weapon. On the feet Choate isn't afraid to throw down but his wide punches leave him open for counterattacks.
Summary: Experienced Choate is a fitting challenge for the up-n-coming Silander. Choate slings wild strikes on the feet so the Finn has to keep his guard up on the feet. It's hard to predict how things will play out on the ground but one would guess that Silander will be the one holding top position. If the fight goes to later rounds, that should favor the younger Silander who has shown great stamina in his previous fights.
Welterweight: Johan Vänttinen (8-2) vs Vincent Del Guerra (17-7), France
Rising talent Vänttinen meets a more experienced Del Guerra in a welterweight battle.

Get more pictures like this from SHERDOG.COM Photo by Henrik Wall / MMAViking.com
Porvoo Fight Factory's Johan Vänttinen is currently riding a five fight win streak. Most of the wins are over mediocre competition but Vänttinen has looked impressive and cruised through the lesser competition. Now it's time to up the ante. Vänttinen has an extensive background in combat sports ranging from Muay thai to MMA. His skill set is complete and physical attributes are on a level that is required at this point.
Del Guerra started fighting pro in 2009 and has kept up a rapid pace ever since. the Frenchman fought nine times in 2011 and this will be his fifth fight in 2012. He has competed with mixed results against mid-level Euro talent, fighting mainly in France and it's neighboring countries. Del Guerra has fought in Finland before: in 2011 he lost to Olli-Pekka Heino by triangle choke at the LFN 6 show. Like Vänttinen also Del Guerra brings a full arsenal of combat skills to the ring. He has also fought at middleweight before so he should be able to hold his  own on the strength department against the Finn.
Summary: This seems like a evenly matched fight that could go either way and it could end on the feet or on the ground. Both guys usually fight with an intent to finish so this bout could be a barn burner for the fans.
Bantamweight:  Janne Elonen-Kulmala (4-4) vs Damien Louloum (1-1) France
Hometown's Elonen-Kulmala tries to bounce back on the winning column after suffering two disappointing losses. In both fights "Jamba" was winning the fight before ending up in a bad position that ultimately cost him the fight. Espoo Ring Sharks fighter has the skills to win but needs to stay more focused during the battle. His opponent Damien Louloum has had just two fights in 2010 and hasn't fought since. It's quite hard to estimate how competitive this fight will be or how it will play out.
Kickboxing WAKO PRO World Championship 94 kg (208 lbs): Jukka Saarinen vs Antonio Sousa, Portugal
Maunu: "Saarinen has a long and successful career behind him already. This is his opportunity to crown his career with the World Championship belt."
Kickboxing 65 kg: Jarkko Jussila vs Oliaksandr Pindrys, Ukraine
Finland's Jarkko Jussila, who competes in pro kickboxing and boxing, is one of the most active combat sports athletes in Europe. This time the long limbed Finn locks horns with a rising talent from Ukraine in Oliaksandr Pindrys.
Muay Thai 52,2 kg: Jere Flinkman vs Franck Gross, France
Maunu: "This fight will certainly be one of the most entertaining bouts of the evening. Both guys are quick strikers with versatile offensive skills."
Fight Festival 32 Trailer