Fight Night promotion kicks off 2016 with a bang on February 6 at Karhuvuoren Urheilutalo in Kotka, Finland, as Jani Ridasmaa is set to face Kennet Mattsson in the main event.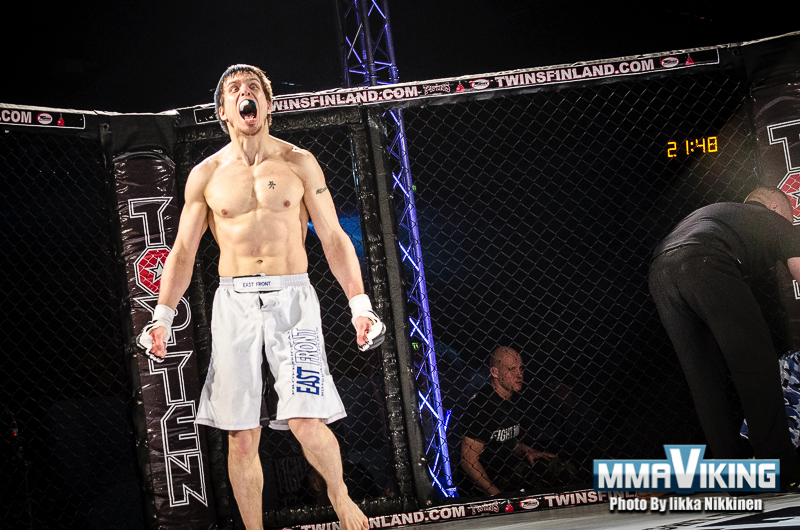 "It´s going to be a huge match for both fighters," says Fight Night promoter and matchmaker Jukka Paananen.
"It´s an interesting match-up as Jani has knockout power and Kennet is a very strong grappler."
Mattsson, 8-2-0, is riding a seven fight win streak with victories over Aleksi Mäntykivi and Niko Myllynen, while Ridasmaa, 7-4-1, has earned five of his seven wins via knockout.
Fight 15 – Fight Card
Professional Matches
Jani Ridasmaa, Team East Front (TEF), FIN vs. Kennet Mattsson, Primus Fight Team, FIN -73,5 kg
Eeva Siiskonen, TEF, FIN vs. Iren Racz, Fighters Club Debrecen, HUN -61,2 kg
Jari Illikainen, TEF vs. Valentin Deschamps, Dynamite Center, FRA -63 kg
Janne Häkkinen, TEF, FIN vs. Timur Terekhov, Gladiators Team, RUS -65,8 kg
Jani Ketolainen, MMA Kotka, FIN vs. Kai Karar, MMA Team 300, FIN -77,1 kg
Joni Sarkala, TEF, FIN vs. Mouman Mssaate, La Bonne Ecole, FRA -63 kg
Marko Tani, TEF, FIN vs. Armen Ilyshichev, RUS -65,8 kg
Edward Walls, TEF, FIN vs. Toni Lampinen, MMA Rauma, FIN -65,8 kg
Amateur Matches
Tomi Aalto, MMA Kotka, FIN vs. Tommi Alatalo, Lahden kamppailulajikeskus, FIN -70,3 kg
Juho Kahranaho, MMA Kotka, FIN vs. Aleksi Lehtovuori, FFG, FIN -77,1 kg
Joonas Turunen, MMA Kuopio, FIN vs. Teemu Vuorio, FFG, FIN -93 kg
Mika Vinni, MMA Kuopio, FIN vs. Matias Anttila, FFG, FIN +93 kg