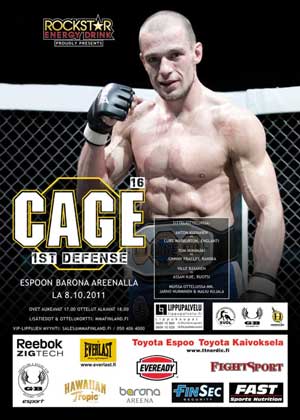 Joona Pylkäs, founder of Beatings from the North, has published a preview of the Cage 16 card taking place this Saturday, October 8th, at the Espoo Barona Arena in Espoo, Finland.
The card showcases two Finnish studs in Anton Kuivanen and Tom "Stoneface" Niinimäki.  These two prospects on the rise will be featured in the main and co-main events against top Brazilian and French opponents respectively in title bouts.  Wins here could put these fighters on a much larger stage.
Unfortunately a much anticipated bout between Sweden's Assan Njie and Finland's Ville Räsänen fell apart due to injury, but there is still a solid Sweden versus Finland matchup in a welterweight tilt between Olli-Jaakko Uitto and Nicholas Musoke.
For the full fight card and insights into these bouts, read the full event preview on Beatings from the North website.  Also, visit the site for live updates Saturday night, and a full event recap on Sunday.