Superior Challenge officials have announced that UFC veteran Anton Kuivanen will be facing Swedish veteran Diego Gonzalez in a classic MMA matchup between a Finn and Swede at Superior Challenge taking place on November 23rd in Gothenburg.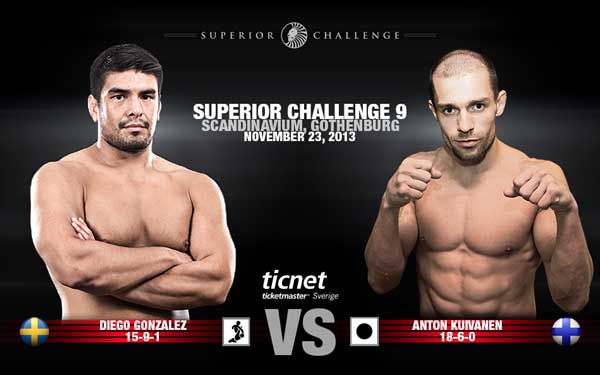 Press Release
Gonzalez takes on Finland's premier fighter Kuivanen
Diego Gonzalez takes on Finland's premier fighter, Anton Kuivanen in "MMA-Finnkampen" (Country Clash Sweden vs. Finland) bout at Superior Challenge 9 on 23rd November at Scandinavium in Gothenburg.
Diego is one of Sweden's most experienced MMA athletes. Since his professional debut in 2002, he has fought 25 bouts and faced fighters such as Dan Hardy, Andrew Winner, Akihiro Gono, and Superior Challenge's reigning welterweight champion Daniel Acacio. Gonzalez participated in the first Superior Challenge event where he finished the skilled grappler Manuel Garcia after only 1:30 minutes into the first round. He fought Yasushi Kitazaki from Japan at Superior Challenge 4, and at the 7th event, he competed for the welterweight title against Daniel Acacio. Shortly thereafter, he dropped down one weight class to lightweight and has continued to compete in the weight class ever since. On November 23rd, he will take on Finland's most dangerous lightweight, and one of Finland's absolute foremost MMA athletes overall.
The Estonian-born Anton is a Finish all-round fighter who began his professional MMA career in 2006. He has fought 24 bouts including three UFC bouts. The Finn's last fight at the UFC was against Michael Chiesa where he lost by RNC in the second round. Kuivanen has always been an European top-ranked athlete, and a beloved folk hero at home in Finland. On September 21st he will take on Eric Reynolds at Cage in Finland, and then after, the focus will be aimed towards Superior Challenge 9 on November 23rd.
MMA-Finnkampen is a concept created by the Swedish promotion Superior Challenge and the Finish promotion Cage. It is a new ultimate version of the traditional Country Clash Sweden vs. Finland in Athletics called "Finnkampen", which is deeply rooted in both countries' traditions. As usual, the practitioners strives to determine which country is the best, but instead of running the fastest, or jumping the highest, the participants takes on each other physically in the cage. Both organizations will host one event each year and the country with the most wins will become the champion.
Babak Aghavali, CEO Superior Group International:
– This "MMA-Finnkampen" (Country Clash Sweden vs. Finland) bout is not only interesting for us in the Nordic countries, but it's also on a top European level. The purpose of the "MMA-Finnkampen" is to determine which country has the best fighters, and we have really succeeded to match Sweden's top lightweight against Finland's absolute best. It cannot get better than this. Both athletes are very experienced and have been top ranked in Europe for a long time. We have been interested to book Anton for previous Superior Challenge shows against Reza Madadi for instance, so it's going to be really interesting to finally have him compete for the first time in Sweden. Diego is a very tough fighter who will do everything in his power to win this fight. It's not just the prestige that makes this bout interesting, but a win could mean a lot for both athletes.
Updated Fight Card
Fight Card Superior Challenge 9 – Gothenburg:
Sami " Uzi " Aziz vs. Jens " Little Evil" Pulver
David Bielkheden vs. Besam Yousef
Diego Gonzalez vs. Anton Kuivanen
Domingos " Cookie " Mestre vs. Simeon "The Grin " Thoresen
Yosef Ali Mohhamd vs Marko "Battery " Patteri
David Glasnovic vs. Magnus Strandner