"I'm Fighting for the Title"
Diego Gonzalez gives an exclusive interview with MMA Viking about his upcoming fight for the Superior Challenge welterweight title. Although not official, the matchup should be officially announced with the rest of the Superior Challenge 7 card shortly.
"I'm fighting for the title and I'm very much looking forward to stepping in the cage" Gonzalez says as he sets his sights on his first title bout at the Superior Challenge April 30 event "Rise of Champions". This will be his third appearance at the Superior Challenge gala. Gonzalez was victorious at the first Superior Challenge in 2008 with a submission due to strikes over Manual Garcia and a unanimous decision over Yasushi Kitazaki at the 4th gala in late 2009.
Below is a highlight video of one of Swedish most promising fighters :

While there was some talks that David Bielkheden may be in line for a title rematch with Acacio after the controversial decision loss last October, it is now set that Gonzalez will be the man to try and stop "The Viking Hunter". Acacio's nickname couldn't be more fitting to the Brazilian who has already beaten Swede's Tor Troeng, Bobby Rehman, and most recently "The Brazilian Swede". The event returns to the larger Hovet arena, which brought 5,000-7,000 fans out to the popular event last October.
Recovered from Surgery
Gonzalez has been out of the cage, spending some time to recover from knee surgery, since his decision loss in Sengoku in March of 2010. Going into that his fight against the former Pride, Pancrase and UFC star Akihiro Gono, Gonzalez was on a eight fight win streak over a three year span and looking to make the jump to be one of the biggest unsigned prospects not to be signed to a major organization, like the UFC, Strikeforce, or Bellator. The popular and growing Superior Challenge event will be very visible fight for the Swede to quickly get back on the radar.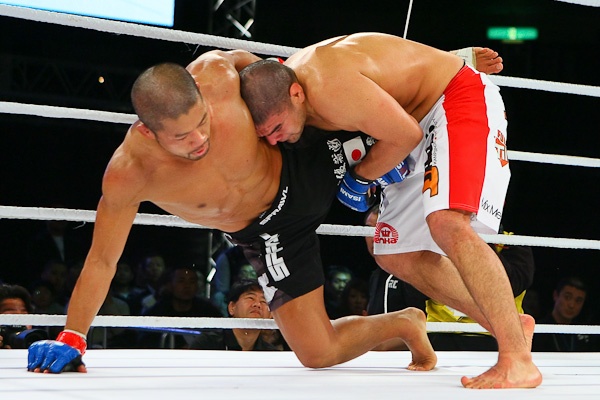 Gonzalez told MMA Viking a few months ago that this was an ongoing injury, that may have hampered his past performances. "I had a torn acl and meniscus. I was doing some wrestling and it happened when I was defending a takedown. I was trying to ignore the injury for a couple of months and did the Gono fight." reflected the fully recovered fighter.
Training at Xtreme Couture & Meeting Dana White
"I get my ass kicked everyday and I love it." says Gonzalez who has been spending time getting back into top fight shape at the Vegas super gym, Xtreme Couture's. "I've trained with so many good fighters here it would take the whole page to name them all. Just some of the guys in my weight class are Martin Kampman, Mike Pyle, Amir Sadollah, Jay Hieron, John Alessio and many more." exclaimed the Swede abroad.
"Training there is great. Best training I've ever got. There so many good guys its almost impossible to not evolve as a fighter." says the experienced fighter about his improvements. Seems like the trip included a chance meeting with UFC's most popular figure, as Gonzales lastly mentions that "I just ran into Dana with a friend who's met him before and he stopped and said and talked with us for a little bit. He's a really cool guy." Perhaps this cool guy could bring Gonzalez into the Octagon some day for a Gonzalez vs. Hardy III? For some background, below is the 2005 fight where Gonzalez dominates and submits Dan Hardy.