The debut of Finland's Grand Combat Entertainment takes place Saturday night in Salo.  The GCE 1 card includes both MMA, Boxing, Muay Thai and Kickboxing fights.  The card is headlined by Finland's popular Anton Kuivanen, who is on mission to get back to the UFC.  He will be facing Spain's Oriol Gaset in a high-level matchup.  MMAViking.com will be reporting on the MMA fights below.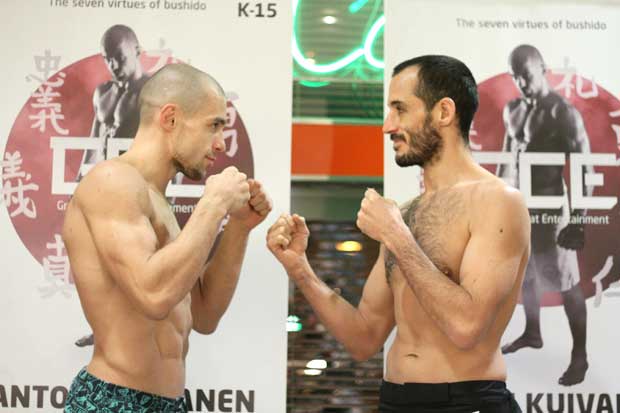 Fight Card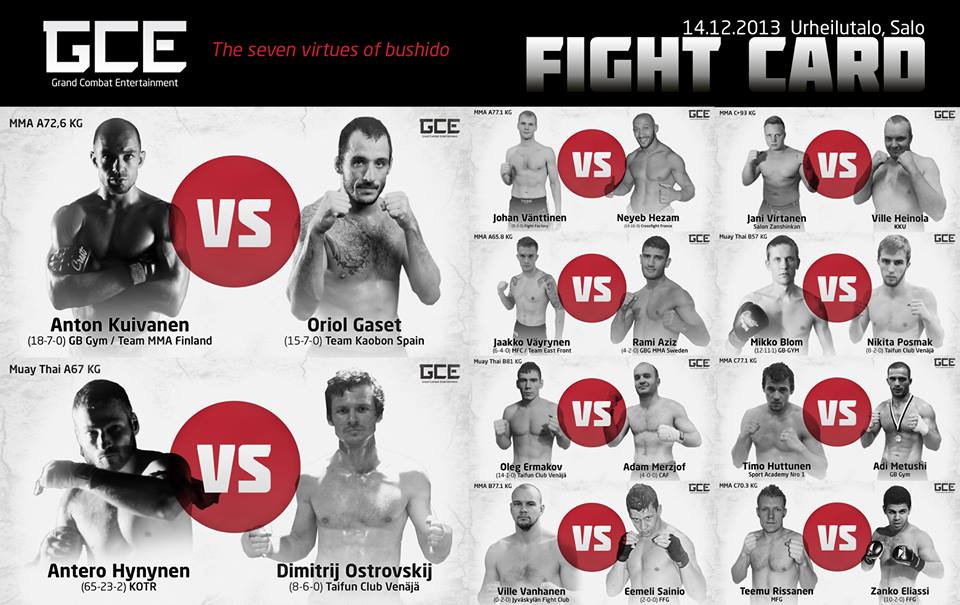 Grand Combat Entertainment MMA Bouts
The fights can be seen via live stream at www.sporttv.fi/GCE for 8 Euro.
The fights have started at 19:00.  And GCE has opted for ropes, with the mixed event tonight.
Adi Metushi, GB Gym vs. Timo Huttunen, Sports Academy Nro 1
Over three rounds it was Metushi who was able to implement his offense, landing cleaner strike on the tiring Huttunen throughout the bout.
Result – Metushi by Unanimous Decision
Jani Virtanen, Salon Zanshinkan vs. Ville Heinola, Kauhajoen Kamppailu-urheilijat
Virtanen is the quicker of the two, landing clean punches early.  The bigger Heinola looks to tie-up, and pushes up against the ropes.  The big man gets it to the ground and is able to take back.  Quick move to a rear naked choke, but Heinola doesn't want to tap…. but he is forced to do so as the old tightens.
Result – Heinola by RNC Round 1
Professional MMA
Eemeli Sainio (2-0-0) FFG vs. Ville Vanhanen (0-2-0), Jyväskylän Fight Club
The shin pads come off now as the level of MMA goes to the next level.  Both Sainio and Vanhanen come out swinging and kicking, but nothing serious lands.  Vanhanen is on his  position, and is looking for a submission… but it is Sainio that is hammerfisting for damage.  It's Vanhanen that goes for an armbar and he gets it.
Result – Vanhanen by Armbar Round 1

Jaakko Väyrynen (6-4-0), MFC/TEF vs. Rami Aziz, (4-2-0), GBG MMA Sweden
Aziz using his reach early to keep the distance as he is the lankier fighter.  Väyrynen interested in bringing it to the ground and grabs a single leg, but it is Aziz that lands on top as they fall to the ground.  Aziz keeps control, but not much happening on either side in this one.  Vänttinen looks for a triangle, and Aziz keeps his posture and is out.  Standup late in the round.  The Swede looks for a big headkick, but doesn't land.  Close round.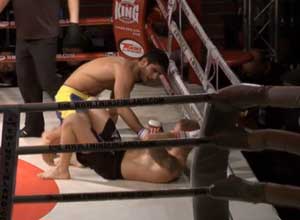 Both fighters still a bit cautious early.  Vänttinen shoots in for a take-down but is countered, and again it is the GBG fighter on top.  The Finn counters and the fight goes to the feet, before being brought down again with Aziz in side mount.  Again the two grapple with Aziz staying on top.  Both fighters give a low five to acknowledge each others efforts, but this fight is up for grabs.
Aziz with a flurry to start off the third round, and he is the one to shoot and finish the take-down.  The two assume positions, before the fight makes its way to the feet.  A head-kick attempt by the Finn, and Aziz catches it and transitions to a double-leg to get back on top.
Result – Aziz wins by unanimous decision
Johan Vänttinen (9-3-0), Fight Factory vs. Nayeb Hezam (14-16-0)
After an exchange early, it's Hezam that ends up on top.  Vänttinen working well on the bottom, as he looks for an escape.  Vänttinen still fighting to get up, as he grabs a single and looks for offense, but it is the frenchman who is able to counter throughout the round and end up on top, using nice headlocks and control.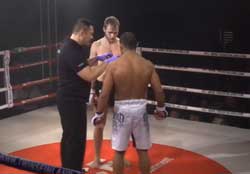 The Bellator veteran again tries to use his grappling as he pins Vänttinen against the ropes to start round 2.  Again Hezam is able to use his power and get the fight to the ground with a headlock.  With the Finn on his back, Nayeb lands some straight punches.  After a few more minutes, the fight is brought to its feet by the referee… just in time for the bell to ring to end the round.
The last round starts as most of the fight has taken place, with the French fighter on top.  But the Finn still fighting hard and gets up, only to be taken down again.   Vänttinen finally able to get on top, but not much is there.  As with every other round, it is Hezam bringing the fight back to the ground to finish on top.
Result – Hezam wins by unanimous decision
Anton Kuivanen (19-7-0), GB Gym/TMF vs. Oriol Gaset (15-9-0), Spain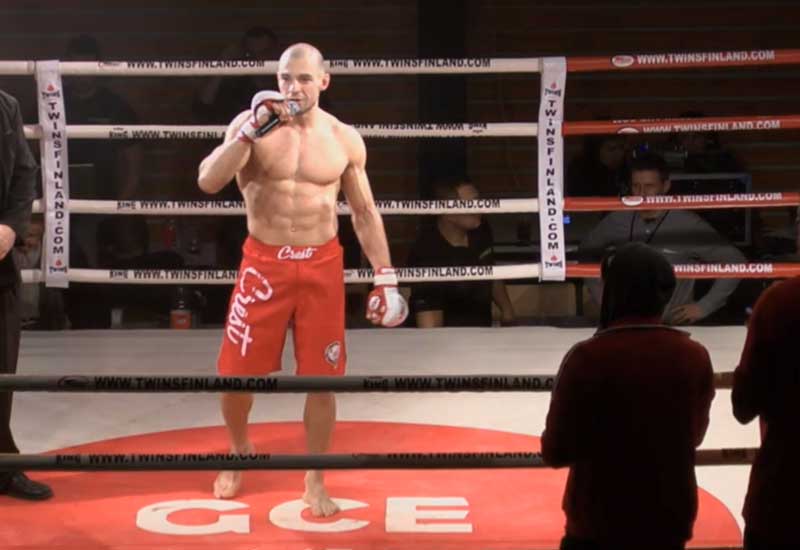 After a brief feeling out period, the two veterans clinch.  They go against the ropes, and it is a hard knee to the body from Kuivanen that drops Gaset.  The Finn goes for the finish, and the referee saves the Spaniard as he is just paralyzed from that shot.  It is over in just over a minute.  Two quick, quality wins for Kuivanen within a month.
Results – Kuivanen wins by KO at 1:03 in the first round