Damir Hadzovic (8 wins, 2 losses, #4 Nordic lightweight) will face undefeated Martin Delaney (8 wins, 0 losses) at Cage Warriors 69, which is being called Super Saturday for having two whole events in one day. The fight will go down on June 7th, and will be a return to the organisation for the Denmark based Bosnian Bomber who took out UFC veteran John Maquire in his CW debut. Read the press release from the promotion below.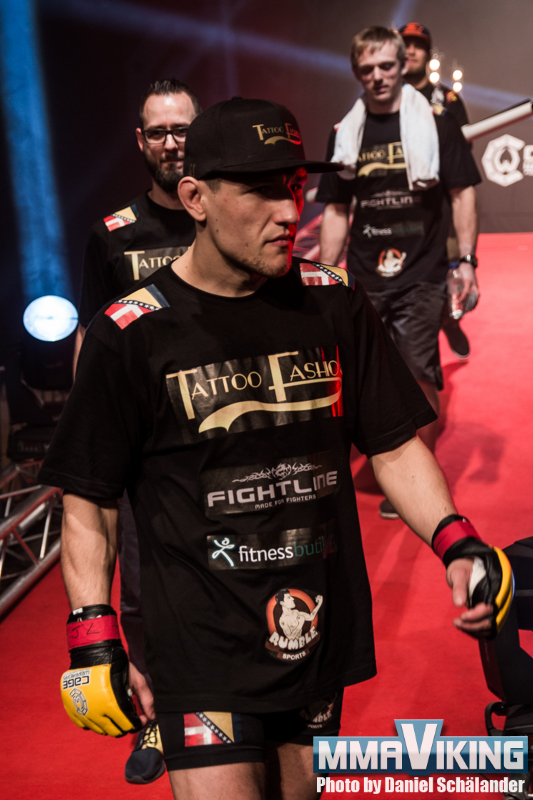 Press Release
Lightweights Damir Hadzovic (pictured) and Martin Delaney are set to do battle at Cage Warriors 69: Super Saturday, which takes place at The Forum in Kentish Town, London, on Saturday, June 7. The already stacked card has been further bolstered by the addition of four more bouts announced today.
Hadzovic (8-2) announced himself to the CWFC lightweight division when he claimed the notable scalp of John Maguire with a spectacular KO victory on his CWFC debut. Delaney (8-0) is hoping to maintain his perfect record and make a statement himself in his first CWFC outing.
Graham Turner (23-8) returns to action for the first time since dropping a submission loss to former featherweight champion Jim Alers. His opponent Suleiman Bouhata (9-4) will be looking to upset the former title contender on his CWFC debut.
Also added to the card is a bantamweight bout between Aaron Blackwell (12-9-1) and Adam Ventre (3-0), and a lightweight contest between Maksym Matus (4-5) and Tim Wilde (4-0).
Meanwhile, Matt Hallam (5-2), Dez Parker (3-1) and Azi Thomas (2-0) – all of whom were victorious at CWFC 68 in Liverpool – along with Carl Booth (1-0), have all signed five-fight deals which will see them compete exclusively for CWFC over a minimum period of eighteen months.
Tickets for Cage Warriors 69: Super Saturday are currently on sale HERE.
Cage Warriors 69: Super Saturday (more bouts to be announced; order TBC)
Stevie Ray vs. Curt Warburton – vacant lightweight world title bout
Jack Hermansson vs. Norman Paraisy – vacant middleweight world title bout
Jack Marshman vs. Bola Omoyele
Jake Bostwick vs. Simeon Thoresen
Damien Brown vs. Saul Rogers
Benny Alloway vs. Mohsen Bahari
Bruno Carvalho vs. Jack Mason
Damir Hadzovic vs. Martin Delaney
Graham Turner vs. Suleiman Bouhata
Arnold Allen vs. Marcin Wrzosek
Liam James vs. Nad Narimani
Brett Caswell vs. Spencer Hewitt
Jason Cooledge vs. Brad Wheeler
Kerry Hughes vs. Amanda Kelly
Aaron Blackwell vs. Adam Ventre
Maksym Matus vs. Tim Wilde