With a record of just two wins and one loss, Oslo-based Håkon Foss takes on the experienced Romanian Ion Pascu (5 wins and 3 losses) at Saturday's UWC 23 card in the Southend, England.  With most Nordic fighters taking time off to relax in the summer, "The Death" is hard at work trying to extend his Thai boxing and kick boxing experience and make a name for himself in MMA on the co-main event.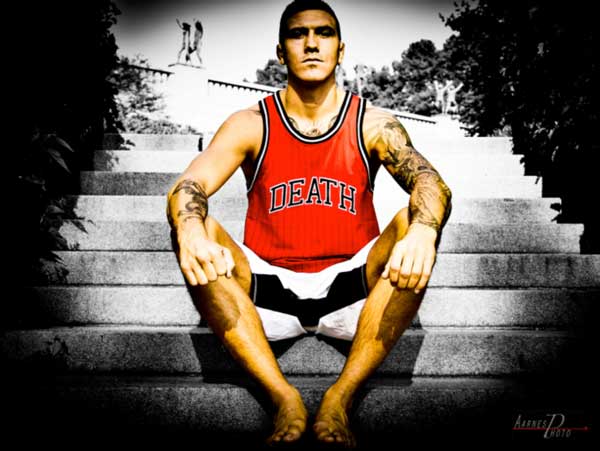 Håkon was born in Kongsvinger, Norway but grew up outside of Gothenburg where he grew up wrestling. His trainer was his uncle and the Swedish wrestling team coach.
"I got interested in MMA when I saw some UFC events on TV. I went out and bought 3 pairs of boxing gloves and got two of my friends to join me training once a week at the wrestling studio. I can´t really call it training. None of us had done any boxing training, so I was shocked when I KO'd my friend. It startled me that I could knock him out, but after the initial fright over what I had done, it intrigued me to learn more about fight sports.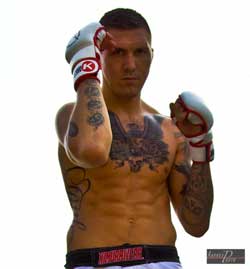 I started training muay thai in Oslo, but left to start training under Mohsen Bahari at Frontline Academy in 2010 where I could train MMA. I was hooked! It is a strange feeling of freedom, it´s pure survival instinct when you enter the cage. It's just you and him and the feeling after the fight is impossible to describe whether you loose or win!
I had my first pro MMA fight in Karlstad 5th of May 12 where I won with an armbar over my opponent, thai boxer Nisse Påholm.  After that I had 2 more pro MMA fights, both as the underdog."
MMA Viking talks to the Frontline fighter just days before his bout against Pascu.
What do you think of Pascu Lon as an opponent?
To begin with I was skeptical. Ones more I was the underdog. He have 8 pro fights and he is a good striker. I could have said no but if I want to reach the top I have to go up against the best so here I am on a diet working out every day while the rest of Oslo are living it up with lazy days in the sun, good food and drinks.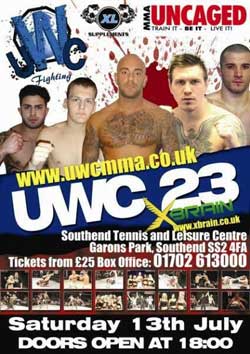 How have the training been up to this fight?
It´s been really good!  My striking coach Aristo Manzouri have helped me a lot standing so I feel more confident I can fight him standing.
All the guys at Frontline academy pro team have helped me out and my sponsor highwhey.no have helped me supplying me with all the gear I need.
Eduardo Teta Rios have motivated me all the way to put some muscles on my chicken legs "so I don´t get teased when I´m wearing tights" ☺ He have been there to make my SW as good as it is and pushed me forward!
What is your fight plan?
You can have the greatest fightplan but when I´m in the cage with him I will look for the openings to dominate him. He is a good striker, but this is MMA and I can do a good job standing, too.
What is your plan after UWC 23?
I´m going down to India to fight this fall and then I will take it from there.
UWC Main Card Video Preview
Watch the bout live on www.mmaviking.com. Also on the card is Norwegian Pouria Rashidi.