One of the founders of Mjölnir MMA, Haraldur Nelson, thinks it is time for change when it comes to extreme weight cuts and fight day weight gains in mixed martial arts.  The father and manager of Gunnar Nelson, better known as "Halli", took to Facebook to express his ideas to make a safer environment for fighters. With back to back weeks of high profile fighters being hospitalized during extreme weight cuts, with one before and one after their scheduled fights, the timing for updated weight guidelines couldn't be better.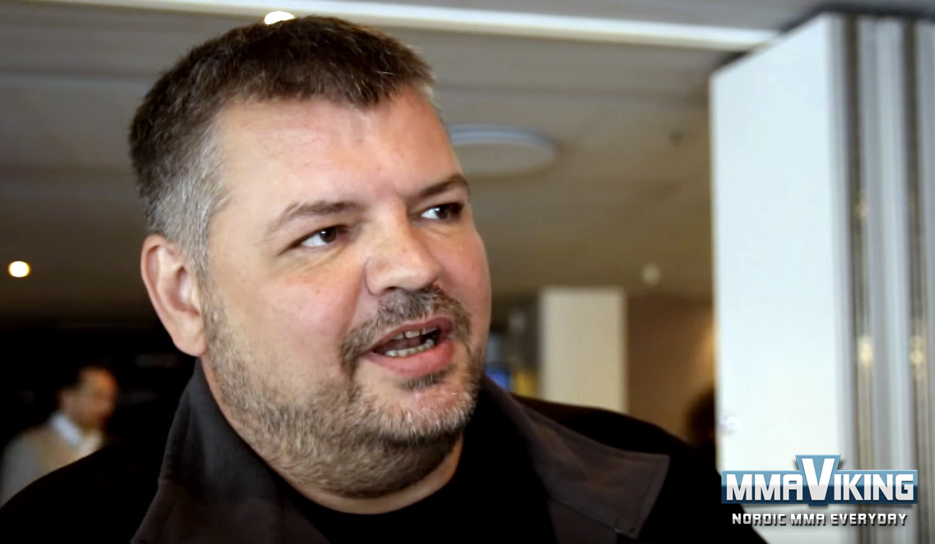 First was UFC welterweight champion Johny Hendricks who landed in front of a doctor trying to make weight as kidney stones and an intestinal blockage sent him to the hospital, resulting in a high profile co-main event cancellation UFC 192.  A week later Zoila Frausto was hospitalized after her RFA 31 bout, where she risked her health in the cage after underestimating the impact of dropping weight. "Don't tap into your central nervous system for a weight cut!!!" says the former champion fighter that warns of cutting "10% of your body weight for a fight, though it doesn't seem like much at the time, you will end up paying for it."
Hendricks vs Woodley is off the card due to Hendricks weight cut issues. pic.twitter.com/By3P6jg2FO

— Dana White (@danawhite) October 2, 2015
In addition to these high profile events in the sport due to massive weigh cuts, the UFC's recent partnerships with the US Anti-Doping Agency (USADA) to implement a new policy that that bans IV use for rehydrate after weigh-ins kicks-in this month.  The ban would further put fighters in danger if they continue to cut the same massive amounts of weight, which has become more of the standard than exception, without the use of IVs for post-weigh-in help –Hendricks for example, has cut from over 215 lbs down to 170 lbs limit before his body backfired on him.
While Nelson's ideas on creating a healthier environment for fighters have been developing for years and years, the time for change seems to be ripe before a more serious injury takes place.  With permission, below is an Nelson's Facebook posting titled "What will it take before weight gaining limits are enforced in MMA?"
Past years we've seen over and over again fighters fainting, hospitalized and/or failing medicals because of weight cutting. Many fights, even title fights, have been cancelled because of this and fighters forced to move up weight classes because of failing to make weight over and over again. Not to mention the great health risk this presents like in this recent incident with Johny Hendricks for UFC 192. And there are many more incidents like this. There is only a matter of time before we will have a serious or life threatening situation if this is not addressed immediately. Not to mention how extremely unfair this is for the fighters who are not doing this but actually fighting in their right weight class.
There is only ONE reason why fighters are cutting so much weight and that is so they can put it back on between weigh-ins and the fight and step into the cage as heavy as possible. Today we are seeing fighters weigh in at 170 pounds who have lost more than 40 pounds to make weight (and btw they didn't carry a lot extra to begin with) and then put on the same amount of pounds only 24 hours after the weigh-ins with the help of iv and who knows what. This needs to be stopped and having talked to many professional fighters, trainers, doctors, judges, officials and others around the sport I feel safe to say I'm not the only one concerned.
I'm going to take a personal example. On the UFC card in Dublin last year my son Gunnar Nelson fought Zak Cummings MMA at welterweight. They both made weight (170 pounds) at weigh-ins the day before the fight. The day after when Gunnar walked into the Octagon he weighed 175 pounds (had gained 5 pounds). His opponent weighed 207 pounds (had gained 37 pounds) according to what the correspondent Gareth A Davies said live at the BT Sport broadcast. So there was a 32 pounds weight difference in that welterweight fight and Cummings was actually a heavyweight! Similar thing when Gunnar fought Brandon "Rukus" Thatch at UFC 189 in Vegas this year. And there are of course many other examples like these in the UFC and the MMA world. Is this fair? Is it healthy? Is this why we have weight classes? Of course not. This is not fair, not healthy and certainly not why we have weight classes. This needs to change.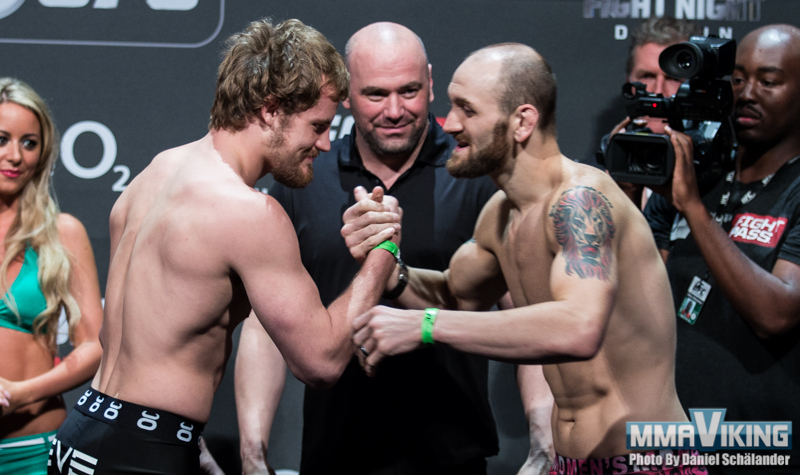 But just so there is no misunderstanding. I am NOT criticizing the fighters for cutting weight. They are not breaking any rules and are stepping into a game where it seems to be the rule rather than the exception that the fighter facing you in the Octagon is probably going to be 2-3 weight classes above the one you are actually fighting in. And I could add the huge pressure fighters are getting, being encourage to cut weight. Pressure from fans and even MMA journalists and all kinds of specialists that encourage this great weight cutting with their words and writings. I don't know how many times I've read articles saying that Gunnar should be fighting at Lightweight instead of Welterweight. Gunnar has also been asked about this number of times. Why he isn't fighting at Lightweight and if that isn't his "right" weight class because he's "too light" for Welterweight. Just to make it clear, Gunnar has to cut weight for the Welterweight class. Not very much, that is true, but a little and still he is being encourage to cut a lot and drop down to Lightweight! So the pressure on the fighters to cut a lot of weight is coming from all directions. This mind set also needs to change.
So what can be done about this? This is becoming such a big problem that MMA officials need to act on it now. It is absolutely vital that the MMA rules enforce a "weight gain limit" from weigh-ins to the fight. There is no time to waste and like before in the MMA world the UFC has to lead the way in this, be the trailblazer. They have done so in the war against PED's, TRT and most other things in MMA. But it's not an easy task and I have no doubt that people have been discussing this inside the UFC, the athletic committees and so on. Some have come up with the idea of having the weigh-ins just before the fight like many grappling tournaments do. That's fairly easy in grappling where you have many competitors taking part in a tournament but on a MMA card every bout cut from the card is a big part of the whole show. There are more reasons why this isn't the best choice either in my opinion, like the weigh-ins being a show on it's own the day before the fights and also the danger of fighters still cutting too much weight and being dangerously dehydrated in the fight. So we need another solution.
One way to do this is that if a fighter goes over the weight gain limit (fighters could maybe be weighted again up to 3 hours before the fight is scheduled) the fight is still on but the fighter missing the weight gain limit gets a point deduction and loses a part of his purse. He should also loses any change of win bonus and performance bonus.
Of course fighters need some slack to put on a few pounds after the weigh-ins to re-hydrate for health concerns but 10-15 pounds should be more than enough for that. A good rule might be that a fighter can not go over the weight limit of the next weight class above (maybe not even so much) or not gain more then 5-9% of the weight class limit he's fighting at (I think Judo has this at 5%). So if we look at welterweight for example the weight limit there is 170 pounds and the next weight class above is middleweight of 185 pounds but that is around 9% weight gain limit. So a welterweight fighter could be allowed to weigh up to 185 pounds when he walks into the cage (no pound allowance in this). If he weighs more then the fight is always on but the fighter not only loses a part of his purse to his opponent but also get 1 point deduction right away. He has an unfair weight advantage the therefore the point deduction. More point deduction and possible even more purse loss could be ad on e.g. every 5 more pounds (or % of weight class) that he goes over the weight gain limit. So a welterweight fighter that for example weighs over 190 could get 2 points deducted and so on. Then this fighter needs to work the point deduction back by dominating the fight or winning by stoppage.
Also the UFC and other MMA promotions should starting announcing what a fighter weight is when he steps into the ring. Basically let the ring announcer call out what weight each fighter is standing at. This will give the audience information on how much weight difference there is between the fighters and also give the fighters some moral restrain (on top of the point and purse deduction) because it's not much fun being announced that you weight much more then your opponent.
If both fighters go over the weight gaining mark then the rule on weight gaining limit doesn't apply since both went over it anyway.
On top of this another rule could be added. If a fighter misses weight or goes over the weight gaining mark 2 times in a weight class they fight at least their next 3 fights in a weight class above – after that they can try to move down a weight class again if they like but the same rule applies. Miss 2 weights and you fight at least next 3 at a weight class above.
As said before these ideas are set forth because of health issued raised over the great weight cutting and weights gaining many fighters are doing. They are unfair and unsafe both toward the fighter cutting and then gaining all this weight and also for his opponent. And we would see much better fights if the fighters are around the same weight and not washed-up by the huge weight cutting.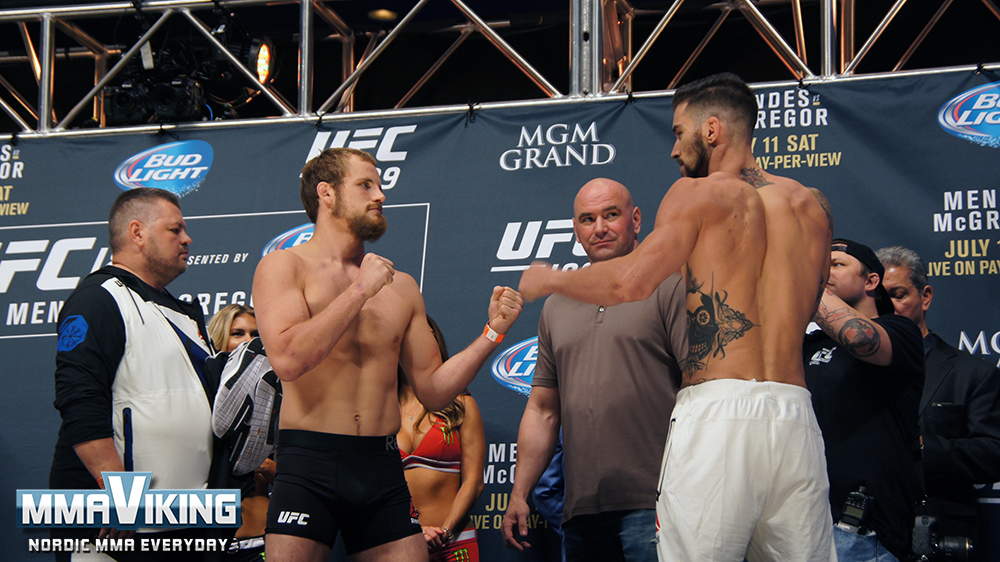 Having said all of this I would like to emphasis that the UFC and it's officials are doing great work on anti-doping and I'm all pro for the iv ban. However I believe that even though the iv ban helps and is a step in the right direction the real source of the problem is not yet properly addressed. That source of course being the extreme weight cut done so the extreme weight gain can follow. It is absolutely vital to address this root of the problem. Both for the sake of fairness of the game and for health risk of extreme weight cutting. And that will also reduce the risk of some fighters getting tempted to use iv, even though it's banned.
Weight gain limit would add to safety and make for better contest where skills, conditioning, game plan and heart prevail every time and we see healthy athletes who give themselves a better standing to be healthier also after their career is over. Putting weight gain limits in place will make MMA more safe, more fair and a better sport for everyone involved.