Ilir Latifi (13-5-0, 1 NC) won on a main card spot this at UFC 215 at Rogers Place in Edmonton, Canada.  The Sledgehammer outpointed previously unbeaten Australian prospect, Tyson Pedro (6-1). Check out the live results of the light heavyweight bout below.
Followed by Sweden's @LatifiMMA! #UFC215 pic.twitter.com/L7NpjCbxws

— UFC Europe (@UFCEurope) September 10, 2017
Live Results
Round 1 – Latifi goes for a take-down after a kick from the much taller and bigger Pedro. Both fighters in the traditional stance looking to find their distance. In the scramble, Pedro tries to go around for the take-down, but both are back to their feet. Pedro with a punishing right kick, but this time Ilir is able to grab the leg and get the fight to the ground. In the north south position but the Australian scambles out. Half way through the first round. Big right hand counter for the Swede, and a right kick from Pedro and Latifi takes a step back.
Pedro fakes low and goes high with a kick, but Latifi goes under and in for a take-down. Now he is in side control, but move again finds himself in the north south position and again Pedro throws his legs up and scrambles out. Both standing and a big right kick from the young prospect that is a foot over the head of the shorter fighter.
Round 2 – Latifi presses forward and wary of another kick. A nice punch lands from the Malmo fighter. Nice body kick from Pedro, and Latifi returns a nasty right kick to the leg. Two minutes in and they are playing from the outside, then a good left from Latifi.
A big over hand right that misses, and Pedro ducks. Latifi barrels in for a double leg against the fence and picks up and slams the Australian in spectacular fashion. Less than two minutes in and Latifi on top with Pedro's back against the cage. Nice left hands from Latifi in tight, and another. Now standing, and the taller fighter landing Travis Brown like elbows down on the balk head. 30 seconds left and Latifi throws some nice left hands against the fence. This is a clear Latifi round.
Round 3 – A nice low calf kick from Pedro and Ilir isn't able to counter fast enough. Latifi's left eye is red from short elbows he took last round. Good counter right hand as Pedro kicks low. Two minutes in and anyone's round. Latifi with a nice one two counter. The two are exchanging kicks for punches, and now Latifi dives in for a take-down half way through the round! Crucial positioning late in the fight.
Latifi reaching up to land punches as he sits in the guard. The Swede is just grinding away with 30 seconds left. More punches landing, and Pedro has blood coming out of his face. This is a second round in a row for Latifi to slow the hype of the young fighter.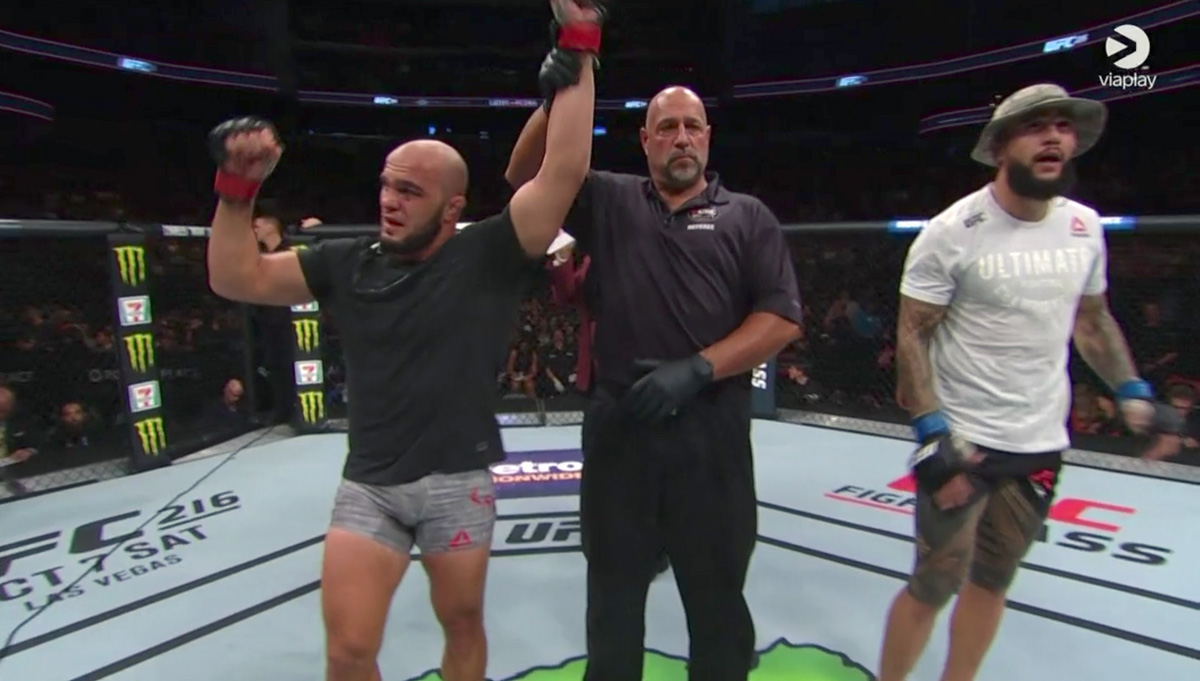 I want to thank Allstars and American Top Team says Latifi about his two teams after the scorecards are announced 30-27, 29-28, 29-28 on the scorecards. Unanimous decision for the Sledgehammer.