Jack Hermansson (16-4) lost to #15 ranked Thiago Santos (16-5) at UFC Sao Paulo tonight.  In the end it was a TKO stoppage with one second remaining in the first round.  Read the live play-by-play below.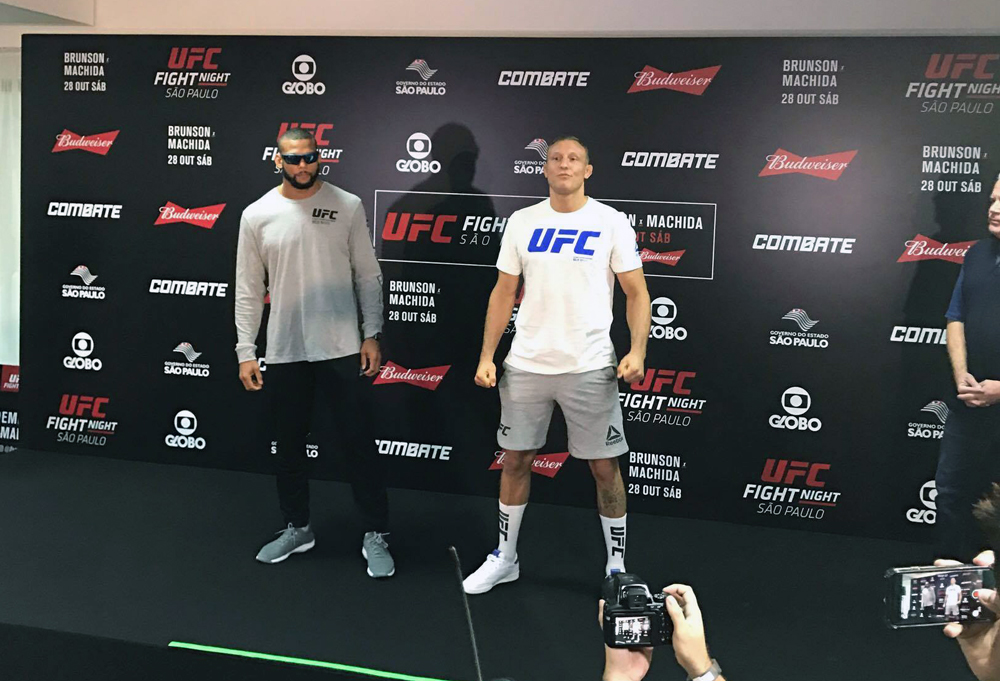 Live Play-by-Play
Round 1: No touch of the gloves. Hermansson is circling to the left. Bit of a feeling out process here. 30 seconds in, no one has landed. Both unwilling to engage first to start. Both fighters are bouncing in and out. Santos falls from a missed high kick but gets back up quickly. Hermansson goes for a take down against the cage. The Brazilian fighter stuffs it, they are clinched against the cage.
Santos breaks away and lets loose a flurry of punches. He rocks Hermansson with a big right hook that connects clean on the chin! The Swede seems to have recovered, for a moment it looked like he was close to going down. Things have slowed down again with less than two minutes left. Santos is the only one to land anything significant as of yet. Powerful wheel kick misses for the Brazilian.
Hermansson looks a bit more comfortable in there, he's starting to apply pressure. Out of nowhere, Santos rushes forward and drops Hermansson with a few seconds left in the round with another flurry of punches. He gets the KO without a second to spare.
SEGURA O HOMEM! @TMarretaMMA MASSACRA no #UFCSP! pic.twitter.com/InkJK0U1WP

— UFC Brasil (@ufc_brasil) October 29, 2017
Santos wins via TKO in Round 1 with less than a second left.
This marks the first time that the Swede has been knocked out. It was a jumping body kick followed up with aggressive punches while pushing forward that dropped Hermansson, and Santos finishes it on the ground. The ref had to step in right before the bell went off. The Swede did not protest the stoppage and congratulated the hometown fighter on the win.