Christian Colombo (8-3-1) lost to Marcelo Golm (4-1) at UFC Fight Night 119 card in Sao Paulo, Brazil today.  Read the live play-by-play below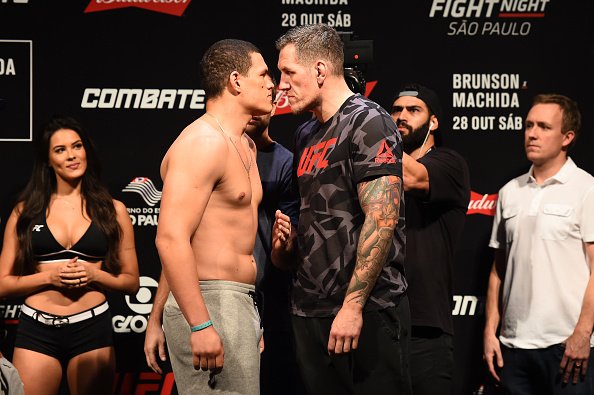 Play-by-Play
Round 1:
Fighters touch gloves. Golm lands a nice combination. Colombo keeps throwing his jab out there. Golm lands an inside leg kick. Golm unleashes a flurry on Colombo against the fence! Golm lands a few nice shots. They clinch up. Golm gets a takedown straight into mount! Colombo rolls to his back, he's getting landed on. Golm sinks in both hooks. Colombo is cut up. Golm looks for the rear-naked. He's softening Colombo up with some punches, and he finally slips the choke in! Columbo taps!! Quick and easy work for Golm. Impressive UFC debut, Golm improves to 6-0, with his first professional submission victory. His previous 5 victories were all by knockout. The announcers just stated that Colombo plans on retiring.
Que estreia MARAVILHOSA de @MarceloGolm!!! #UFCSP pic.twitter.com/8rLhRDL4V3

— UFC Brasil (@ufc_brasil) October 28, 2017
Result: Golm wins via rear-naked choke in the first round at the 2:08 mark.