Norwegian MMA legend Joachim Hansen will return to the cage on May 10th.  Hellboy will face Seo Doo-Won in a rematch, which will go down at the Chiak Stadium in Wonju.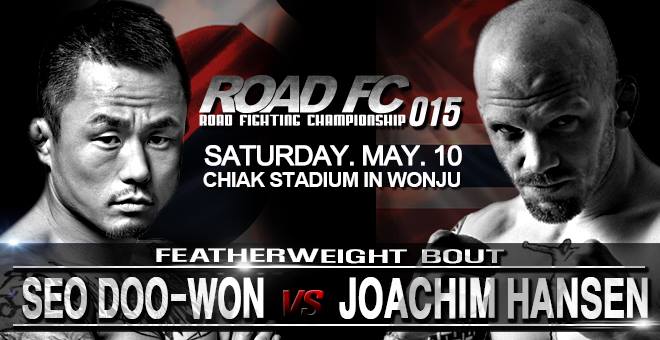 The featherweight bout was announced by Road FC today.
Hansen (23-11-1) will face Doo-Won Seo (9-7-0) after recently beating him on April 13, 2013 at Road FC 11.  It was the last time the Norwegian fought professional MMA, and he was victorious winning by arm triangle choke in the second round.  The bout took place in Seo's backyard of Seoul, South Korea.
At the time, Seo was on a six fight winning streak when he lost to Hansen. Hellboy has won has last four out of five bouts.

Get more pictures like this from SHERDOG.COM
The 34 year old Hansen was most recently training in London.  He only fought once in 2013, and had no professional MMA bouts in 2012.