Shortly after light heavyweight champion Jon Jones (18-1 MMA, 12-1 UFC) defended his title against Chael Sonnen, he called for a match against Swede Alexander Gustafsson (15-1 MMA, 7-1 UFC). "I fought Lyoto Machida before," Jones said at the post UFC 159 press conference, where he talked before heading to the hospital for treatment of a nasty toe injury.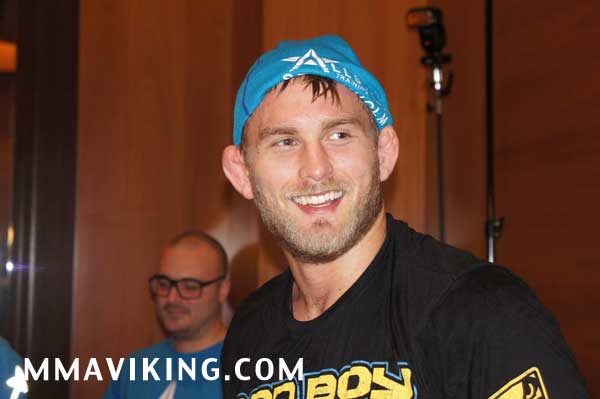 "I fight for the love of the sport, and I also fight to prove critics wrong. A lot of people think I have been successful because I appear to be larger than my opponents, and with Alexander, that would be no more." continued the American about his desire to fight the Mauler, an equally as lanky opponent.
With ex-champ Lyoto Machida (19-3 MMA, 11-3 UFC) ringside at the Prudential Center in Newark, N.J., it seems that the matchup Nordic fans have been waiting for is just one toe-healing away. "I think Gustafsson is good for me," he said. "As soon as possible. I don't want to wait." continued the champ, who has been dispatching opponents with ease. "That's who I would like to fight next."
"4 minutes in to the pressconference Jon Jones said he would rather fight Alexander Gustafsson than Lyoto Machida, let's make it happen!!! :)" posted Gustafsson on Facebook. See the video below.
Press Conference Video
Gustafsson had already completed a full training camp in preparation for his cancelled bout against Mousasi earlier in the month. The Swede was supposed to get his shot after beating Mauricio Rua back in December, but the UFC has left the door open for matchups for the champ going in the direction of ratings for the latest TUF season with Sonnen.
Machida and current heavyweight Daniel Cormier are two other options that the UFC can consider, but as of now it seems Jones is targeting Gustafsson.